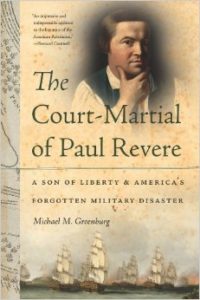 By Michael M. Greenburg, University Press of New England, Lebanon, NH (2014)
Reviewed by Rear Adm. James D. Cossey, USN (Ret.)
The Court-Martial of Paul Revere is a 'three-fer' book: a biography of Paul Revere, the story of the American Revolution and the early struggles of the Republic, and a detailed account of the 1779 Penobscot Expedition/Battle of Penobscot Bay, when forces from Massachusetts set out to eject the British from a newly established fort in Maine and failed miserably. The book culminates with the court-martial of Paul Revere, a court-martial persistently sought by Revere himself, to resuscitate his reputation following the disaster at Penobscot Bay, part of which was, according to the author, "the worst American naval disaster prior to Pearl Harbor."
Revere, known by all of modernity from Longfellow's "The Midnight Ride of Paul Revere" and his connection to the "one if by land and two if by sea" warning of the British move against Concord and Lexington, is revealed not only as a true Patriot and artisan, but also a complex, self-absorbed individual.  He had a strong but unfulfilled desire to be a part of the Continental Army fighting the British. Unable to achieve that end, he lobbied for, and eventually was, appointed to a military position as a Major – later rising to Lieutenant Colonel – in the Massachusetts Militia in charge of the Artillery Detachment on Castle Island in Boston harbor.  The principle function of this unit was to defend Boston Harbor. As eager as Revere was to serve as a military man and as accomplished as he was as a Patriot and tradesman, his military service was considerably less than distinguished.
When the British took advantage of America's non-presence – except for settlers – in Maine, then a part of Massachusetts, by establishing a fort built from scratch at a high point of the headlands in Penobscot Bay, Massachusetts petitioned the Continental Congress to mount a response. Unwilling to divert its limited forces for such action, Massachusetts took it upon itself to organize a military operation against the British at Penobscot Bay. The expedition was fundamentally an amphibious landing against an in-the-process-of-being-built British fort. This operation involved almost 1,000 men and 18 ships.
Despite opportunities for success, the assault descended into chaos. Every ship was lost and the officers, soldiers and sailors were left to fend for themselves and find their way home through the Maine wilderness.
Revere's role in this disaster was, at best, poor. He was balky, sometimes insubordinate, protected his baggage almost as a first priority, and preferred dining and sleeping on the ship carrying his artillery detachment and supplies. In this expedition, leadership and initiative were not strong suits of the naval and artillery commanders.
Revere's reputation suffered accordingly, and the investigations that followed the failed foray in Maine caused Revere's reputation to plummet. A proud man, he spared no effort to resurrect it and insisted on the court-martial. Despite detractors, the court-martial took place in 1782, and Governor John Hancock approved its findings that were not fully satisfactory to Revere.
The dollar cost to Massachusetts of this failed military expedition was severe, and it took 14 years to get some relief ($1.25M) from Congress. Revere's reputation mostly recovered, and he achieved well-deserved success as a silversmith and industrialist.  He died in 1818.
This book is well researched and thoroughly explores the times and travails of Paul Revere. It is a superb review and a great story about this important figure and his role in the early days of the Republic. The book includes various illustrations that are photos of charts and other documents. However, some of these illustrations are difficult to understand, the various events described in the book would have been better served with simpler, modern diagrams of the geography and actions.

Rear Admiral Cossey served 33 years with several tours in submarines. He retired on January 1, 1993.