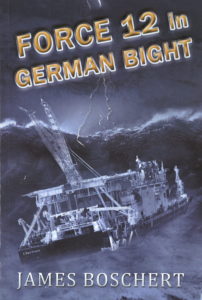 By James Boschert, www.PenmorePress.com (2014)
Reviewed by Charles H. Bogart
This is a well-written work of adventure/mystery fiction that revolves around the oil and gas industry's offshore operations in the North Sea. The author tells the story in straight and simple words. The heart of the story takes place on board the pipe dredging barge Cherokee, which is working in the North Sea off the coast of Denmark. The author does an excellent job of educating the reader about the working conditions in the offshore oil industry during the 1980s within his larger story of human folly, greed, love, murder, and smuggling.
As with all good fiction stories, the characters are real to life, and the plot is plausible. Since Cherokee is a barge, she is dependent upon an outside source of power, here a tug, to move her from location to location. Without the assistance of a tug, Cherokee is at the mercy of the winds and sea currents around her. Thus, at the climax of the story, Cherokee finds herself adrift in the North Sea with Force 12 winds blowing about her. "Force 12" refers to BBC maritime weather forecasting that rates wind conditions between Force 1 and Force 12. A Force 12 weather warning means winds of Hurricane Force will be encountered.
The heart of the story is the tale of modern day smuggling in which the rewards are high and the penalties severe. The story stretches from England to Denmark as the criminals and law enforcement officials battle with each other. The climax of the story concerns the seizing of Cherokee by criminals involved in the smuggling and the struggle of Cherokee's crew to regain control of their barge from the criminals as she drifts before wind and rain toward the Denmark shore. In the end, good triumphs over evil but not without a struggle in which lives are lost.  At the end, boy and girl are reunited.
At the front of the book, the author has included maps, allowing the reader to locate the actions that take place, and diagrams of the barge Cherokee that make it possible for the reader to place the onboard story in context as to where it is happening. The book is a good read for a day in front of the fireplace or in a lawn chair in the backyard. I think readers of Clive Cussler books will enjoy this tale of modern sea-going adventure. Buried within the book is a line well worth quoting.  It comes about as drinks are being served onboard Cherokee by a Scotsman who says, "This is God and America's answer to whiskey – Wild Turkey 101, it is the invention of a genius."

Charles H. Bogart is a frequent contributor to NHBR.