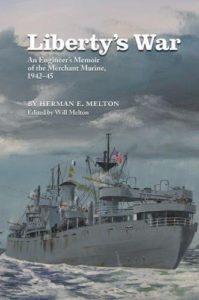 Many histories of World War II have given short shrift to the U.S. Merchant Marine, and Herman Melton's memoir Liberty's War helps address this gap in history. The purpose of the book was to "recall the wartime experience of a youngster who served in four different Liberty ships." Edited by his son, Melton's book tells a story typical of many young men who served their country during World War II.
Liberty's War consists of seventeen short chapters that make the reader feel like they are having a conversation with Herman over coffee. The book began with a brief outline of the challenges of his early hardscrabble life before the Japanese attack on Pearl Harbor changed the course of Herman's life. At the suggestion of his future wife, young Herman applied to the new Merchant Marine Academy, which accepted him.
Melton's real contribution to history is his detailing his Merchant Marine service on four different Liberty ships that traversed three oceans. The SS Cornelius Harnett was the first liberty ship on which Herman served when she and departed New York and became part of Convoy HX-220. After a nerve-wracking trip across the Atlantic, unloading its cargo in the United Kingdom, and loading new cargo, the Harnett joined Convoy JW-52. Convoy JW-52 departed Scotland in early 1943 bound for Murmansk, and German aircraft attacked the convoy off Norway. Arrival in port did not bring safety, however, as German aircraft continued to attack Allied ships. After leaving Murmansk, German U-255 stalked Harnett's new Convoy RA-53 and sank three ships, and a fierce Arctic storm sank another.
The story of Herman's wartime service shifted to the Pacific Ocean and the SS Antoine Saugrain.  In the summer of 1944, the Saugrain left the West Coast to support MacArthur's operations in the southwest Pacific. In October 1944, Saugrain supported the first Philippine landings and, unfortunately for the ship and her crew, a Japanese torpedo attack sunk the ship.  This attack marooned the survivors, including Melton, on Leyte Island. The remainder of the book discussed repair attempts of two other Liberty ships and Melton's return to civilian life.
Liberty's War also includes a list of the Harnett's crewmembers, the Captain's account of the Japanese attack on the Saugrain, and a list of the Saugrain's crewmembers. There is an ample list of notes providing supporting evidence, and the author demonstrates his solid research with the book's extensive bibliography, which includes unpublished primary source material, national archives and records administration materials, unpublished memoirs, personal communications, online databases, and published secondary sources. The Melton's put in much painstaking effort to complete this work.  It appears that Will let his father tell his story, only overtly adding his voice in an Editor's Note before the first chapter.
Although not an academic history, dismissing Liberty's War as "sea stories" ignores the author's meticulous research of events that incorporated multiple perspectives and sources, including interviews with as many other participants as possible. In this way, Melton grounded his discussion on substantial evidence, making his book more than just reminiscences. However, the author or editor could have more smoothly incorporated this material. For example, there are two chapters in Liberty's War with perspectives from other people that were interesting and important, but not integrated. As a result, these sections felt repetitive and broke up the flow.  It would have been better if Melton had fully incorporated this material into his narrative or included this material in one or more appendices.
Eugene Sledge's With the Old Breed and William Manchester's Goodbye Darkness are the exemplars of American memoires of World War II, both examining individual Marines heroic and traumatic experiences fighting the Japanese in the Pacific. Although not in the same category as those two famous books, Herman Melton's Liberty's War is a good memoire that helps to address the historical gap with the largely unheralded Merchant Marine and Merchant Marine Academy. This book reinforces our understanding of the gnawing terror that those who served on merchant vessels felt due to the ever-present threat of torpedo attack followed by icy death. Just as historians such as Marc Milner in his book North Atlantic Run have demonstrated, Melton's book underscores that the Battle of Atlantic was not a recurring series of large convoy battles, but in reality was a grinding, constant fight of losing one or two merchant vessels, U-boats, or airplanes at a time.
Liberty's War is very much worth reading by those who are interested in the Merchant Marine or World War II memoires. It is a rare example of a junior officers' memoire that is informative and readable, giving us a detailed view of life on Liberty Ships hunted by U-boats, tossed about by Arctic gales and heavy seas, and attacked by Japanese aircraft.  Recommended as a primary source and popular history.
---
Liberty's War: An Engineer's Memoir of the Merchant Marine, 1942-45
By Herman E. Melton, ed. Will Melton, Naval Institute Press, Annapolis, MD. (2018).
Reviewed by Jon Klug. Jon Klug is an Army Colonel and PhD Candidate in Military and Naval History at the University of New Brunswick. He taught at the U.S. Air Force Academy and at the U.S. Naval Academy, and he holds degrees from the U.S. Military Academy, Louisiana State University, and the U.S. Army's School of Advanced Military Studies. In his next assignment, Jon will serve as an Army War College Professor.
Buy Liberty's War: An Engineer's Memoir of the Merchant Marine, 1942-1945 now!