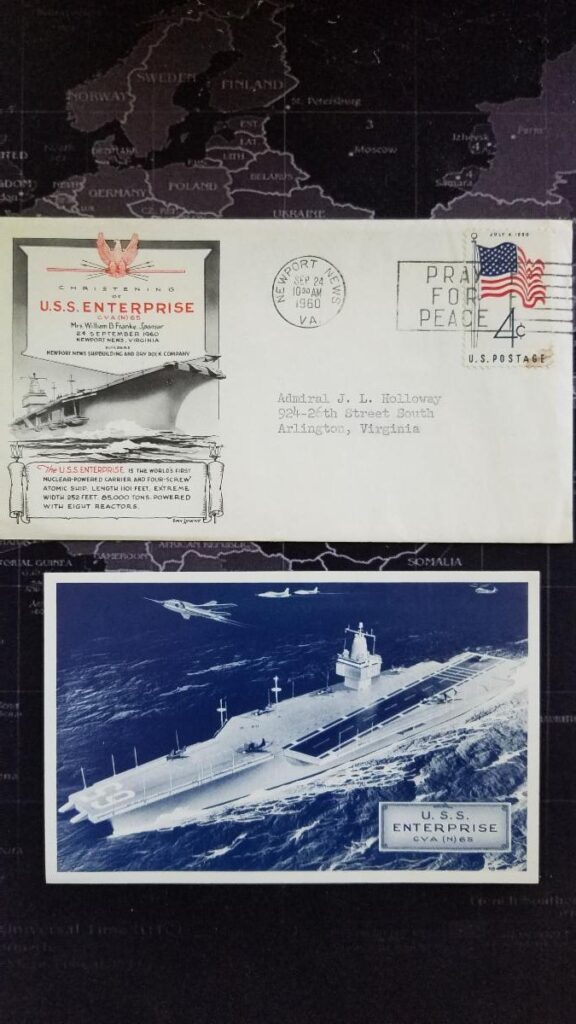 Guest Post by Captain Todd Creekman, USN (Ret.)
Admiral James L. Holloway III, USN (Ret.), commanding officer of USS Enterprise (CVAN-65) and 20th Chief of Naval Operations, served for 28 years in retirement as president and later chairman of the board for the Naval Historical Foundation (NHF).

Admiral Holloway left his mark on NHF through his selfless service in support of naval history. He also left NHF much of the documentary and material history of his storied career, for us to treasure and donate to appropriate repositories for safekeeping. It was a task that took us years of careful evaluation and communication with the Naval History and Heritage Command and other archives and museums to ensure that documents, photographs and artifacts found good homes.

That work of respect and admiration for Admiral Holloway's place in our nation's and Navy's history entered its final chapter (I thought) with the admiral's death in November 2019 at age 97. In early 2020, with the approval of the current NHF leadership, I turned over to the NHHC Histories and Archives Division a final set of career-related files that the admiral had retained until just before his death.

But Admiral Holloway, who often seemed larger than life when we as his NHF staff contemplated the span of his career from destroyer gunnery officer combat at the World War II Battle of Surigao Strait through his acting chairmanship of the Joint Chiefs of Staff during Cold War crises, had left us one final artifact that speaks to perhaps his most satisfying job in the Navy—command of USS Enterprise. (This, after all, is the retired 4-star admiral whose email address through forty years of retirement was xcocvan65@aol.com!)

And yet that artifact, nearly discarded in the trash before his daughter Jane rescued it years ago, is really a story about an earlier era in the Navy, when the future of nuclear powered surface ships and particularly aircraft carriers was anything but assured. As with any such story of the U.S. Navy and nuclear power, it has to involve Admiral Hyman Rickover. But in a fascinating twist, the Admiral Holloway in this Enterprise story is actually James L. Holloway, Jr., our Admiral Holloway's father.

"Lord Jim," as he was affectionately (or perhaps critically) known, was the senior member of the only father-son team in our Navy's history who both served on active duty as four-star admirals. And the elder Holloway had a significant impact on his son's career, particularly his recommendation, from his vantage point as a career-long surface warfare officer and commanding officer of battleship USS Iowa (BB-61) during World War II, for his son to request, after two years of destroyer combat duty, flight training. His admonition that the future of the U.S. Navy would lie in naval aviation set his son on path that would take him to some of the most important jobs the Navy could offer, and ultimately, Chief of Naval Operations.

But Holloway senior also had an illustrious career, and during his tour as chief of the Bureau of Naval Personnel (BUPERS) for four years in the mid-1950s, he came to know and admire the extraordinary work that then-Captain Hyman Rickover was performing as Director of Naval Reactors to bring to sea the U.S. Navy's first nuclear powered ship, submarine USS Nautilus (SSN-571). When Rickover, whose controversial management style often strained relations with his chain of command, was passed over for promotion to flag officer in mid-1953, then-Vice Admiral Holloway ensured that with congressional help and a specially-written selection board precept, at the next such board only Rickover could qualify for one of the rear admiral slots.

As Rickover solidified his control of the Navy's nuclear propulsion program, he used each successive shipbuilding achievement to inform Navy and congressional leaders about the capabilities in which the nation was investing. One way that he did this was by mailing commemorative envelopes, (or covers, to the collector) at the christening and commissioning ceremonies for each of the nuclear powered ships under his control. These colorful envelopes, usually emblazoned by impressive cachets featuring artistic renderings of the ships and cancelled on the day of the ceremonial events, would contain a message for the flag officer, Navy official or congressional recipient, typed by his yeoman, and then personally signed by Rickover himself.

When Jane Holloway approached the NHF earlier this year with such a cover, marking the 24 September 1960 christening of the future USS Enterprise (CVAN-65) and addressed to "Admiral J. L. Holloway," we naturally assumed this had been sent by Rickover to our NHF Holloway. But a quick sanity check reminded us that the future CNO was still a captain in 1960, a little over three years away from his summons to Washington, DC to be interviewed by Rickover for the job as Enterprise's third commanding officer.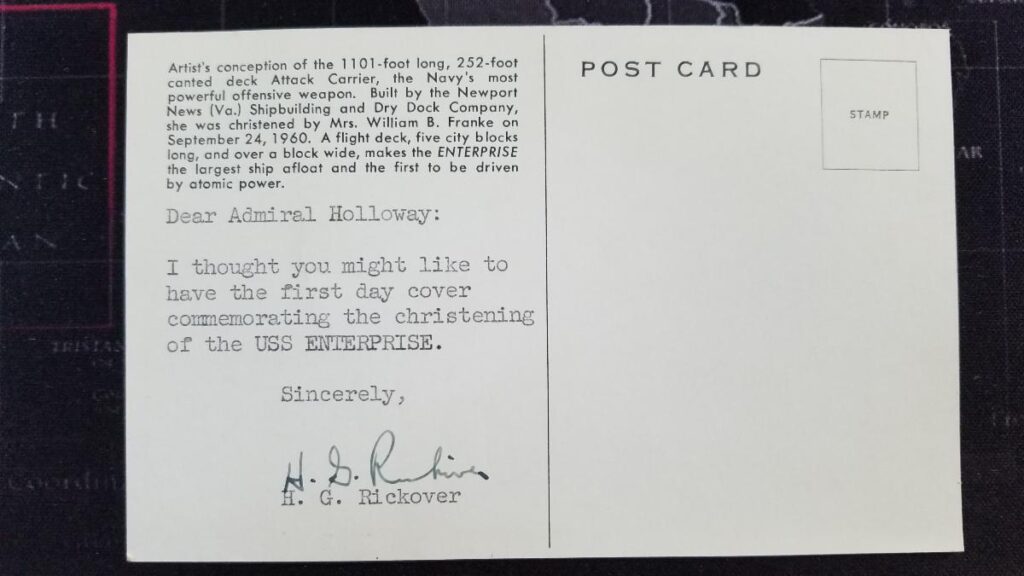 So this cover, retained by the younger Holloway after his father's 1984 death, actually tells a story of respect and gratitude from a visionary naval officer to a Navy leader instrumental in his rise to prominence. Mailed to the elder Holloway a year after his retirement following 41 years of active service, this cover, soon to be offered to NHHC's Navy Department Library to join the thousands of other covers in their unique collection, may have been Rickover's way of confirming the senior Holloway's observation some 16 years earlier of the preeminent role of naval aviation in the America's defense. And perhaps, even then, 60 years ago today, Rickover may have had his eye on the younger Holloway as a potential key player and ally in achieving his nuclear powered Navy vision.