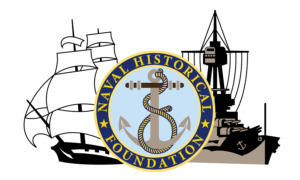 The Naval Historical Foundation, a 501(c)(3) organization, preserves and honors the legacy of those who came before us. We educate and inspire the generations who will follow.
Preserve and Honor: Remembering the legacy of those who came before us.
The Naval Historical Foundation is dedicated to preserving and honoring the legacy of those who came before us. Working closely with the U.S. Navy, the Naval Historical Foundation ensures that naval history remains in the forefront of American thought. Of utmost importance is the Navy's flagship museum, the National Museum of the United States Navy, located in Washington, D.C. The Naval Historical Foundation raises funds and supervises the construction of major new exhibits for the Museum, such as the Cold War Gallery, a facility dedicated to remembering the service and sacrifice of our Cold War veterans. We sponsor educational programs and lectures at the Navy Museum. We assist the Navy through the acquisition of important historical artifacts. We sponsor commemorative events celebrating the Navy Birthday, and the Battle of Midway. And we get the word out to those who can't come in person to the Museum, through online museum tours, educational online lesson plans, and regular blog and social media updates. We work to ensure that America's great naval history is proudly remembered.
Educate and Inspire: Passing the legacy on to the generations who will follow.
The Naval Historical Foundation also knows that it is crucial to pass on what we have learned to the next generation of Americans. We start by cultivating our nation's youth through the Captain Ken Coskey National History Day Prize, which recognizes the best naval and maritime scholarship from middle and high school students. We nurture historical thought at the United States Naval Academy through the Captain Edward Beach Prize, given to the midshipman who demonstrates exceptional naval history scholarship. We offer the Vice Admiral Robert Dunn Award for exceptional naval history scholarship, open to midshipmen from Naval Reserve Officer Training Corps programs around the country. We've created a dynamic medium for conversation on the latest naval history publications, through our Naval History Book Reviews program, which encourages both established scholars and amateur historians to write book reviews. We've helped our nation's teachers learn about the history of the U.S. Navy and its cutting edge technology, through our STEM-H Teacher Fellowship Program. We've developed a database of experts through our Directory of Naval Historians, which allows us to connect researchers to each other – and to the public — in order to foster ongoing dialogue about important topics in naval history. And we're proud to announce the new Commodore Dudley Knox Prize for Lifetime Achievement in the field of Naval History. All of these programs encourage and inspire those who will bring our United States Navy's heritage forward to the future.