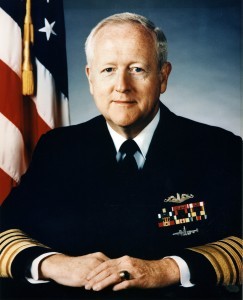 When Admiral DeMars retired in October 1996 after 44 years in the Navy both Houses of the Congress passed resolutions honoring him  for his long service to the country. Prior to his retirement he was, for 8 years, the Director, Naval Nuclear Propulsion. This program included some 176 reactor plants on over 150 ships and submarines, 8 land based research and training reactors, 8 nuclear qualified shipyards, 2  Department of  Energy laboratories  and an extensive commercial supplier base. He directed the transition of this enterprise to  the post-cold war period.
Admiral DeMars served as the Chief of Naval Operations principal assistant for submarine matters from 1983 to 1988. Before that he  served as the Commander U.S. Naval Forces Marianas and as Commander in Chief Pacific Representative for Guam and the Trust Territory of the Pacific Islands.
In his early years Admiral DeMars served on a surface ship and four submarines before commanding the nuclear attack submarine, USS Cavalla. He took part in cold war submarine special operations in all theaters. He commanded the Submarine Force's tactical development squadron.
Shore duty tours included instructor duty at Nuclear Power School and Submarine School. Following duty on an afloat submarine squadron staff he served as the head of the Atlantic Fleet Nuclear Propulsion Examining Board. He graduated from the U.S. Naval Academy in 1957 and attended the Armed Forces Staff College.
Admiral DeMars serves on the board of OceanWorks International and is past Chairman of the Duratek Corporation. He is a Member Emeritus of the Corporation of the Draper Laboratory and an advisor to industry and government. He is Chairman of the Naval Historical Foundation and past Chairman of the Naval Submarine League. He was presented the 2009 U.S. Naval Academy Distinguished Graduate Award, the 2011 Ellis Island Medal of Honor and the 2012 National Maritime Historical Society Distinguished Service Award
Admiral DeMars is a member of the Army & Navy Club, the Burning Tree Club and the Military Order of the Carabao. He golfs, fishes, gardens and reads.
He married Margaret Ann Milburn on graduation day from the Naval Academy in 1957. They have two children and three grandchildren.