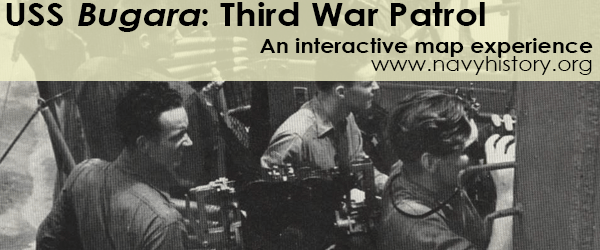 "And this we planned as a quiet day." (USS Bugara Ship Log, 29 July 1945)
USS Bugara (SS 331), one of 120 Balao-class submarines completed during the war, was launched on 2 July 1944 by Electric Boat Company in Groton, CT. Commander A.F. Schade was the first commanding officer.
Her service from 21 February to 17 August 1945 proved to be one of the more interesting records of events from Balao-class ships. During that time, she conducted three war patrols in the Flores, Java, and South China Seas and the Gulf of Siam. Bugara's first two war patrols were relatively routine with minimal interference.
In the span of just over one month, Bugara's crew sank fifty-seven small enemy ships totaling 5,284 tons (12 junks, 24 schooners, 16 coasters, and 3 sea trucks). Respecting the rules of war, Bugara made sure to put native crews safely ashore before sinking their vessels. In many cases, foreign crew members were cordial to Bugara's crew. As a result, they thoroughly disrupted the Bangkok-Singapore route of supplies for the Japanese. 
Other engagements made this particular patrol particularly noteworthy. On 2 August 1945, Bugara's crew encountered a Japanese ship manned by a Chinese crew being attacked by Malayan pirates. Bugara rescued the Chinese, sank the ship, and successfully attacked the pirates. Here is an excerpt from the official report on 2 August (6-21 N, 102-20 E): 
"1320 – Contact #46 – A new 150-ton schooner, anchored in deep water. Suspected something funny here. As we approached, we saw 6 large Malay canoes close by. It developed that it was a Chinese crew on a Jap vessel carrying rice to Singapore under attack by Malay pirates. We took off the Chinese crew and their life boat. The pirates fled. We sank the Jap ship, then shot up all the pirates and their boats. Put the Chinese ashore – and they love us still, inasmuch as the pirates had already killed two of the crew."
Following her return to Fremantle, Australia, at the conclusion of her third patrol in mid-August, she sailed to Subic Bay where she operated for the remainder of the war. For her wartime service, Bugara received three battle stars. 
How to Read the Third War Patrol Map:
Follow the travels of Bugara throughout her third war patrol from Subic Bay to Freemantle, Australia. Each plot point represents a lat-long measurement made by Bugara crew members between 14 July and 17 August. All spelling and colloquialisms were unchanged to maintain an accurate record of their patrol. The plot points are color-coded based on what happened on that particular date and time: 
• Green – Status OK/Normal operations
• Yellow – Ship/Plate Spotted, but no enemy action
• Red – Enemy Action
Below the map is a complete list of tonnage and cargo sunk by Bugara during her third war patrol.
Source Information: USS Bugara, Third War Patrol, Donation of EMC(SS) John Clear, USN, found digitally at HNSA and available in the Navy Department Library catalog.
Summary of Vessel and Tonnage Sunk by Bugara
| | | | |
| --- | --- | --- | --- |
| DATE | SHIP TYPE | TONNAGE | CARGO |
| 7/24/45 | Schooner | 50 | airplane wheels and tires, 15 cases of airplane parts. |
| 7/24/45 | Junk – HIAP SENG MARU | 120 | sugar and sewing machines |
| 7/24/45 | Coaster | 25 | sugar for Japanese |
| 7/24/45 | Coaster | 25 | sugar for Japanese |
| 7/25/45 | Schooner | 75 | 50 tons of rice |
| 7/25/45 | Junk | 25 | sugar and matches |
| 7/25/45 | Schooner | 51 | sugar and coffee |
| 7/25/45 | Junk – KIAN HUAT | 50 | sugar |
| 7/25/45 | Schooner – JOO LEE MARU | 120 | sugar and miscellaneous stores |
| 7/25/45 | Coaster | 20 | empty |
| 7/26/45 | Trengannu | 20 | N/A |
| 7/26/45 | Junk – CHIT MING HO MARU | 144 | 75 tons of rice |
| 7/26/45 | Sea Truck | 50 | drums of aviation gasoline |
| 7/26/45 | Schooner | 75 | 50 tons of rice |
| 7/26/45 | Schooner | 50 | medical supplies, scrap iron, and rice |
| 7/27/45 | Schooner | 20 | miscellaneous gear |
| 7/27/45 | Schooner | 75 | 50 tons of sugar |
| 7/27/45 | Schooner | 200 | 150 tons of rice |
| 7/28/45 | Coaster | 50 | rice |
| 7/28/45 | Coaster | 50 | rice |
| 7/28/45 | Schooner | 300 | n/a |
| 7/28/45 | Schooner – KIAT ANN | 75 | sugar |
| 7/28/45 | Chusan-type Junk | 25 | rice |
| 7/29/45 | Schooner | 200 | 200 barrels of sorghum molasses |
| 7/29/45 | IJN Auxiliary | 400 | cocoa bean |
| 7/29/45 | Junk – AYAMA | 112 | rice |
| 7/29/45 | Schooner | 50 | rice |
| 7/30/45 | Coaster | 30 | sugar |
| 7/30/45 | Schooner – TWAKO | 29 | sugar |
| 7/30/45 | Sea Truck | 50 | rice |
| 7/31/45 | Coaster | 32 | n/a |
| 7/31/45 | Schooner | 40 | rice |
| 7/31/45 | Schooner | 100 | rice and salt |
| 7/31/45 | Coaster | 37 | sugar |
| 7/31/45 | Coaster | 33 | rice |
| 8/2/45 | Schooner | 211 | miscellaneous gear |
| 8/2/45 | Coaster | 20 | coffee |
| 8/2/45 | Schooner | 180 | n/a |
| 8/2/45 | Coaster | 18 | rice |
| 8/2/45 | Schooner | 117 | rice |
| 8/2/45 | Schooner | 150 | n/a – hijacked by Malayan pirates |
| 8/3/45 | Sea Truck | 56 | rice |
| 8/3/45 | Japanese Junk No. 2218 | 100 | 45 tons of rice |
| 8/4/45 | Coaster | 50 | rice |
| 8/4/45 | Junk | 300 | rice |
| 8/4/45 | Schooner | 450 | copra and coconut oil |
| 8/5/45 | Schooner | 200 | coffee, sugar, sewing machines, and other gear |
| 8/5/45 | Junk | 75 | copra and rattan |
| 8/5/45 | Coaster | 20 |  n/a |
| 8/5/45 | Schooner | 64 | coffee |
| 8/6/45 | Junk | 125 | sugar and rice |
| 8/6/45 | Coaster | 16.6 | miscellaneous gear |
| 8/6/45 | Junk | 26 | sugar |
| 8/6/45 | Junk | 60 | rice |
| 8/7/45 | Junk | 60 | rice |
| 8/7/45 | Coaster | 26.5 | n/a |
| 8/7/45 | Coaster | 28 | rice |