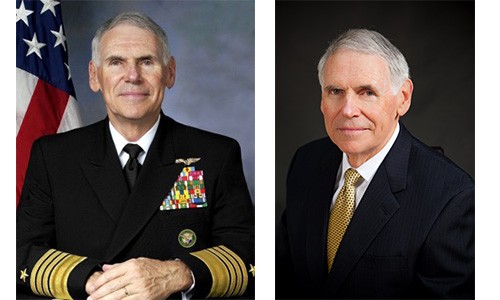 Admiral William J. Fallon retired from the U.S. Navy in 2008 after a distinguished 40 year career of military and strategic leadership. He has led U.S. and Allied forces in eight separate commands and played a leadership role in military and diplomatic matters at the highest levels of the U.S. government. A life member of the Naval Historical Foundation, Fallon will become the sixth Chairman of the organization following in the wake of Admiral Robert. B. Carney (1961-1981); Arleigh A. Burke (1981-1985), Rear Admiral Elliot Strauss (1985-1998), Admiral James L. Holloway III (1998-2008), and Admiral Bruce DeMars (2008-2015).
Raised in Merchantville, New Jersey, Fallon earned his commission in 1967 through the NROTC program at Villanova University and was designated a Naval Flight Officer upon completion of flight training in December 1967.  After completing the Fleet Replacement Group (RAG) training pipeline, Fallon would be assigned to an RA-5C Vigilante squadron that would embark in the carrier Ranger for combat operations over Vietnam.  Following the end of that war, Fallon transitioned to the A-6 Intruder and continue flying in most Navy carrier based aircraft over the next two decades. Of his 40 years of naval service, 24 were spent in flying assignments, culminating with his command of Carrier Air Wing Eight embarked in Theodore Roosevelt during Operation Desert Storm in 1990. Over those years he recorded more than 1,300 carrier arrested landings and over 4,800 flight hours.
Selected for his first star in 1992, Fallon's initial flag assignment was with NATO as Assistant Chief of Staff, Plans and Policy for Supreme Allied Commander, Atlantic.  A year later, as Commander, Carrier Group Eight embarked in Theodore Roosevelt, he commanded Battle Force Sixth Fleet during Operation Deliberate Force in Bosnia. After a year as Deputy Commander, U.S. Atlantic Fleet, Fallon was confirmed as a Vice Admiral and assigned as Deputy Commander U.S. Atlantic Command.  He subsequently served as Commander, U.S. Second Fleet and Commander, Striking Fleet Atlantic from November 1997 to September 2000.
Promoted to Admiral in October 2000, Fallon began his first four-star assignment as Vice Chief of Naval Operations.  On September 11, 2001, Fallon was in the Pentagon when hijacked American Airlines Flight 77 crashed into the building. He personally directed the recovery of the Navy staff in the wake of the attack and led in the planning of the retaliatory attacks on Al Qaeda and Taliban forces in Afghanistan.  From the Pentagon, Fallon moved to Norfolk where he took command in October 2003 of the U.S. Atlantic Fleet and U.S. Fleet Forces Command, with responsibility for the readiness of U.S. naval forces worldwide.  In February 2005, he began a two-year tour as Commander, U.S. Pacific Command, directing political-military activities in the Asia-Pacific region.  His achievements include a resumption of military engagement with China, new outreach to India, a new agreement on a strategic framework with Japan, and humanitarian assistance to the victims of the 2004 Tsunami in Southeast Asia.  He also served as Presidential Envoy to Japan, handling bi-lateral relations after the collision of a U.S. submarine and a Japanese fishing vessel. In his final active duty assignment, he was confirmed as Commander, U.S. Central Command, for one year before stepping down in March 2008. As head of Central Command, Admiral Fallon directed all U.S. military operations in the Middle East, Central Asia and Horn of Africa, focusing on combat efforts in Iraq and Afghanistan.
Admiral Fallon was a Robert E. Wilhelm Fellow at the Massachusetts Institute of Technology, Center for International Studies.  He also serves on the Global Affairs Advisory Board of Occidental College and the International Advisory Board of the University of California, San Diego, School of Global Policy and Strategy.  In addition to being a graduate of Villanova University, he attended the U.S. Naval War College, the National War College, and has an M.A. in International Studies from Old Dominion University.
Chairman of the Board of CounterTack Inc., a company in the cyber security business, Admiral Fallon is a partner in Tilwell Petroleum, LLC, advisor to several other businesses and a Senior Fellow at the Center for Naval Analyses.  He has been a member of an Experts Panel to the Congressional Commission on the Strategic Posture of the U.S. and served as Co-Chair of the Center for Strategic and International Studies Commission on Smart Global Health Policy and Co-Chair of the National Association of Corporate Directors 2009 Blue Ribbon Commission.  He is a member of the U.S. Secretary of Defense Science Board and the Board of the American Security Project.
Admiral Fallon and Mary, his wife of 47 years, are the parents of four children; Susan, Barbara, William, a serving naval officer, and Christina.  They have five grandchildren.  When they have free time, Bill and Mary Fallon visit their vacation home   in Montana, where they enjoy hiking, fishing, reading history and the company of good friends.