Battleship NORTH CAROLINA Firepower Program
February 18, 2012 @ 9:00 am

-

5:30 pm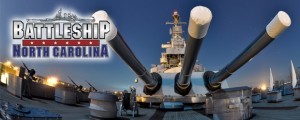 Learn about and explore the Battleship's 16-inch and 5-inch guns from the gun houses to the ammunition loading compartments; the 40mm and 20mm guns, and the weapons that they replaced (1.10 and 50 caliber guns). The finest guns are of little use without the means to direct their fire accurately at the target. Presenters will discuss the various types of fire control equipment (directors/optical range finders, radar, computers) and how main and secondary battery plotting rooms and the combat information center operated. Participants will enjoy a lively, engaging, in-depth program with presentations, hands-on experience, and serious exploration for adult learners.
The program is for adults only (ages 16 and up) and limited to 40 participants. It is not appropriate for those who may have difficulty climbing narrow ladders. Wear warm, comfortable, washable clothing, sturdy, rubber-soled shoes and bring a camera! Registration and payment are due by Thursday, February 16, 2012. Event is $95; $85 for Friends of the Battleship or active military. Program includes a box lunch. Call 910-251-5797 for reservations.
Visit www.battleshipnc.com or follow them on Facebook.com/ncbb55 and Twitter.com/battleshipnc for more information.