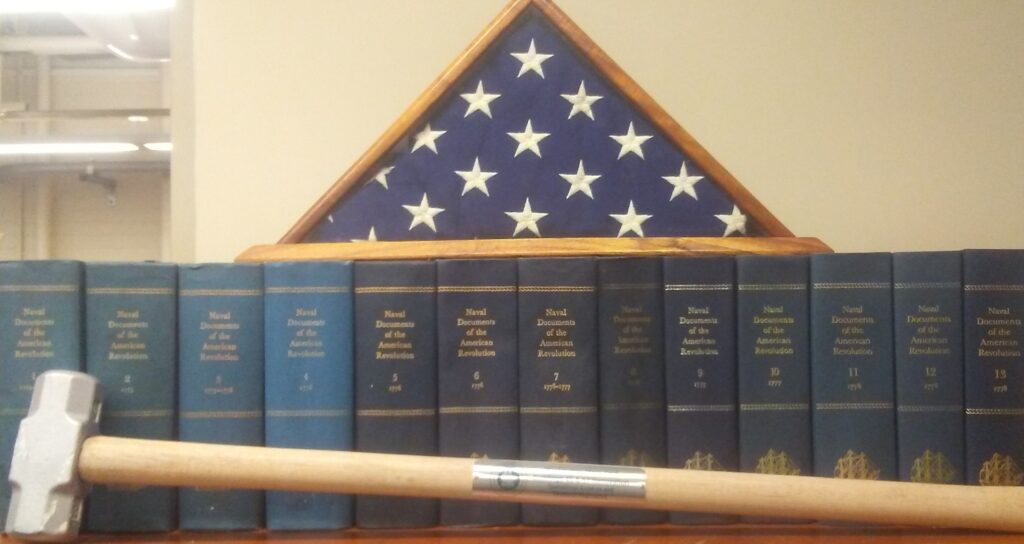 With more than 22,000 documents, the Naval Documents of the American Revolution are a rich resource for anyone studying the Navy during this period and the American Revolution in general. Each volume has more than one thousand documents with annotations and source notes that indicate where the original documents are held. Introductions to the volumes are searchable and included in full and provide detailed information on the history of the series (see volume one) and the many people who contributed to, what President William J. Clinton described as a "monumental publishing project" (Volume 10, Front Matter).
The Naval History and Heritage Command's predecessor organization, the Naval History Division, published the first NDAR volume in 1964. It includes a foreword by President John F. Kennedy. Succeeding volumes include forewords by presidents Johnson (volumes 2 & 3), Nixon (volumes 5 & 6), Ford (volume 7), Carter (volume 8), Reagan (volume 9), Clinton (volume 10), George W. Bush (volume 11), and Obama (volume 12). William Bell Clark, Dr. William James Morgan, and Dr. William Dudley preceded Dr. Michael J. Crawford as editors of the series. Dr. Crawford produced Volume 12 in 2014, the 50th anniversary of the series, with associate editor Dr. Dennis M. Conrad and assistant editors E. Gordon Bowen-Hassell and Mark L. Hayes. Charles Brodine is now the series editor. RADM Samuel Cox is the Director of the Naval History and Heritage Command and oversees the series, providing the foreword for volume 13.
This digital edition of volumes 1-13 of the Naval Documents of the American Revolution was made possible by a generous grant from Andrew and Barbara Taylor to the Naval Historical Foundation. Instrumental matching funds were received through the Maritime Heritage Grant from the District of Columbia Historic Preservation Office and the National Park Service1.
This material was produced with assistance from the Historic Preservation Fund, administered by the National Park Service, Department of the Interior. Any opinions, findings, and conclusions or recommendations expressed in this material are those of the author(s) and do not necessarily reflect the views of the Department of the Interior.
Click the banner below to search these newly digitized documents.