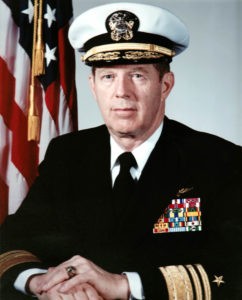 Vice Admiral Dunn left active service as the top naval aviator, Deputy Chief of Naval Operations for Air Warfare, responsible for establishing materiel requirements and setting policies for the training, operations, management and personnel throughout the Navy's aviation establishment. He is currently the president of the Naval Historical Foundation, president of the Naval Academy Class of 1951, serves as an aviation consultant, a member of the board of UT-Services, a research and development company, and is a contributor of book reviews to the Washington Times.  In the past he studied for one year as a Ramsey Fellow at the Smithsonian National Air & Space Museum and served as the chairman and president of the Association of Naval Aviation.  He also served on several aerospace company boards, as Chair of GSA's Aviation Policy Management Board in a review of safety as pertains to non-DOD government aircraft, as Deputy Chairman of the NASA Aerospace Safety Advisory Panel and president of the National Consortium for Aviation Mobility (NCAM).  NCAM was the private partner in a public/private partnership with NASA aimed at development of technologies which would enhance small aircraft transportation.  The culmination of that partnership was a large, successful, publicly acclaimed, demonstration of those technologies at Danville, Virginia, in 2005.
During his navy career Vice Admiral Dunn commanded a large number of organizations, large and small, with extensive time airborne including combat in Vietnam.  Most of his flying was in carrier based jet attack and fighter aircraft but he is also a designated helicopter pilot and has flown single and multiengine props and turboprops and sailplanes.  He has commanded a carrier squadron, a carrier air wing, a large amphibious ship, the aircraft carrier Saratoga and a carrier battle group.
Later in his Navy career he commanded all Naval Air Forces of the U.S. Atlantic Fleet preceded by command of the worldwide forces of the Naval Reserve and before that the Naval Military Personnel Command:  in charge of personnel management and assignment of all uniformed navy people.
Vice Admiral Dunn writes for publication and is an experienced public speaker.  He has been a commentator on various news programs and has been called upon to testify before Congress as an active officer, in his retired capacity and as a NASA safety panel member.  His hobbies are flying, golf, travel, reading and the study of naval history.
Vice Admiral Dunn is a native of Chicago, married to the former Claire Snyder Leaver.  They have four grown children.
Education:  
B.S. (Engineering)  U.S. Naval Academy, Annapolis, Maryland
M.S. (Management)  U.S. Naval Postgraduate School, Monterey, California
**   Aviation Safety Course, University of Southern California
**   United Kingdom Joint Services Staff College
**   Harvard University, Kennedy School Course for Senior Executives