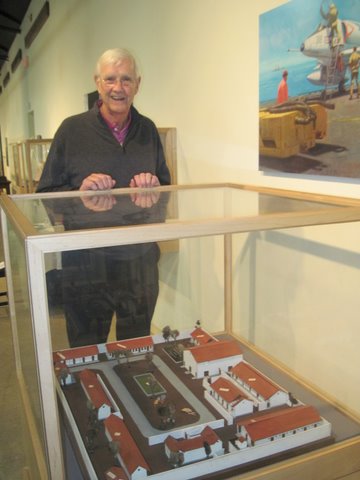 Captain Bob Naughton, USN (Ret), a former prisoner of war during the Vietnam War, poses for a photo with the prison camp model of the "Zoo," where he spent time during his captivity, just a few miles outside of the city of Hanoi in North Vietnam. Captain Naughton visited the Cold War Gallery, Wednesday, 1 February, while in town for the Arlington funeral of his former VA-113 commanding officer, Captain Hank Dibble, USN.
Then-LCDR Naughton was shot down in May 1967 flying an A-4C Skyhawk from the deck of USS Enterprise, with the Stingers of VA-1113. He was released in March 1973. He later served as commanding officer VA-83, VA-174 and NAS Dallas. His awards include Silver Star, Legion of Merit (2), Distinguished Flying Cross (2), Bronze Star and Purple Heart. He and his wife Peggy now reside in Texas.
The model of the "Zoo" prison camp features labels describing the various areas of the camp, and is currently on display in the Cold War Gallery, at the Washington Navy Yard. The model was built by Midshipman Ronald Malec, United States Naval Academy Class of 1974, and presented to Commander Jack Fellowes in May 1974. Fellowes (who passed away in 2010) had a personal connection to the Cold War Gallery. He sponsored a model of the A-6E Intruder that he was shot down in over Vietnam, along with Bombardier-Navigator LTJG George Coker. The aircraft model is now on display in the Cold War Gallery. An image of the model can be seen on our Cold War Gallery website, in the "Fly Navy" section under "Aircraft Models," with additional views available on our Flickr site.  A home made shoulder board fashioned by Coker during their imprisonment is also on display in the Gallery.
A close-up photo of the model of the "Zoo" can be seen below. We'll have a follow-up story later this month on the model itself.