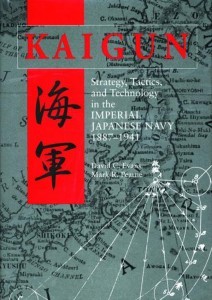 By David C. Evans and Mark R. Peattie, Naval Institute Press, Annapolis (1997).
Reviewed by Nathan B. Albright
David C. Evans served in the U.S. Navy as an ensign and a lieutenant (junior grade), and previously edited The Japanese Navy in World War II: In the Words of Former Japanese Naval Officers. Mark R. Peattie has written numerous works about Japanese history, including Ishiwara Kanji and Japan's Confrontation with the West and Nan'yo: The Rise and Fall of the Japanese in Micronesia, 1885-1945. Both authors spent twelve years working on this book, and their acknowledgement section demonstrates the immense amount of people who helped in this labor of love.
This book, which has more than five hundred pages of thematic but generally chronological text before its biographical appendix and its lengthy endnotes and bibliography, covers the entire span of the Imperial Japanese Navy from the first naval reforms during the Meiji Restoration to the middle of World War II. There is a short epilogue that covers the Japanese failure to cope with the naval war of attrition at the end of World War II. In between, the authors cover a wide variety of concerns dealing with the Imperial Japanese navy, from their operations in conflicts (the Sino-Japanese War of 1894-1895, the Russo-Japanese War of 1904-1905, World War I, and World War II) to technological developments, bureaucratic infighting, and training and educational developments. This is done not only by providing narrative on the developments within the Imperial Japanese Navy, but also by providing biographical sketches of important Japanese naval figures as well as comparisons in how Japan solved the tactical and technological dilemmas of the time compared with other navies (especially the British and American navies). Helping to make this technical task more straightforward is a generous amount of tables as well as many side-view drawings of Japanese warships.
Among the many strengths of this very thorough and very excellent work is a keen understanding of the Japanese as well as English-language historiography, which the authors provide in a clear and comprehensive manner for English-speaking audiences.
The authors also deserve high praise for not only focusing on the tactical aspects of naval warfare, but also seeking to provide a larger picture of the logistical, political, and strategic tradeoffs that the Imperial Japanese Navy had to make at various points of its nearly seventy-five year run. The authors are generous in their praise of Japanese quality, as well as their efforts in catching up quickly to European and American navies at the end of the 19th century, but they are equally unsparing in their criticism of Japan's failures to pay attention to developments in submarine warfare and anti-submarine warfare, as well as disastrous shortcomings in grand strategy and in their interservice rivalry with the Japanese army.
The authors also demonstrate the interconnected nature of many of Japan's successes as well as shortcomings, which ultimately proved to be fatal in World War II.  Japan sought to overcome a lack of industrial base and population against the United States (and Great Britain) by appealing to spiritual factors and developing elite naval pilots and the highest quality weapons systems and ships, but could not build enough ships or protect their ships and pilots well enough to preserve their limited resources in a war of attrition against a vastly more powerful enemy. Additionally, by planning for decades for war against the United States, the navy seemed backed into a corner in provoking the United States into a war over strategic resources that Japan was not able to win because it was only prepared to win short regional wars. Previous successes in operations against China and Russia (and Germany's Pacific territories) seem to have blinded many Japanese naval leaders to the strategic difficulties of Japan's position, and to the possibility of diplomatic options that could have avoided war with the United States altogether.
As a result, the book is well-connected and contains a tragic but consistent tone, examining both the strengths and weaknesses of Japan's navy in the late 19th century and the first half of the twentieth century. As there are few, if any, books that deal with the same scope of Japanese naval history, this book should have an honored place in the libraries of readers interested in the Japanese navy, especially during the 1920's and afterward, which takes up the majority of this work. The fact that the book ties together Japanese and English-language sources only adds to its value, since many of the work's sources are generally unfamiliar to English-language readers and deserve to be better known, as they put Japan's naval history in a better and more balanced perspective.
Nathan Albright is an instructor at Legacy Institute in Chiang Mai, Thailand.