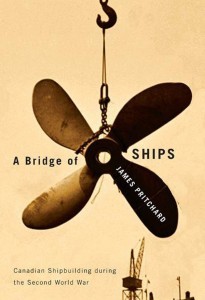 By James Pritchard, McGill-Queen's University Press, Montreal & Kingston, (2011)
Reviewed by Phillip G. Pattee, Ph.D.
Prize winning scholar James Pritchard, professor emeritus of history, Queens University, has published his third book. His previous works, Anatomy of a Naval Disaster: The 1746 French Expedition to North America, and Louis XV's Navy, 1748-1762, both deal with sixteenth century French naval history. In A Bridge of Ships: Canadian Shipbuilding during the Second World War, Pritchard moves into a new era and direction. In this book, he describes how Canada responded to the wartime demand for ships by rapidly expanding it ship building capacity.
Using a variety of sources, including private archives, manuscripts held by numerous private shipyards, and government documents, Pritchard constructs the story of government intervention to expand one sector of the economy—in this case the shipbuilding sector. The narrative includes discussions of expanding the capacity of various shipyards, the problems associated with acquiring sufficient raw materials, component parts, trained personnel, quality control, and current ship designs. Moreover, as the number of ships grew, the need for repairs and salvage likewise increased. These latter two requirements produced their own competing demands on ship yard space, materials, and personnel. When discussing personnel, Pritchard also investigates morale, safety, shortages of critical skills in drafting and engineering, as well as the role of unions in the shipyards to give a fuller picture of the issues involved.
This book presents an excellent example of how government intervention can rapidly stimulate industrial growth. It also provides a warning, demonstrating how rapidly a sector can decline when government stimulus disappears. Canada provided ships necessary to prosecute the Second World War, as it had done for the First World War. Despite this, Canada currently has no significant shipbuilding legacy.
The prose is not overly technical, so a reader with little background in economics or public policy will not be lost. Those with specific expertise, however, will still find that this history informs their professions. The book is also amply supported by useful tables and carefully selected photographs depicting details of the points the author wished to make.
A Bridge of Ships makes a significant contribution to an area of military history that is generally unknown, and considering the state of the contemporary economy, little understood and underappreciated. If you are a casual reader of naval history, or typically interested in naval battles, tactics, or operations, this book will not interest you. If, however, you are a national security professional, who deals with issues of industrial mobilization, or acquisition, this book should be on your short list.
Dr. Pattee is a member of the faculty at the U.S. Army Command and General Staff College.