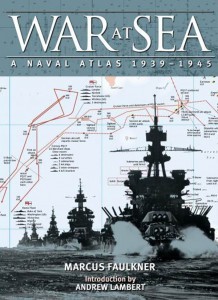 By Marcus Faulkner, Naval Institute Press, Annapolis, MD. (2012).
Reviewed by Mitchell Yockelson, Ph.D.
The War At Sea: A Naval Atlas, 1939-1945, is a mammoth undertaking. Within its 275 pages author Marcus Faulkner covers most of the naval engagements of the Second World War, as well as amphibious landings, convoys, sieges, skirmishes and sinking's with detailed color maps and a brief narrative within each entry. Naval historian Andrew Lambert introduces the atlas with a lengthy essay on the impact of sea power prior to and during World War II and suggests that "for all of the fighting on land, the extensive bombing objectives, and even the use of atomic weapons in 1945, the outcome of the Second World War was settled by allied control of global oceanic communications."
With that said Faulkner states in the preface that "this book can be used in two different ways." Because the atlas is organized mostly chronological it can serve as a naval history of the Second World War, or it can be used as a reference to individual campaigns or battles. In most cases the major operations and battles like the Aleutians or the Battle of the Philippine Sea are allotted two pages while less significant battles such Operation Harpoon or Kula Gulf are described in one page. A key to the maps for the battles and operations is provided that show the progress and courses of the task forces and squadrons, along with an order of battle and ship losses and air power.
Appropriately, significant sections of the atlas cover the Pacific Theater while the Battle of the Atlantic and operations in the Mediterranean receive adequate treatment as well. Each section is organized by year and introduced with a short overview and map of the world that shows where each of the major battles, operations and convoy routes took place. Faulkner thoughtfully includes the page number on the maps so readers know where immediately where to look for the relevant coverage of the events for that year.
The atlas concludes with an extensive bibliography of primary sources, official histories and secondary sources. Even though operations led by the United States Navy make up a considerable portion of the atlas from 1942 onward, there is no evidence that Faulkner conducted research at American archival repositories. The index is useful only if you want to search by battle, convoy, operation, groups or vessel because none of the commanders are cited. War at Sea is a valuable and highly recommended reference source. Although the steep price of almost $89.00 may limit purchase to only die-hard naval and World War II historians, it is a must acquisition for research libraries.
Dr. Yockelson is a professor at the United States Naval Academy.