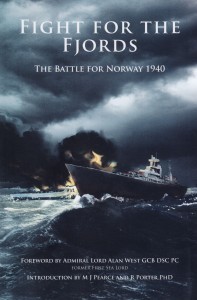 M. J. Pearce and R. Porter, ed., University of Plymouth Press, Plymouth, UK (2012).
Reviewed by Richard P. Hallion, Ph.D.
The battle for Norway is not one of the more extensively studied campaigns of the Second World War, though it certainly has its share of lessons learned-and-lost that anyone interested in maritime affairs should know.  For that reason, this is a welcome book, particularly as it presents the campaign from both the Allied and German perspective.  Despite the title, which implies that this is an integrated historical survey of a significant joint and combined arms struggle, Messrs. Pearce and Porter's work is actually an assemblage of two official (and formerly Restricted) histories completed shortly after the Second World War:  "Naval Operations of the Campaign in Norway, April-June 1940" (Royal Navy Battle Summary Series, 1950); and "The German Campaign in Norway April-June 1940" (RN German Naval History Series, 1948).
Ably edited by Pearce and Porter (the former the Heritage and Fine Arts Officer at Dartmouth Royal Naval College, and the latter a naval historian and trustee of the Britannia Museum), Fight for the Fjords offers a valuable and sobering perspective on naval operations in the "fog and friction" of on-the-scramble littoral war.  The editors contend (p. 11) that the Norwegian campaign "was effectively the first combined operation in which both sides required their navies, armies, and air forces to work together tactically in pursuit of their strategic objectives."  While purists might quibble that the same might be said of the Dardanelles a generation earlier, the two texts do speak broadly about the successes—and, more often, the failures—of each side's efforts at genuine joint warfare.
The campaign offers a veritable textbook case of multiple failures: faulty intelligence, optimistic planning, logistical failures, flawed assumptions, disappointing combat performance, preparation and training deficiencies, and equipment shortages and shortfalls—and all these for both, not just one, side.  Balancing this was extraordinary heroism, gritty determination, bold seamanship, and remarkable airmanship, again on both sides.  Victory went to Germany, the side that made the least mistakes, but the margin of the Nazi victory was insufficient to permit the Hitler regime to capitalize upon its success during its subsequent confrontation later that year with Britain. For its part, the Royal Navy took a heavy toll of German surface forces (most notably and memorably at Narvik, in two sharp engagements), though extraordinary failures prevented it from achieving outright maritime supremacy in Norwegian waters.
In a tragic episode eerily anticipating the U.S. Navy's experience off Samar in four years' time, the German battlecruisers Scharnhorst and Gneisenau surprised the carrier HMS Glorious, sinking it (and two accompanying destroyers) with almost all hands, including pilots of a Royal Air Force Hurricane squadron that had boldly landed their hook-less land-based fighters aboard the carrier while it was steaming at sea rather than abandon them in Norway. In its gallant last minutes before sinking, one of the two destroyers, HMS Acasta, loosed a torpedo that badly damaged Scharnhorst, forcing both battlecruisers into harbor at Trondheim—and thereby saving a British troop convoy they almost certainly would have savaged (pp. 208-09).
Norway taught many lessons, most significant of which was the overwhelming power of maritime air power (both sea-and-land-based) and the extreme vulnerability of ships to air attack, something that would be reinforced many times over across the globe over the next five years.  To give just two examples, Fleet Air Arm Blackburn Skua dive bombers sank the German cruiser Königsberg; Luftwaffe Junkers Ju 88s sank the cruiser HMS Curlew, even though the latter was an air-search-radar-equipped vessel armed with multiple high-angle antiaircraft cannon and intended exclusively for fleet air defense duties.
Fight for the Fjords is not without its flaws, the principle ones being lack of an index, lack of any photographs whatsoever, and—most of all—mediocre black-and-white reproductions of maps originally having colored track and movement markings.  The latter is a particular disappointment, for it need not have been.  When the first of the studies in this book—"Naval Operations of the Campaign in Norway, April-June 1940"—was published by Frank Cass Publishers in 2000 (in an edition edited by David Brown, former Head of the Naval Historical Branch at the UK Ministry of Defence), its many strengths included its photographs and color maps, reflecting the original work.  Indeed, one wonders why the editors did not simply do a high-quality photographic reproduction of the original documents in the first place, which would have conveyed a better sense of how these documents were arranged, categorized, and presented in their original form.
Having said that, however, it is good—as stated at the beginning of this review—to have both the British and German perspective on this campaign available within a single volume (whatever its faults), and the editors are to be thanked for the time they spent and care they took in preparing them for publication and placing them within a proper historical context.
Dr. Hallion is a noted aerospace historian.