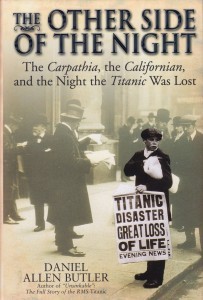 By Daniel Allen Butler, Casemate, Philadelphia, PA. Newbury, Great Britain. (2009).
Reviewed by James Quinn
Still today the world's most famous ship, RMS Titanic and her last hours have been the subject of a 1950s best-seller and a multi-Oscar winning blockbuster of the 1990s. In The Other Side of the Night, the story is expanded to tell of the two vessels that shared the immediate results of Titanic's last moments afloat. On that April night 100 years ago, duty's call was met and duty's call was ignored. Bravery steamed through ice floes while not cowardice, but callousness kept another closer vessel stopped intentionally ignorant. Titanic, Carpathia, and Californian were joined that night forever; yet only Titanic remains in the public's mind, as Carpathia and Californian both passed into history during the First World War a few years later. Daniel Allen Butler's book returns both of these other ships and their captains, Arthur Rostron of Carpathia and Californian's Stanley Lord, to the public eye.
This is more than a story of ships at sea and in distress. This is a story of a moment in time and of the different reactions of two men to that moment – a moment prolonged that called on them to respond. This is a story that even a landlubber who has only gone to sea on the Staten Island ferry can understand. The well-known saga of the gilded life and the swift death of Titanic – and of her age – is presented here in a readable and entertaining manner.
Carpathia's Arthur Rostron and Californian's Stanley Lord are the central figures of this story, and Rostron is clearly the hero. "Mr. Dean, turn the ship around ….,"and with those words Captain Rostron sailed into history and reward. On the other hand, Stanley Lord is shown by the author to be tyrannically wrapped in a cocoon of self-preservation, unable, unwilling to meet the basic duty of a seafarer to respond to any sign of distress at sea. There is little doubt that Californian was close to the Titanic in her last moments afloat, yet it is Carpathia and Captain Rostron that rescued Titanic's survivors. While Lord stayed safely away, Rostron took his ship north thru the ice-filled ocean. Stanley Lord's inaction, an the fear that his officers had of him that kept them from suggesting further investigative actions on their part, are laid out here in a most damning manner.
UNSINKABLE, The Full Story of RMS Titanic, is the author's earlier work and, dealing less with the Californian and Carpathia, it shares with this reviewed work a number of paragraphs that, almost word for word, are of the doomed vessel in her last perilous moments and at the hearings that followed, both in Washington, D.C., and in London. Seen in that light, the repetition is understandable.
That history has not been kind to Stanley Lord is clearly evident in this book. The author is not at all inclined to excuse any of Californian's actions – or inactions, actually – and though subsequent actions of Lord and his supporters are mentioned, they are not in the author's – or history's – favor. According to the author, Captain Lord is guilty of the unconscionable act of self-preservation, of a "reckless disregard for the safety of others." All of Lord's actions, and his inactions, are listed, harshly and disdainfully, by the author in claiming Lord to be a sociopath.   That is clear and not readily available of debate is that Captain Lord failed the primary duty of rendering aid to a seaman in distress. The type of ship's master that Lord was – leading through fear and tension and intimidation – is clearly stated by the author, but it is not the author's point. It is not "how" Captain Lord led as it is that he did not lead. On the other hand, Arthur Rostron led here and went on to serve in World War I and eventually attained the rank of Commodore of the Cunard fleet, retiring, with medals and honors, in 1931.
The Other Side of the Night is an entertaining and easy read of a forgotten part of a well-known event in history. It is of interest to those who know well or who know little of the sea.
James Quinn is an Air Force veteran with a life-long interest in both history and ships. He is a graduate of Brooklyn Law School and is retired from the New York City Transit Authority and from the Department of Homeland Security.