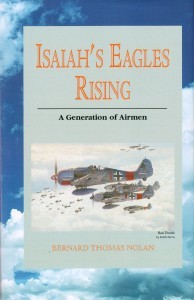 By Bernard Thomas Nolan, Xlibris Corporation, Bloomington, IN (2012).
Reviewed by Richard P. Hallion, Ph.D.
Privately published memoirs constitute a mixed-bag of literature, with many generally offering more opinion than substance. However, bomber pilot Bernard Thomas Nolan's Isaiah's Eagles Rising constitutes a very definite exception to this "rule." It is at times a gripping account of one young American's preparation for air war, and then his experience in combat.
Various airmen have recounted their own experiences in the strategic air war, beginning with Bert Stiles' iconic Serenade to the Big Bird (written by its ill-fated pilot-author in the midst of the war and reissued by Schiffer in 2007). Historians have added informative and generally useful accounts, most notably Donald L. Miller's Masters of the Air, Richard Davis' Carl A. Spaatz and the Air War in Europe, Tami Davis Biddle's Rhetoric and Reality in Air Warfare, and Robert Ehlers Jr.'s Targeting the Third Reich).
But for the cockpit perspective, Nolan is without peer. His book is surprisingly frank, his appraisals of himself and his colleagues sympathetic yet scrupulously honest, and his analysis of his—and their—role in the war nuanced and insightful. Like most youngsters who came of age in the interwar era, his interest in flight was honed by model-making, aviation-themed motion pictures, and the exploits of "speed merchants" such as Wiley Post, Roscoe Turner, and Al Williams, and, of course, the inspirational example of Charles Lindbergh. Readers desiring insights into aircrew selection and training will not be disappointed, for Nolan dwells extensively on his training and preparation for war.
Nolan's accounts of combat are understated and occasionally chilling. His crew began their tour flying the Consolidated-Vultee B-24H Liberator, surviving a near-fatal flak burst on their nineteen mission just as they went "feet dry" on the Continent. The burst knocked out two engines on the same side. By then Nolan and his crew were experienced, hardened professionals, and so managed to jettison their bomb-load, limp across the North Sea, and remain aloft long enough to make an emergency landing at a British airfield. They then transitioned to the Boeing B-17G Flying Fortress, with which they finished their tour. As a pilot, Nolan thus had the opportunity to fly both of these legendary aircraft in combat. Of the two, there is no doubt of his preference." Comparing the two aircraft based on my own flight experience," he writes (p.192), "I concluded that the B-17 was by far the better combat aircraft in the European arena."
If 1943 had been the great year of trial for American strategic bombers—think Ploesti, Schweinfurt, and Regensburg—1944 was the year when strategic bombers savaged the Reich, disrupting production schedules, forcing redirection of German acquisition from offensive to defensive systems, and robbing the Hitler regime of oil and the means to transport it (and other crucial war materials) around the homeland and on to the various fighting fronts. At the beginning of the year, American fighter pilots had largely destroyed the Luftwaffe's fighter forces, but enough remained that these, together with Germany's dense antiaircraft defenses, ensured that American bomber formations were still imperiled, particularly as they struck deep into the Reich.
On their 24th mission, August 5, 1944, German fighters attacked his formation "like a pack of hungry wolves circling their prey," one Messerschmitt Me 163 Komet rocket-powered fighter streaking by Norton's bomber so fast that the crew "marveled at the speed" of the little tailless fighter. (p. 197). But in the end, they survived their tour, and after the war, Norton remained in the Air Force, retiring in 1965.  Afterwards, he became a senior program manager for NASA and SAIC. Meeting Nazi fighter ace Adolf Galland in the mid-1980s, Nolan "was struck by the notion that we were both still alive. How apparent it became to me that the hand of God ultimately guided by survival—obviously his as well." (p.192).
Isaiah's Eagles Rising is an enthralling book, and readers will finish it with a renewed appreciation for a time in air warfare when success was measured by the number of sorties required to destroy a target, rather than the number of targets destroyed per sortie. But most of all they will gain new respect for a generation of youngsters who came of age amid the flak-torn and fighter-filled skies of Western Europe.
Dr. Richard P. Hallion is a frequent contributor to Naval History Book Reviews.