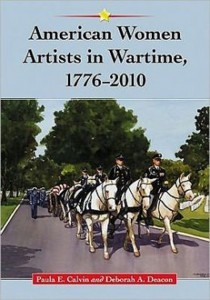 By Paula E. Calvin and Deborah A. Deacon, McFarland & Company, Inc., Jefferson, NC & London (2011)
Reviewed by Diana L. Ahmad, Ph.D.
Art historians Paula Calvin and Deborah Deacon take readers on a journey through two and a half centuries of American military art as depicted by female artists. They demonstrated that war impacted not only men, but women and their families as well.
Defining art works as paintings, sculpture, textiles, quilts, knitting, needlepoint, and photography, the authors clearly showed the impact of war on American women's art. The book provided a chronological history of women's art contributions from the Revolutionary Era through the conflicts in Iraq and Afghanistan showing how women contributed art works at many levels. They also briefly explained the early history of women referencing "republican motherhood" and the Cult of Domesticity, as well as women crossing the North American continent on the overland trails. Each chapter followed the same format and provided information on the genre of art and the women who provided military art of a particular design. Female artists largely incorporated military art into their repertoire of work, but did not devote their lives to the genre.
During the nineteenth century, female artists often came from elite families that allowed the women to study and travel, most commonly in Italy and Paris with renowned artists, many of them male. The military art done by these women focused on paintings and sculptures and were most often commissioned by states or societies to commemorate historic encounters such as Civil War battles or important generals or admirals, such as Admiral David Farragut. Often the commissions came many years after the event or the death of the person causing the women to seek out photographs or other illustrations to show them what had occurred at the incident in question.
Although generally not permitted on the fields of battle until the conflicts of the Cold War era, women commemorated their feelings for or against a war in needlepoint, quilts, and the like. Many times, these items remained in the family and only recently have found their way into museums. In addition to Anglo-Americans artists, the authors noted the artwork of Japanese-Americans, African Americans, and Native Americans, but only briefly.
The book clearly shows how the role of women grew from housewives who knitted socks for soldiers to women who became part of official military art programs, such as the Navy Art program during World War II, the Air Force Art Program starting in 1950, and military artists in today's armed forces. They successfully explained that as women's roles grew, their art became more and more accepted by society as the women were no longer stationed on the home front, but were, instead, stationed in combat areas, such as in Vietnam or Iraq.
Much of the book's research came from secondary sources and it is unclear whether or not the artists in question left any diaries or papers at historical societies or archives. Generally, the book provides a good overview of the development of female artists throughout American history and provided some excellent choices of illustrations. Many of the sculptures and paintings done by the women were of men. Although not a specific part of this volume, it would be wonderful to see if modern women changed their focus from male warriors to female ones. The book provides a long list of female artists who successfully brought their work into the public world demonstrating that war is not an activity that influences or affects only men.
Dr. Diana L. Ahmad and is on the faculty of the Missouri University of Science and Technology.