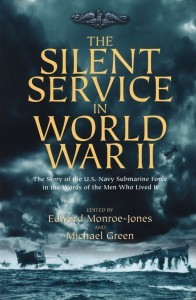 By Edward Monroe-Jones and Michael Green, eds., Havertown, PA, Casemate (2012).
Reviewed by Charles C. Kolb, Ph.D.
The editors have assembled an anthology of 46 oral histories of variable lengths that focus on stories of men as well as old S- and newer fleet-type boats that fought against the Japanese during World War II in the western Pacific. Most of these have been published elsewhere, notably in Polaris Magazine (39 between 1982 and 2008), and a handful in Submarine Review Journal, Steep Angles and Deepdives, and Undersea Encounters, augmented by two personal interviews (2007). All of these are used by permission of the copyright holders. The editors thoughtfully provide a 21-item glossary, a useful two-page map, a valuable "Introduction" which describes briefly the structure and equipment in S- and fleet-type submarines, and a three-page essay, "Hollywood and American Submarines," in which the editors point out misconceptions in several early submarines films. Between pages 120 and 121, there are 40 black-and-white photographs illustrating exterior and interiors of World War II-era submarines, and crew members at work. The majority of these images are from personal collections (13), the National Archives (12), the Naval History and Heritage Command (9), three from the U.S. Navy, and two each from The Naval Personnel Center and Submarine Research Center. A biographical sentence or two characterizes each of the narrators and precedes the anthology.
The volume is divided into three chronological parts: "Prewar and Early War Stories (1941-1942) with 11 accounts; "Mid-war Stories (1943)" with eight narratives; and "Late War Stories (1944-1945)" comprised of 26 stories. I'll characterize each of these parts in turn.
When the Japanese attacked Pearl Harbor on 7 December 1941, the U.S.Navy had only 111 submarines comprised mostly of aging O-, R-, and S-class dating to the late teens and early twenties, with only a few modern Gato-class boats. Fortunately, there were 73 of the new fleet submarines under construction in late 1941. Two of the initial three contributions in Part One are by Cornelius R. Bartholomew, who discusses the Submarines School at New London, CT, and being on SS 198 at Pearl Harbor on the "Day of Infamy." Other narratives describe the Japanese attack at Cavite, Philippines, on SS 194 and SS 141; SS 132 at Dutch Harbor; "friendly" attacks on S 37 and SS 188 by Australians; and the grounding of S 39 near Guadalcanal. A female Army nurse, Lucy Wilson, tells of her escape from Corregidor and rescue by SS 190.
Readers will also learn about "Dutch Wives" (pp. 46-47) as a tropical heat rash preventative.
The eight narratives In Part Two include the story of a Japanese submarine torpedo attack on SS 267 near Truk, stranded SS 184 sailors on Midway, a "loose" torpedo from sub-tender USS Sperry in Pearl Harbor, and the sinking of the Japanese carrier Ryuho by SS 112.  An excerpt from the second Patrol Report from SS 222 on 8 November 1943 details an attack on an enemy convoy and is drawn from original documents in the National Archives. Part Three with 26 narratives, includes several humorous episodes: the crushing of an admiral's gig by SS 327, a not so pet rat inhabiting SS 266, and hiding a pet dog on SS 254. More serious stories chronicle the flooding of a conning tower on SS 272; leaving sailors on deck during submerging (SS 396 and SS 254); depth-charge attacks on SS 260, SS 182, and Pompon); and the loss of depth control on S 47. SS 292 was hit by a kamikaze and then survived a typhoon in March 1945. The story sinking of the Shokaku by SS 244 during the Battler of the Philippine Sea, a narrative of the SS 310 which sank three Japanese submarines (RO 55, RO 112, and RO 113) in three days in February 1945, and the account of SS 398's capture of the 5,500 ton aircraft-equipped I 401 are highlights of this component of the book.
The stories in this anthology give the reader a greater understanding of what it was like to be a U.S. Navy submariner in combat. As noted the 46 accounts from 1982 through 1945 were narrated between 1982 and 2008 and it is not possible to determine if embellishments may have occurred. In addition to their variable lengths (two to 26 pages), the stories are of varying quality but most are very readable and average three- to four pages.  In three accounts (Chapters 5, 36, and 41), the SS- designation isn't mentioned and a few typos have not been corrected.
Interested readers may enjoy the U.S. Navy's The Silent Service in World War II: The Fleet Type Submarine.  Publisher: lulu.com, 246 pp.
This book is a very good facsimile of The Fleet Type Submarine, published originally by the U.S. Navy (NAVPERS 16160, Produced for ComSubLant by the Standards and Curriculum Division, Training, Bureau of Naval Personnel) in 1946 and originally classified as "Restricted."
This publication used the USS Perch (SS 313) as an example to explain operating principles, technologies, and systems. It contains numerous diagrams and photographs and provides definitions of components and terminology as well as descriptions of systems such as ballast tanks, trim, ventilation and steering.  It also has a brief history of the submarine and a discussion of patrol routines. It remains the most comprehensive work ever assembled on World War II submarines then or since.  In addition, a half-hour color film produced by the U.S. Navy in the late 1940s, The Silent Service The Story of Submarine Warfare in the Pacific, is available online and worth watching: www.youtube.com/watch?v=HXGnov5YLg0
Dr. Kolb is an Independent Scholar (National Endowment for the Humanities, Retired)