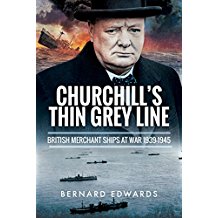 Churchill's Thin Grey Line: British Merchant Ships at War 1939 -1945
by Bernard Edwards
2018, Pen & Sword, Havertown, PA.
248 pp., $34.95.
The United Kingdom has always considered its Merchant Marine to be part of its armed forces during wartime. Since time immortal, the White Ensign of the Royal Navy and the Red Duster of the Merchant Marine have been co-equal partners in the maintenance of British control of the world's shipping lanes. The first British casualties in World War II were those members of the Merchant Marine who died on 3 September 1939 when the German submarine U-30 sank the passenger ship Athenia. During World War II, some 185,000 men and women served in the Merchant Marine and, of these, 47,176 lost their lives, were wounded, or taken captive – a casualty rate of 25 percent.
The author does an excellent job of weaving the story of the Merchant Marine into the overall story of World War II. The story is told both by looking at the overall part the Merchant Marine played in helping Great Britain to survive the German naval and air blockade of the United Kingdom and by using individual accounts of various sinkings to highlight and expand this story. The British Merchant Marine would, during World War II, lose 2,535 ocean-going cargo and passenger ships to attacks from warships and aircraft of Germany, Italy, and Japan.
The author's accounts of the Merchant Marine in World War II focus upon the U-boat war. The story of the sinking of each merchant ship highlighted in this book is told in the words of that ship's officers and men and occasionally that of a passenger. These eye-witness accounts focus upon that person's impression of the attack upon their ship and how they and others abandoned the ship. These individual stories of what happened to these men and women as their ship sank from underneath them gives the reader an understanding of the physical and psychological pressure these people experienced. It is amazing that despite the slow but steady loss of British Merchant Marine sailors during the six-year period of World War II, a crew always came forth to ensure that merchant ships of Great Britain continued to carry goods to and from the United Kingdom.
This book is another example of the great books Pen and Sword Maritime has been publishing on warfare at sea. The author has performed an excellent job in combining descriptive text to set the scene and then fleshing out this text with "I was there" accounts to pull the reader into the action and make one understand the human cost of this war at sea. This book is a great addition to any library interested in trade warfare.
Charles H. Bogart