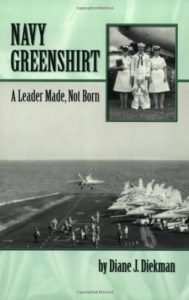 Navy Greenshirt: A Leader Made, Not Born
By Diane J. Diekman, Altruria Publishing Company, Clear Lake, South Dakota. (2001).
Reviewed by Captain Lee Duckworth, USN (Ret.)
Captain Diane J. Diekman's Navy Greenshirt: A Leader Made, Not Born, is a short book that delivers a message well beyond the expectations of the typical military member's memoir. The author's purpose is to showcase her years in the U.S. Navy and illustrate her growth as she rises in rank from an insecure petty officer to a mature leader. She accomplishes this through vignettes that demonstrate the importance of her family, friends, faith, and forthrightness.
The book covers Diekman's Navy career from 1972 to her promotion to captain in 1997, though only one page is devoted to her two years as an enlisted sailor. Her time in the U.S. Navy coincides with some of the most tumultuous years of the sea service. The historical context of these years and events (Z-grams, end of the Vietnam War, racial tensions, Tailhook 1991, and expanded roles for women in the Navy) make this a must-read for anyone who wants to better understand the turmoil of that era. Particularly poignant are the trials and situations she encounters as a woman "breaking new ground" in the Navy, including being one of the first ten women to become an Aeronautical Maintenance Duty Officer (AMDO).
Captain Diekman served most of her career as an AMDO, thus becoming a "greenshirt" (a term used to identify aircraft maintenance personnel by the wearing of green flight deck jerseys). Her book provides leadership insights relevant for today's sailors as well as those out of uniform. She openly professes her shyness, lack of confidence, and fear of being accepted during her early Navy years. She subtly demonstrates a slow but consistent quest to overcome her perceived leadership shortcomings, and almost before the reader recognizes it, she attains an increasing maturity and her sense of confidence becomes apparent as she encounters new challenges.
The author is refreshingly honest as she relates her hidden fears and the mistakes made with her leaders, peers and subordinates. Captain Diekman isn't afraid to get into specifics and name names in situations that were potentially embarrassing—both to her and others involved. Some readers might feel the openness in revealing personal details of her life are unnecessary, but many will admit that they too have harbored some of those thoughts.
The book would have been enhanced with more detail about specific day-to-day maintenance functions that challenged the author in her career. More of the wrench-turning, greasy hands, difficult to reach aircraft components, and austere working conditions ashore as well as at sea would have enriched her story. Additional emphasis on the seriousness of aircraft maintenance responsibilities would also have added to the book.
Captain Diekman does a superb job of demonstrating how she balanced "being one of the boys" while maintaining her femininity. She forces herself to overcome the fear of speaking out and being left out, through episodes of trial and error and carefully choosing her battles. Equally impressive is the struggle with her weight which she eventually conquers as she takes up long distance running. She channels this new-found love of marathons and ultra-marathons and uses it to reinvigorate the command's physical fitness program. Leading by example, she literally sets the pace in preparation for the annual Physical Readiness Test (PRT) by forming teams to bring all up to required standards.
Finally, the author tackles the tough issues of pregnancy and suicide in the Navy by demonstrating the need for leadership at all levels to be responsible for and to those sailors around them. Captain Diekman writes a commentary about sex and pregnancy in the military, feeling she "…had the background and seniority to speak for young female sailors who didn't have a voice." Published in the 6 February 1995 issue of the Navy Times, she states: "I used my experiences as a young enlisted woman to describe the sexual pressures put on female sailors by their male counterparts. 'Training and leadership,' I said, 'were the two critical elements for changing behavior and attitudes.'"
Likewise, the issue of suicide in the Navy is addressed as Captain Diekman discusses the impact of the suicides of sailors who worked for her, sailors she knew only peripherally, Chief of Naval Operations Mike Boorda, and her personal friend: country singer Faron Young.
Captain Diekman has done our Navy a real service in writing this book. From a historical perspective, it will resonate with both female and male sailors and open eyes, to see from the female perspective, what it took to serve during those years. The book is also a narrative that will appeal to those who have not served in the military and will allow them a very personal glimpse of a sailor's life during the last quarter of the 20th century.
Captain Lee Duckworth is a retired naval aviator and for ten years served as Director of Education at the Hampton Roads Naval Museum.