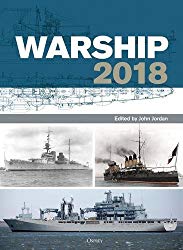 Warship 2018
John Jordan, Ed., Osprey Publishing, Oxford, UK and New York, NY, (2018)
Reviewed by Capt. Howard R. Portnoy USN (Ret.)
The first hardcover volume in the Warship series appeared in 1977. It was the follow-on to a successful quarterly magazine with the same title. New volumes would be issued annually and would be "devoted to the design, development and service history of combat ships, with an international scope unlimited by period or ship type, but with emphasis on the major naval powers." Contributors would be "well known authorities" and "detailed and accurate information (would be) fully supported by plans, tables and photographs."
Now forty-one years on, Warship 2018, the fortieth volume in the series, continues to deliver as promised in that first edition. Format and focus remain the same. John Jordan, the editor, himself the author and co-author of several major books on naval history, has been associated with Warship since its beginnings and has been editor since 2004. In this latest volume, the Osprey Publishing Ltd. imprint has replaced that of the Conway Maritime Press Ltd., the original 1977 publisher.
The eleven feature articles in Warship 2018 and authors are listed below.
"T Niels Iuel: A Funny Little Danish Warship" (Tom Wisemann). Designed as a heavily armoured coast defense battleship, laid down in September 1914, she ended her days as a German Kreigsma-rine training ship in May 1945.
"The Battle of the River Plate: A tactical analysis" (Alan D. Zimm). Focuses on the tactics adopted by the British and German adversaries using the battle charts together with the prewar (US Naval War College 1939) war-game simulations employed by the US and British Navies.
"Battle Damage to Graf Spee: 13 December 1939" (William J. Jurens). Detailed analysis of con-temporary British and German reports and plans, some of which recently became available.
"The Armoured Cruiser Jeanne D'Arc" (Luc Feron). First in a series of large, fast armoured cruisers. Details history from earliest design; laid down in Toulon October 1896, entered French Navy service May 1903 and scrapped in 1934.
"Breaking 'Ultra': The Cryptologic and Intelligence War Between Britain and Italy 1931-1943" (Enrico Cernuschi). Debunks some of the myths that have arisen from the successes of 'Ultra' and provides information on some largely ignored exploits of Italian codebreakers.
"Imperial Japanese Navy Light Cruiser Oyodo" (Hans Lengerer). An in-depth study of a ship designed as a submarine flotilla flagship; commissioned in 1943, she served initially as a transport and subsequently (April-Sept 1944) as flagship of the Combined Fleet.
"Coast Defense and Coast Offense: Russian Monitor Designs of the First World War Era" (Stephen McLaughlin). Discusses Russian Baltic coast defense and Black Sea coast offense and a number of proposed monitor designs for the Imperial Russian Navy. No monitors were ever built from those proposals.
"Modern Naval Replenishment Vessels" (Conrad Waters). A survey of the latest developments in replenishment at sea. Includes design data of six modern replenishment ship classes in or close to service in various navies.
"Royal Navy Cruiser Designs for Trade Protection 1905-1920" (David Murfin). The increasing focus of the Royal Navy during the early 1900s on small, fast cruisers to scout for the battle fleet in the North Sea did not stop the continuation of design work on cruisers for trade protection. This article details the various designs proposed. However, the five cruisers of the Effingham class were the only cruisers built for RN commerce protection between 1905 and 1920 and all were completed too late to see service in the first World War.
"Amatsukaze: A Destroyer's Struggle" (Michael Williams). Covers less known 1943-1945 period following the earlier well-documented exploits of the ship under Commander Tameichi Hara (author of Japanese Destroyer Captain).
"USS Huntington (ex-West Virginia)" (AD Baker III). Provides the history of one of ten large powerful armoured cruisers authorized after the Spanish-American War of 1898. Originally named for US states, they had their names changed to cities in those states to allow their former names to be used for new construction battleships.
The following sections are at the back of the book.
Warship Notes. Includes a number of short articles and notes on little known aspects of warship history.
Naval Books of the Year. Twenty-five reviews of major naval history books published in 2015, 2016 and 2017. An impressive selection, but as expected, twenty-two have UK publishers and, apparently, British authors. Two are published by the US Naval Institute and one, in English, by the Italian Navy Historical Department. I realize the British origin of the Warship series and the large number of outstanding naval history books by British authors, but would like to see more US titles in future Naval Books of the Year listings.
Warship Gallery (Stephen Dent). Text and rare photographs of two former German U-boats being dismantled at Sasebo, Japan after the end of the first World War.
In summary, Warship 2018 is an interesting, well documented and well written addition to the series and would be a worthy addition to any naval history library. I whole heartedly recommend it and look forward to Warship 2019.
Captain Portnoy retired from the U.S. Navy after thirty years of service. He commanded a diesel submarine and served in two other subs, a battleship, an aircraft carrier, and a destroyer. Ashore he filled a number of intelligence and politico-military billets. After retirement he worked for several defense contractors in the Washington D.C. area.
Buy Warship 2018 now!