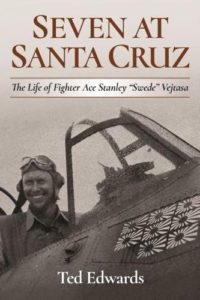 This biography follows World War II fighter pilot ace Stanley "Swede" Vejtasa from his Montana home, through numerous World War II aerial battles, to his post war service as the Air Boss on USS Essex (CV-9) and Captain of USS Constellation (CV-64).
Vejtasa was known for his exploits against the Japanese in 1942. During the battle of the Coral Sea, the first major sea battle between the American and Japanese battle fleets, Vejtasa was one of a few bomber pilots that bombed and sank the Japanese aircraft carrier Shoho. The next day, he shot down several Japanese Zeros and was awarded the Navy Cross for his actions as a bomber pilot. After the battle of the Coral Sea, Vejtasa was transferred to fly fighters where he shot down seven Japanese diver bombers and torpedo bombers attacking USS Enterprise during the battle of Santa Cruz. Vejtasa's skillful flying led his commander to comment in the daily log that Swede had single-handedly saved the carrier Enterprise. For his heroic actions, Vejtasa was recommended for the Congressional Medal of Honor, however this was downgraded and was awarded another Navy Cross. He is the only Naval aviator to be awarded a Navy Cross for both air-to-air combat and dive bombing.
Vejtasa was transferred to serve the remainder of World War II as a flight instructor in New Jersey, where he would teach the next wave of combat pilots how to succeed in combat operations. The book could have easily ended on a high note as a tale of a war hero. The author, however, follows Vejtasa and his career after his successes in World War II. Following the war, Vejtasa became the Air Officer on the carrier USS Essex and was eventually promoted to Captain and commanded the aircraft carrier USS Constellation. Unfortunately, three accidents occurred while he led USS Constellation, resulting in the loss of an airplane, a severely injured deck hand, and the loss of several crewmembers. While Vejtasa was not directly responsible for these accidents, the author opines that these accidents, combined with the same pointed personality that led to his success as a fighter pilot in World War II, likely prevented Vejtasa from being promoted to the next rank of Admiral.
Author Ted Edwards is a frequent contributor to the Naval Aviation News and uses his experience as a historian and author on other World War II aviators to capture the straight-forward fighter pilot that was at the core of Stanley "Swede" Vejtasa's personality. In all, Edwards collects information from not only secondary resources, but also from primary sources such as letters, after-action reports, official records in the national archives research, and 11 interviews conducted by the author, to include an interview with Vejtasa himself. The combination of historical records and personal interviews throughout the book, combined with the ease of reading the material, help to present both a factual and personal account of Vejtasa and naval air operations in the Pacific theater.
This work is the first biography on Vejtasa and clearly fills a void in previous literature. Anyone interested in learning about the pragmatic and sometimes abrasive fight pilot ace Stanley "Swede" Vejtasa, or about World War II naval aviation, would be well rewarded for the time spent reading this thoroughly researched and well written book.
---
Seven at Santa Cruz: The Life of Fighter Ace Stanley "Swede" Vejtasa.
By Ted Edwards, Naval Institute Press, Annapolis, MD. (2018).
Reviewed by Col. Matt Durham, Ph.D. of the Joint Forces Staff College.
Click here to buy Seven at Santa Cruz: The Life of Fighter Ace Stanley "Swede" Vejtasa now!