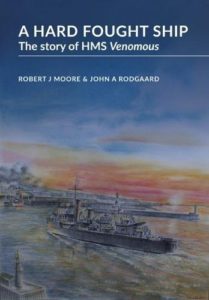 If the employment of destroyers during peace time and war time is of interest to you, this is a must-read book. The authors have crafted one of the finest ship histories this reviewer has encountered. HMS Venomous was one of the 67 V and W class destroyers built by the Royal Navy during the last years of World War I. These 67 ships incorporated into their hulls the lessons of destroyer warfare learned during World War I. Unfortunately, when they were deployed for action in World War II, they did not become involved in surface warfare, for which they were designed, but in convoy duty. The foe now was not surface warships but submarines and aircraft, and the scene of action was not just the North Sea but the oceans of the world.
This book was first published in 1990, updated in 2010, and again updated in 2017. Each update resulted from additional information being supplied by crew members or their families. The 2017 edition is blessed with newly discovered photos and first person written accounts. Venomous was in commission from 1919 to 1929 and from 1939 to 1945. During her first commission, Venomous did not see action against the German Navy, but she did see combat in the eastern Baltic, fighting the Bolsheviks. After duty in the Baltic Sea, she moved to the Western Mediterranean where she patrolled off the coast of Turkey during the Greek-Turkey War. Venomous spent the final years of her first commission with the Mediterranean Fleet before joining the reserve fleet.
Venomous recommissioned in 1939 just as World War II started. The story of the first year of her second commissioning revolves about the fascinating tale of being used to insert demolition crews to blow harbors before their capture by German troops and the evacuation of cut off British troops from various French and Belgium ports. Venomous, at times, found herself using her main guns to fight duels with German tanks, artillery, and infantry as she lay pier side taking on board hundreds of British soldiers seeking to avoid capture.
During 1941, Venomous was assigned to convoy escort in the North Atlantic. The following year Venomous sailed with convoy PQ 13 to Murmansk and took part in Operations Pedestal and Torch. During 1943, Venomous carried out escort duties in the Mediterranean. In November 1943, she was ordered back to England for a refit. Interestingly, the firsthand accounts of Venomous' crew members from these years, as recorded in the book, center around not the German or Italian enemy, but the perils of the sea, life in cramped quarters, and shipboard mechanical failure.
On return to England, Venomous was laid up before being converted to a target ship. In August 1944, she became a target for torpedo carrying Barracuda Squadrons working up for employment in the Pacific Theater. In April 1945, Venomous, relieved of her target practice duties, sailed for Norway as part of the Royal Navy's liberating fleet. Upon return to England, Venomous was decommissioned and sold for breaking up.
The overall story of Venomous is well told and is supported by a great collection of photos, maps, notes, and annexes. The authors have crafted an individual ship account which can be used as a benchmark to evaluate other individual ship histories.
---
A Hard Fought Ship: The Story of HMS Venomous
By Robert J. Moore and John A. Rodgaard. Short Run Press, Exeter, UK, (2017).
Reviewed by Charles H. Bogart. Charles is a frequent contributor to Naval History Book Reviews.
Click here to buy A Hard Fought Ship: The Story of HMS Venomous now!