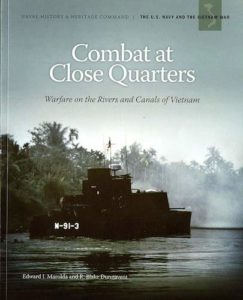 This brief volume about the role of the United States Navy on the rivers and canals of Vietnam is a wonderful addition to the historiography about the war in Southeast Asia. Filled with photographs and original works of art by Navy personnel, the faces of the war are presented in a way that makes the book come alive. There are also vignettes that focus on specific topics such as Swift Boats, SEALS, Riverine Warfare Training, and even a wedding. Basically, the book provides readers a thorough look at the development and significance of the Navy in Vietnam. The Navy's contributions were placed in historical context and comparisons with other naval actions in other wars made the book even more meaningful.
The authors explained the history of the conflicts in Vietnam from the late eighteenth century until the fall of South Vietnam. They gave credit to the French who started the river patrols along the Mekong and Bassac Rivers, analyzed the role of American advisors in the 1950s, and described fighting on the rivers and surrounding regions that was basically an on-the-job training experience for all involved. The Navy developed new vessels that were designed with safety in mind and adapted boats, like the Swift Boat, that were taken from the oil industry and modified for service in South Vietnam.
In only 80 pages, Marolda and Dunnavent have successfully analyzed over a century of conflict in Vietnam. For those who are just learning about the Navy's role in the conflict, this volume will quickly enlighten the readers as to the significance of the Navy in Vietnam. The importance of the Navy's role is immediately obvious as the authors demonstrate how naval operations of all sizes proved beneficial to the war effort in South Vietnam. The waterways in Vietnam, including the Mekong Delta region and South Vietnam's 1,200 mile coastline, proved important to the U.S. Army and U.S. Air Force actions as well. The authors explain that the actions of one person or whole units provided vital and explain military maneuvers and actions in such a way as to make it easily understood by those unfamiliar with naval and military actions.
Combat at Close Quarters provides an excellent overview of the role of the U.S. Navy in the Vietnamese-American War and is well worth reading.
---
Combat at Close Quarters: Warfare on the Rivers and Canals of Vietnam
By Edward J. Marolda and R. Blake Dunnavent, Naval History and Heritage Command, Department of the Navy, Washington, D.C., (2015). Pb. Illus. Maps.
Reviewed by Diana L. Ahmad, Ph.D. of Missouri University of Science and Technology
Click here to buy Combat at Close Quarters: Warfare on the Rivers and Canals of Vietnam now!