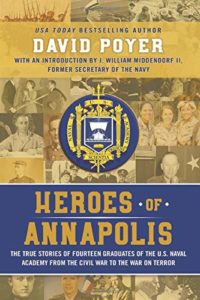 The title and subtitle sum up this book nicely. Regular readers of Shipmate will be familiar with the contents, as these stories originally appeared there as separate articles. Dave Poyer will be very familiar to many as a leading writer of naval fiction, especially the Dan Lenson series of novels, now up to 18 volumes. In the fourteen chapters of Heroes of Annapolis, his gift as a storyteller combines with a capacity for meticulous and wide-ranging original research. The result is wonderfully readable and refreshingly informative. The names and deeds of Philo McGiffin, John Ripley, and Howard Gilmore will be familiar to many, but Poyer finds new things to say about each. On the other hand, Merion Cooper ("The Man Who Captured Kong") or Richmond P. Hobson ("The Most Kissed Man in America") may be unfamiliar to most readers. So too perhaps is Charles W. "Savez" Read, who upon graduation in 1860 was among those who "went south" to the Confederacy. Given that USNA female graduates have been assigned to combat-related roles only in very recent years, only one woman is included, USMC Major Megan McClung, '95, killed in Iraq by an IED.
The Naval Academy has produced many genuine heroes other than these few, of course, but these stories give variety in chronology (as the title suggests), and service selection (air, sub, surface, USMC and also two foreign navies—or three, counting the Confederacy). No two stories are alike. We tend to presume that heroism has something to do with character, yet here we encounter a considerable variety of personalities. As J. William Middendorf points out in his introduction, these USNA grads often demonstrate "not only fearlessness in battle, where shot and shell dismember and kill, but also moral intrepidity, where a contrasting point of view vigorously defended can quickly extinguish a career."
A book like this inevitably raises questions which Poyer briefly considers, like "what is heroism?", "where does it come from?", "what sort of graduate should the Naval Academy want to produce, and how?" Clearly class rank is no indicator of future heroism: Savez Read was his class's anchorman, and Ripley, McClung and others were pretty close to the bottom, while McGiffin did not make the cut (top 25%) to be commissioned as the Navy reduced its officer corps that year, and Cooper did not graduate.
In an afterword, Poyer also suggests that the nature of heroism itself may be changing today in the asymmetrical context of "telepresence, drones and cyberwar" on the one hand, and on the other hand attacks by IED or airliner or car bomb against traditionally civilian targets.
This anthology of heroes makes good reading—perhaps a good Christmas present?–for anyone connected to the U.S. Naval Academy, or indeed the military community.
---
Heroes of Annapolis: The True Stories of Fourteen Graduates of the U.S. Naval Academy from the Civil War to the War on Terror
By David Poyer, with introduction by J. William Middledorf II, Northampton House Press, (2019).
Reviewed by C. Herbert Gilliland.
Click here to buy Heroes Of Annapolis: The True Stories of Fourteen Graduates of the U.S. Naval Academy, from the Civil War to the War on Terror now!