Dear Naval Historical Foundation Family,

Welcome back for this week's edition of Thursday Tidings. Today we are looking back on the tragic events of Pearl Harbor, which took place 78 years ago this Saturday. The event signaled the entrance of the United States into the Second World War, the most destructive conflict in human history.
This gamble to break the American spirit and keep the U.S. out of World War II failed when a shocked, yet galvanized nation declared war on Japan the following day, vowing to fight until the Empire of Japan had completely and unconditionally surrendered. We remember and honor the many brave men and women who perished on this infamous and tragic day.
We also bid farewell to NHF Intern Tim Davidson, who has assisted us greatly – writing Thursday Tidings, assisting in membership initiatives, and doing anything asked. Please find our note, as well as Tim's reflections, below our article.
As always, fair winds and following seas shipmates.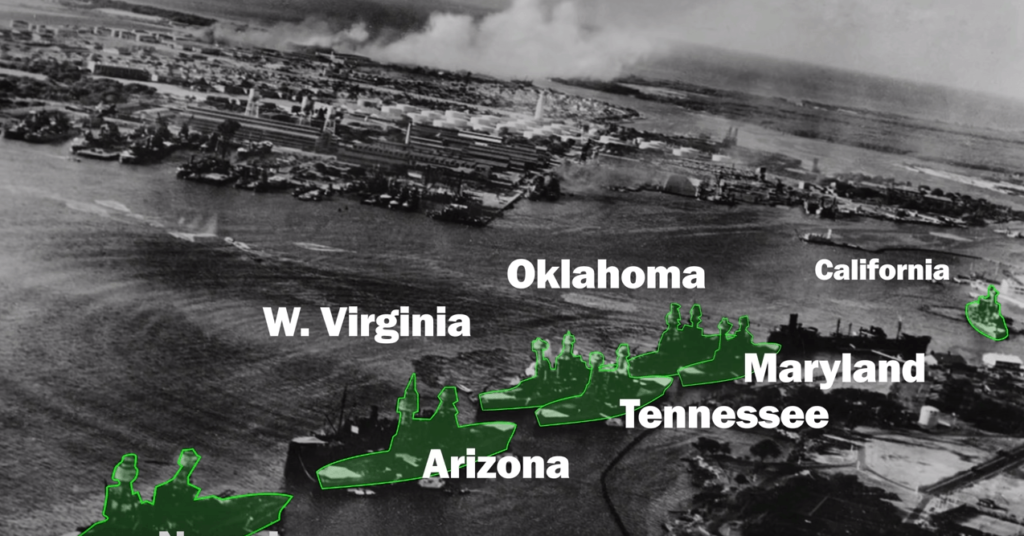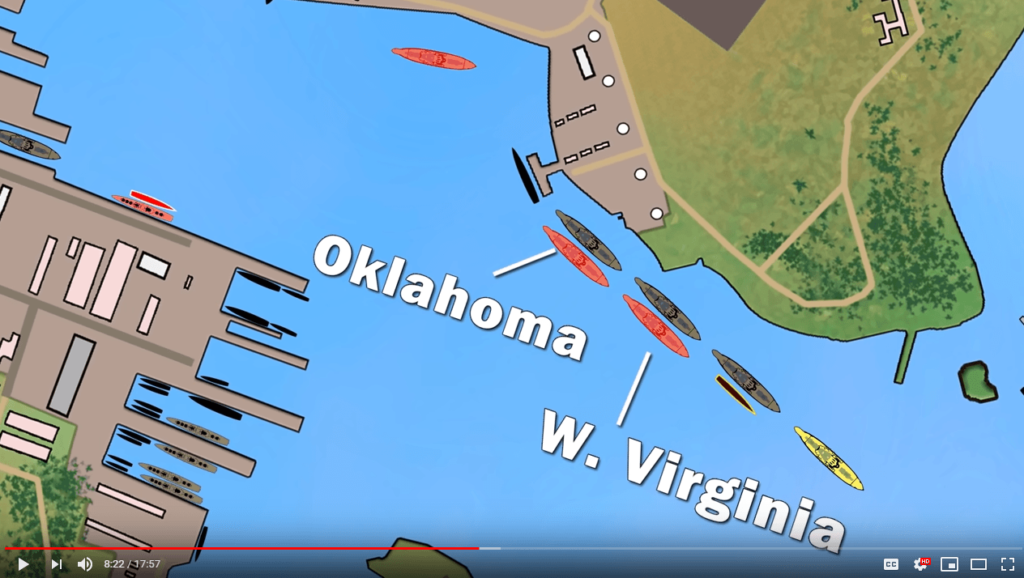 The Attack on Pearl Harbor
By NHF Intern Tim Davidson
"Yesterday, Dec. 7, 1941 – a date which will live in infamy – the United States of America was suddenly and deliberately attacked by naval and air forces of the Empire of Japan." These were the words spoken by the President of the United States, Franklin Delano Roosevelt, addressing a special session of Congress and the American people on December 8, 1941.
Early on a clear and calm Sunday morning in Honolulu, Hawaii, a large formation of aircraft roared over quiet neighborhoods and sleeping families. Dazed sailors in their bunks assumed these were merely incoming friendly airplanes on a routine mission, perhaps stopping in Pearl Harbor to refuel. Tragically, these planes were instead Japanese fighters and bombers. They had flown undetected for hours from the northwest, where all of Japan's six large-deck aircraft carriers were positioned. Their goal was to decisively cripple American Naval power before a full-scale war could even begin.

The highly-prepared Japanese pilots engaged and shot down the few American planes they encountered. They then flew directly to their first targets, the air bases around Oahu. All the American planes sat neatly in rows in the dead center of each airfield out of paranoia that the Japanese people living on Oahu would rise up and try to destroy planes at American air bases. The planes were easy targets for Japanese bombers and fighters, who strafed almost every plane, allowing only eight pilots to get airborne. Once Pearl Harbor's air defenses were devastated, the Japanese bombers proceeded to their next target: primarily the American battleships, but also the cruisers, destroyers, and many other ships in the harbor.

Over the course of just thirty minutes, the Japanese air assault wreaked havoc on the U.S. fleet. Japanese torpedo bombers, believed to be ineffective in Pearl Harbor's shallow waters, proved to be exceedingly destructive. Thirteen of the forty torpedoes launched successfully hit battleships, and four hit other ships in the vicinity. A lucky shot hit the forward magazine of the USS Arizona, exploding the ship instantly. Half of the casualties in Pearl Harbor came from those aboard the Arizona, most of whom were junior enlisted personnel. Following this attack, a second wave arrived an hour later to little defensive opposition, and by 9:00 AM, the attack was over and the Japanese aircraft were returning to their carriers.

The cost in human lives was enormous: 2,008 sailors killed and 710 wounded, 218 soldiers and airmen killed and 364 wounded, 109 marines killed and 69 wounded, and 68 civilians killed and 35 wounded. Every casualty, civilian and military, is considered a non-combatant as America was not aware it was in a state of war with Japan.

While the attack inflicted a devastating blow, the U.S. Navy was not crippled as Japan had hoped. A majority of the damaged ships were repaired onsite at Pearl Harbor, as the Japanese bombers had largely ignored the island's infrastructure. The three U.S. aircraft carriers stationed at Pearl Harbor, by a remarkable coincidence, were safely away from the scene of the attack at the time. Admiral Yamamoto was greatly distressed by their survival, as he correctly predicted that these carriers would eventually prove invaluable to the American counter-offensive in the Pacific theater. Yamamoto recognized that this result, combined with the survival of the majority of Pearl Harbor's on-shore facilities, made the Japanese attack an overall failure in spite of the significant damage.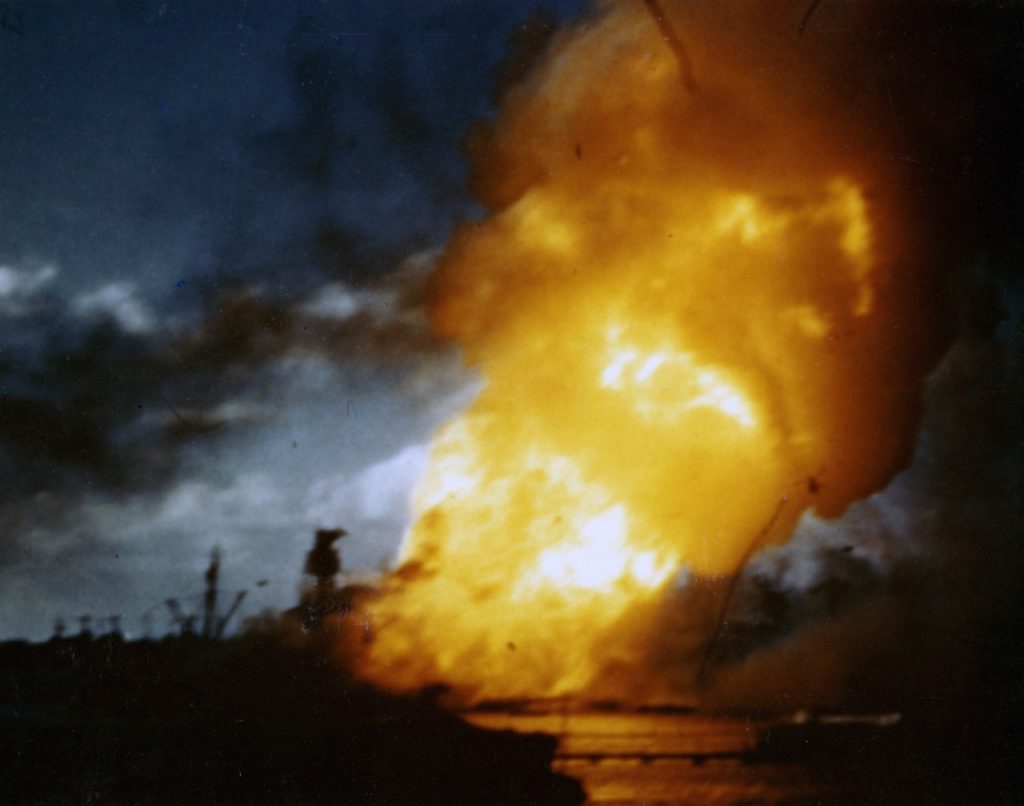 President Roosevelt concluded his speech on December 8 with a firm note to a country horrified and uncertain:

"No matter how long it may take us to overcome this premeditated invasion, the American people in their righteous might will win through to absolute victory."

These words proved prophetic, as the Japanese representatives would stand aboard the USS Missouri four years later and sign the Japanese Instrument of Surrender, an unconditional capitulation of their Empire. FDR would not live, however, to see the end of the conflict he so skillfully guided this country through.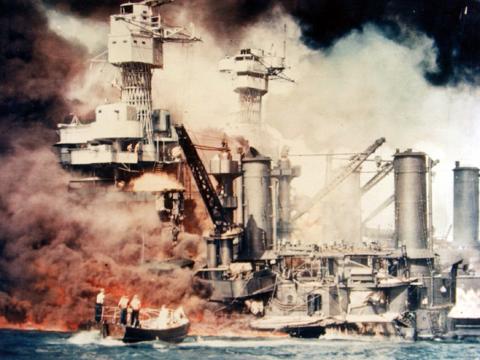 ---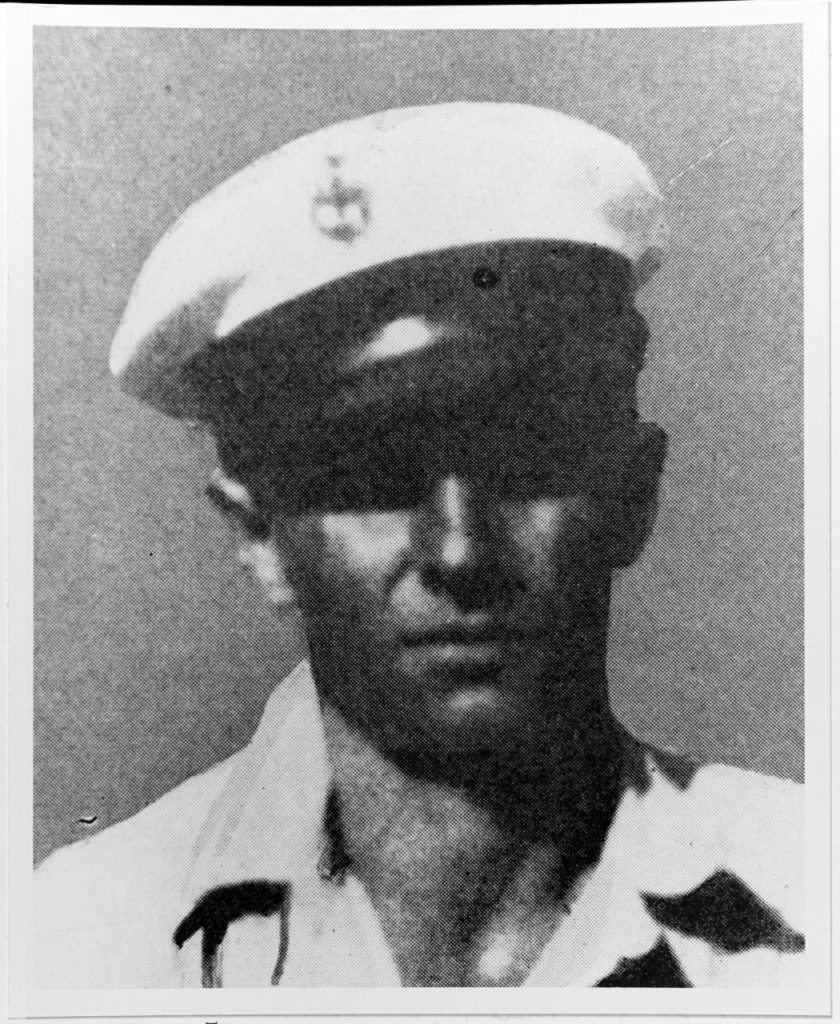 Unsung Hero
Chief Watertender Peter Tomich (pictured left), is one example among many of the bravery and heroism of that infamous day. Tomich, an immigrant to the United States from the town of Polog in central Europe, was on board the USS Utah (BB-31) the morning of the attack.
Tomich gallantly stayed at his post in the fire room of Utah in order to secure the ship and help others escape. Tomich was killed in the process, and posthumously received the Medal of Honor. The citation for this award is below:
For distinguished conduct in the line of his profession, and extraordinary courage and disregard of his own safety, during the attack on the Fleet in Pearl Harbor by the Japanese forces on 7 December 1941. Although realizing that the ship was capsizing, as a result of enemy bombing and torpedoing, Tomich remained at his post in the engineering plant of the U.S.S. Utah, until he saw that all boilers were secured and all fireroom personnel had left their stations, and by so doing lost his own life.
Click HERE to read the full story of Chief Watertender Tomich in a 2004 United States Naval Institute Proceedings article by Lieutenant Commander Thomas Cutler, USN (Ret.) and Mr. Eric Wertheim.
---
DID YOU KNOW?
The Japanese forces considered launching a third air strike against Pearl Harbor to destroy its infrastructure. While historians still debate what would have happened had this been done, such an attack could have completely decimated the American Navy, and Admiral Chester Nimitz believed it would have forced the war to continue for an additional two years.
---
The attack on Pearl Harbor may have been a surprise to the sailors stationed at Pearl Harbor that Sunday morning, but it was anything but unpredictable. Click HERE to read more about the extent to which the United States was warned of the impending attack, written by Tim Davidson.
---
Thank You to Intern Tim Davidson
From the NHF Staff
We are privileged to have many extraordinary volunteers and interns assist us in our efforts here at the Naval Historical Foundation. Mr. Tim Davidson, a current student at American University, has greatly assisted us with many things, Thursday Tidings most especially. Tim, we are incredibly grateful for everything you have done for us. Thank you, and we wish you all the best in your future endeavors.
Fair winds and following seas, Tim!
Please find Tim's reflection below:
This week is sadly my last one interning here with the Naval Historical Foundation. I've enjoyed every minute of my time here. The staff here are not only hard-working and diligent, but have also been incredibly kind and welcoming to me during my short time at the NHF. I've had a fun time writing some of these Thursday Tidings and doing archival research for Navy veterans. I've also enjoyed coming every week to the Washington Navy Yard. The folks here do fantastic work in service of their country without demanding any attention.

To commemorate my final week here, I'd like to share with you all, our NHF Family, some pictures from my grandfather's time in the Navy. Following the pictures is the story of my grandfather's service.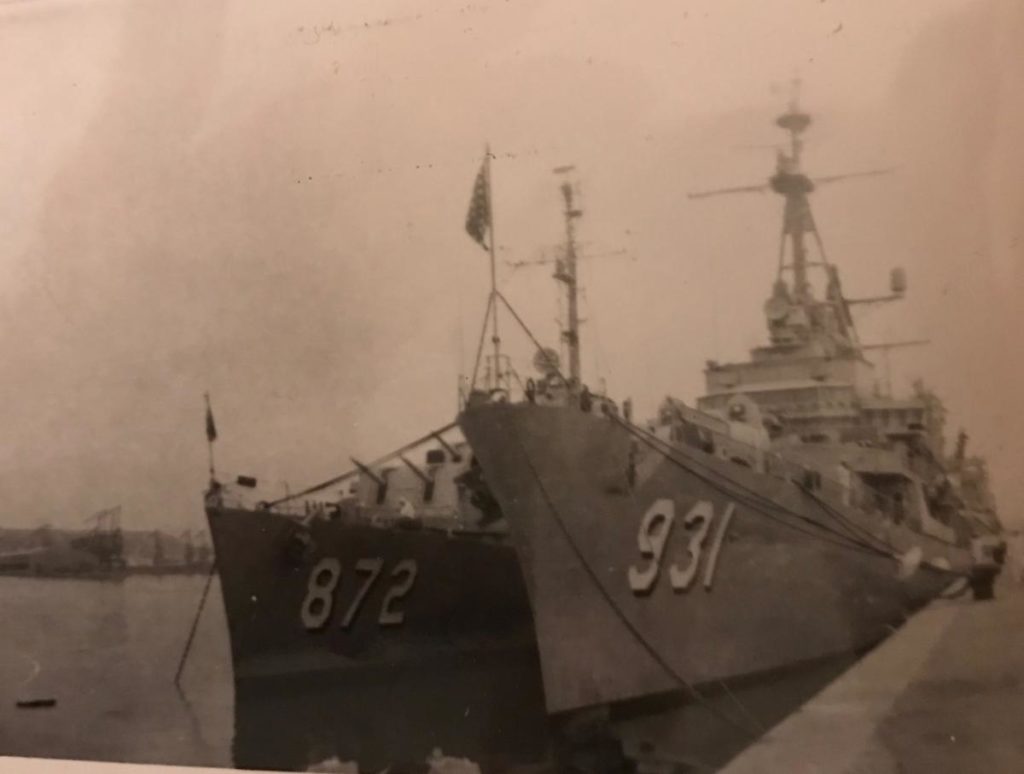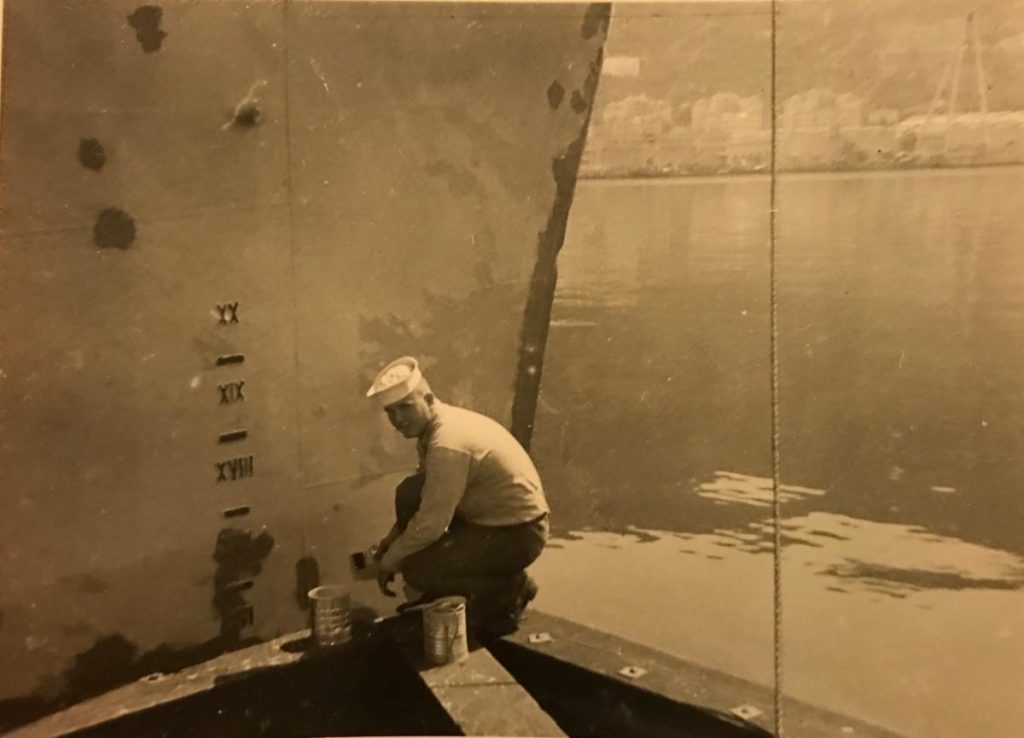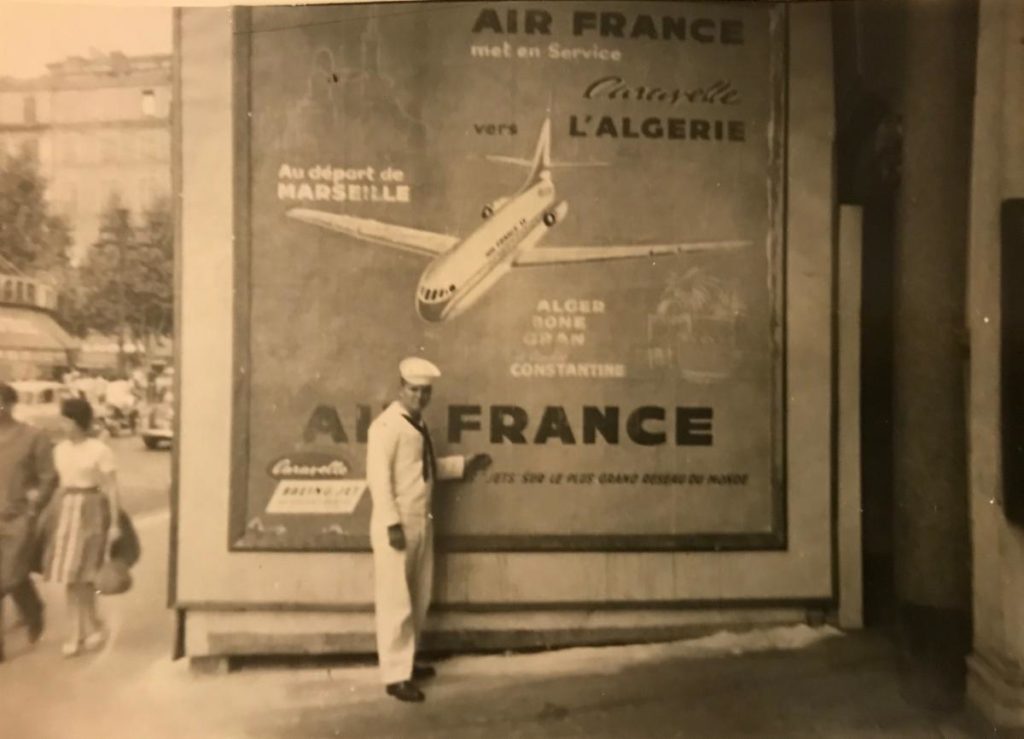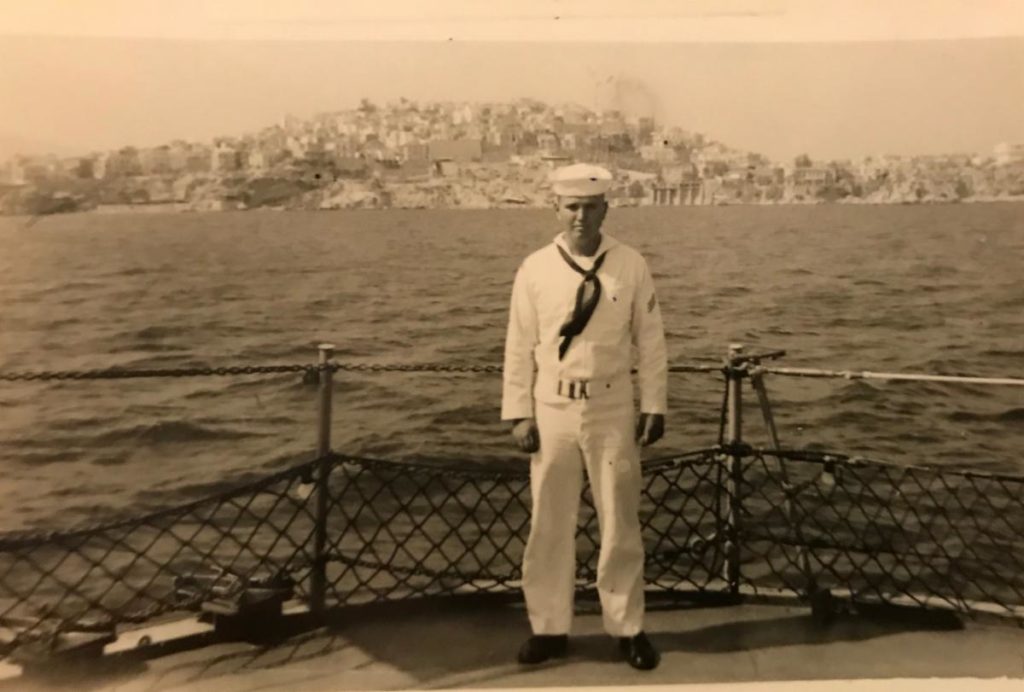 My grandfather, Richard Davidson, served on the USS Samuel B. Roberts (DD-823) from 1959 to 1961. He did not much enjoy his time on the ship because his job was apparently to paint its hull, along with a number of other vessels. During a rare peacetime in the 20th century, the Samuel B. Roberts traversed the world, keeping order and preventing the outbreak of new conflict. My grandfather sailed from Newport to the St. Lawrence River to commemorate the opening of the St. Lawrence Seaway, attended by Queen Elizabeth and President Eisenhower. The Roberts was part of the first destroyer division to traverse all five Great Lakes. That Fall the ship sailed across the Atlantic to the Mediterranean. The crew stopped in Marseilles for a little while, then headed through the Suez Canal to join Middle East Force, before stopping in Rome to watch the 1960 Summer Olympics.

That Fall they headed back to America, where the ship underwent modernization and rehabilitation overhaul in the Philadelphia Naval Shipyard. That short time was my grandfather's tenure in the U.S. Navy. Overall, it doesn't sound like such a bad time, vacationing in southern France and seeing the Olympics in Rome. Though he never wanted to reenlist in the Navy, he remained friends with his Navy buddies for the rest of his life. The time he served represented the final years of a simpler time for the United States. The following year, President Kennedy began to escalate the military "advisor" program in Vietnam, drawing the US military into a decade-long conflict that saw America's reputation diminished. But these short years in between the Second World War and the War in Vietnam seem a time among only itself, an era gone by. And my grandfather had the honor of being a small part of that oft-forgotten, yet peaceful period.

-Tim Davidson
---
NHF Announcements
Information on the memorial service for Admiral James L. Holloway, III:
A funeral service will be held in honor of Admiral Holloway on December 18th, 2019, at 10:00 AM at the United States Naval Academy's main chapel. A procession to the Academy cemetery will follow. You are welcome to join us in paying respects to a great leader in Naval History.Please read our tribute to Admiral Holloway on our website:
navyhistory.org/2019/11/tribute-to-admiral-james-l-holloway-iii/


Missed our Battle of Leyte Gulf 75th Anniversary Symposium?
Fear not and tune in to C-SPAN3 this Saturday, December 7th at 1:45PM. For more details, please visit their website here. Video will also be made available for viewing online.


Passing of Captain Wayne P. Hughes, USN (Ret.):
It is with great sadness that the Naval Historical Foundation shares the passing of Captain Wayne P. Hughes, USN (Ret.), Professor of Practice, Military Operations Research, and Fellow Military Operations Research Society. Captain Hughes was the author of many books and has educated countless Naval Officers. He will be greatly missed.