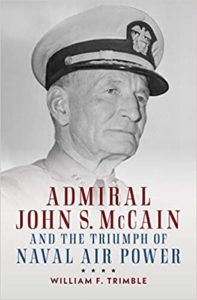 Reviewed by NHF Director of Membership Programs, ENS Sean Bland, USNR
A professor of history at Auburn University in Alabama, William F. Trimble has written extensively on the history of Naval Aviation, including studies of Glenn Curtiss, Admiral William Moffett, and the Seaplane Striking Force program. Drawing from this in-depth knowledge of the history of naval aviation, Trimble has recently produced an outstanding account of the development of naval air power under Admiral John S. McCain Sr., father to Admiral John S. McCain Jr., and grandfather to the late Senator John McCain.

Less a biography and more a character, policy, and strategy study, Trimble nonetheless grounds McCain as an unsuspecting child in rural Carroll County, Mississippi. After attending the University of Mississippi briefly, McCain did not follow his older brother to the Military Academy at West Point but instead transferred to the rapidly changing United States Naval Academy in Annapolis.

McCain graduated from the Naval Academy in 1906 as an unremarkable student but he began to distinguish himself as an officer in the early years of his career. Trimble's narrative then quickly moves to McCain's time in Washington with BuNav. Trimble pinpoints McCain as being of central importance to the formation of naval aviation itself through his bureaucratic maneuvering and politicking. "Hardly exciting compared to the other aspects of Naval Duty, personnel matters nevertheless lay at the heart of the profession," says Trimble. In this aspect of the profession, McCain excelled.

Trimble moves on to discuss McCain's sea-duty and operational experience after earning his wings at the age of 52, particularly aboard the first purpose-built carrier, the Ranger. McCain later returned to Washington to run BuAir and eventually assumed the newly-created Deputy Chief of Naval Operations (Air) billet. Trimble quotes CNO Ernest J. King as commenting that "McCain 'was not very much in the way of brains … but he was a fighter."

The second half of Trimble's study analyzes McCain's leadership in the Pacific War, including the battles of Leyte Gulf, Luzon, the typhoon of June 1945, and the final weeks of the Pacific war against Japan. Trimble documents McCain's role in the Pacific theater as commander of the Second Fast Carrier Task Force Pacific, part of Task Force 38 in the Third Fleet of Admiral "Bull" Halsey's command.

Trimble's account of McCain provides the picture of a great Naval Admiral, one who made many mistakes and often earned the ire of those above him. But McCain also left an indelible mark on the future of naval aviation, cementing its central role in war-fighting capability of the Navy. As Trimble concludes:
"It fell to McCain and other officers to lead and sometimes follow naval aviation to maturity. That complex and not always linear process as the airplane, naval aviation, and more specifically the aircraft carrier transformed from a tactical into a strategic weapon. More significant and to the point, the aircraft carrier was at the start of World War II considered a means of achieving sea control (in conjunction with the battleship and battle fleet). By the end of the conflict, the carrier had become the vital component of a colossal multiship and multidimensional task force capable of projecting power over unprecedented distances" (288).
Trimble's book not only succeeds in showing the overall development and importance of carrier innovation in the 1920's, 30's, and 40's, but succeeds at demonstrating that Admiral McCain was a central player in these developments. The naval battles of the Pacific Theater of World War II are well known and well documented, but Trimble is able to focus on McCain's role during these battles in a way that even experienced naval historians will find something new in these latter chapters. With that said, Trimble's best work is in the first half of the book, wherein he shows McCain's success in the bureaucratic and behind-the-scenes work in Washington. 

Trimble's account of Admiral McCain's life and contributions to naval air power is a must-read for those interested in the subject. Familiarity with the general overview of the Navy in World War II and the key players during that time, however, is essential before reading, as Trimble assumes that his audience is knowledgeable of Navy lingo, historical structure, and aircraft. Trimble's work is a definitive success and another addition to his growing list of publications on the history (and future) of naval aviation. 
---
William Trimble. Admiral John S. McCain and the Triumph of Naval Air Power. Annapolis: Naval Institute Press, 2019. $18.
Reviewed by NHF Director of Membership Programs, ENS Sean Bland, USNR.