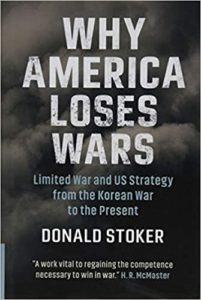 Reviewed by Jon Middaugh, Ph.D.
Donald Stoker, a Professor of Strategy and Policy for the U.S. Naval War College's Monterey Program at the Naval Postgraduate School from 1999-2017, has written a tightly argued case for improving the approach American leaders use for fighting wars. The recommendations and insights in Why America Loses Wars deserve widespread circulation among strategists. But despite the author's background, his focus falls on military and political considerations writ large and offers few insights tailored to the Navy.
The work stems from a premise that American and Western leaders have, since World War II, failed to clarify when the country is at war or what victory looks like. As a result, they have struggled to apply an appropriate strategic approach and sufficient resources to win. Their misguided analysis of ends, ways, and means created confusion and produced unnecessary setbacks in Korea, Vietnam, Afghanistan, Iraq, and Syria. According to Stoker, many leaders and theorists have become accustomed to losing and even suspicious of winning "limited wars." Readers might question the title's implication that the United States (and South Korea) lost in Korea or that the United States (and Iraq) lost in Iraq, but the analysis of how these and other wars were conceived and fought exposes a clear pattern of weak strategical thinking emanating from Washington.
To find their way, national leaders must focus squarely upon the political objective(s) each war participant is pursuing. Then, after assessing constraints that usually affect combatants and their allies—time; national or political will; geography; and economic factors—a strategy can be determined and resourced appropriately. The dynamism and unpredictability of war, however, mean that the "value of the [political] object" must be reassessed whenever significant factors change. Regularly citing classic strategists such as Carl von Clausewitz and Sun Tzu, Stoker illustrates the importance of his own recommendations by also examining a host of international conflicts including the Russo-Japanese War and the ongoing India-Pakistan maneuvering over Kashmir.
These examples and the theoretical framework they support appear quite helpful for explaining successes or failures in the past, but how might they apply currently to the tensions between the United States and Iran? Are missile exchanges, drone strikes, and the resulting casualties indicators of war? If so, then what would each side and its allies' political objective(s) be? In addition, one of the few naval examples appears only in the last two pages, but it is quite relevant in 2020: Chinese leaders assess that "a limited military conflict in the maritime domain" constitutes their most likely military engagement. A bit more analysis of this point could broaden the appeal to a naval audience, but as written the book still offers many valuable insights for all.
---
Review of Donald Stoker, Why America Loses Wars: Limited War and US Strategy form the Korean War to the Present (New York: Cambridge University Press, 2019)
Jon Middaugh works full-time as a historian for the Naval History and Heritage Command in Washington, D.C., where he co-authored a pamphlet on the Navy's role in Operation Torch (2018), and previously served as a historian at the U.S. Army Center of Military History. His most recent publication is "Integrating the Components: the Army National Guard within the Army," in Jason Warren, ed., Landpower in the Long War (University of Kentucky Press, 2019). He holds a Ph.D. in history and is a graduate of the Army War College.