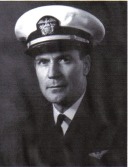 78 years ago this week, the Battle of the Coral Sea raged between the Imperial Japanese Navy and forces of the Australian and United States Navies. The battle resulted in a strategic victory for the Allies, despite their high casualties and loss of vessels. Commander William Ault was one such casualty during the battle.

William Bowen Ault, born in Enterprise, Oregon, on 6 October 1898, served briefly as an enlisted man in the Navy (19 April 1917-23 April 1918) before entering the Naval Academy as a midshipman. Graduating on 2 June 1922, Ault served at sea in the battleship Arkansas (BB-33) before reporting to the Naval Air Station (NAS), Pensacola, Fla., on 23 August 1924 for flight instruction. After earning his wings, Ault served with Aircraft Squadrons, Scouting Fleet, before commencing a tour in the aviation unit of the light cruiser Cincinnati (CL-6) on 10 September 1925. Detached from that ship a little over a year later, he served at the Naval Academy as an instructor before reporting for duty with Observation Squadron (VO) 3, Aircraft Squadrons, Scouting Fleet, on 15 June 1927.

Further duty at the Naval Academy, as an instructor in the Department of Ordnance and Gunnery, followed before he flew with Patrol Squadron (VP) 10-S, Scouting Fleet, based in aircraft tender Wright (A V-l). He then served on the staff of Capt. George W. Steele, Commander, Aircraft, Scouting Force, from June of 1931 to June of 1932 and alternated tours of duty afloat and ashore: in Torpedo Squadron (VT) 1-S, based on board Lexington (CV-2); at NAS, Norfolk, Va.; and in the observation unit of the battleship Mississippi (BB-41).Ault, by this time a lieutenant, next assisted in fitting-out Yorktown (CV-5), thus becoming a "plank owner" of that ship when she went into commission in the autumn of 1937. He then served in Yorktown's sister ship, Enterprise (CV-6), commanding VT-6. On 5 August 1939, less than a month before the start of World War II in Poland, Ault assumed command of the Naval Reserve Aviation Base, Kansas City, Kansas, a billet in which he served into 1941.On 22 July 1941, Lt. Comdr. Ault once more reported to Lexington, and, the following day, became her air group commander. He was serving in that capacity when the Japanese air attack on the Fleet at Pearl Harbor on 7 December 1941 drew the United States into World War II.

In the Battle of the Coral Sea in May 1942, Ault led Lexington's group into combat, both in the attacks on the Japanese light carrier Shoho on 7 May and in those on the fleet carrier Shokaku on the 8th. During the latter action, both Ault and his radio-gunner, Aviation Radioman 1st Class William T. Butler, apparently suffered wounds when "Zero" fighters attacked the group commander's plane. Ault tried in vain to return to a friendly deck, not knowing that Lexington had taken mortal damage in his absence. Unaware of Lexington's distress he radioed the ship at 1449, to tell her that he had only enough gasoline for 20 minutes. Yorktown, which had taken over communications for "Lady Lex," heard Ault's broadcast but failed to pick him up on her radar. Sadly informed that he was on his own but wished "Good luck," Lexington's air group commander asked that word be relayed to the ship that "we got a 1,000 pound bomb hit on a flat top."

Ault changed course to the north, in a last vain attempt to be picked up on radar. Yorktown again wished him good luck. Ault, perhaps grimly aware of the fate that lay ahead, radioed bravely: "O.K. So long, people. We got a 1,000 pound hit on the flat top." No further word was ever received from Lexington's air group commander, and neither he nor Aviation Radioman Butler were ever seen again. Both Ault and Butler were declared Missing in Action and presumed dead on May 8. 1942. Ault was posthumously awarded the Navy Cross for his bravery. In addition, the USS Ault (DD-698) formerly bore his name, and on September 25, 1943, the airfield at Naval Air Station Whidbey Island was also named in his honor.
Navy Cross Citation for Commander William B. Ault, USN:

The President of the United States of America takes pride in presenting the Navy Cross (Posthumously) to Commander William Bowen Ault (NSN: 0-57445), United States Navy, for extraordinary heroism in operations against the enemy while serving as Pilot of a carrier-based Navy Combat Plane and Group commander of a Navy Air Group attached to the U.S.S. LEXINGTON (CV-2), in action against enemy Japanese forces during the Air Battle of the Coral Sea, on 7 and 8 May 1942. Commander Ault led the air attack, carried out in the face of severe anti-aircraft barrage and heavy fighter opposition, which resulted in the complete destruction of one enemy carrier on 7 May and major damage to another on 8 May. His failure to return from the latter encounter and his courageous conduct throughout the duration of these actions were an inspiration to the entire air group. Commander Ault's outstanding courage, daring airmanship and devotion to duty were in keeping with the highest traditions of the United States Naval Service. He gallantly gave his life for his country.

Source: adapted from www.history.navy.mil/research/histories/ship-histories/danfs/a/ault.html
---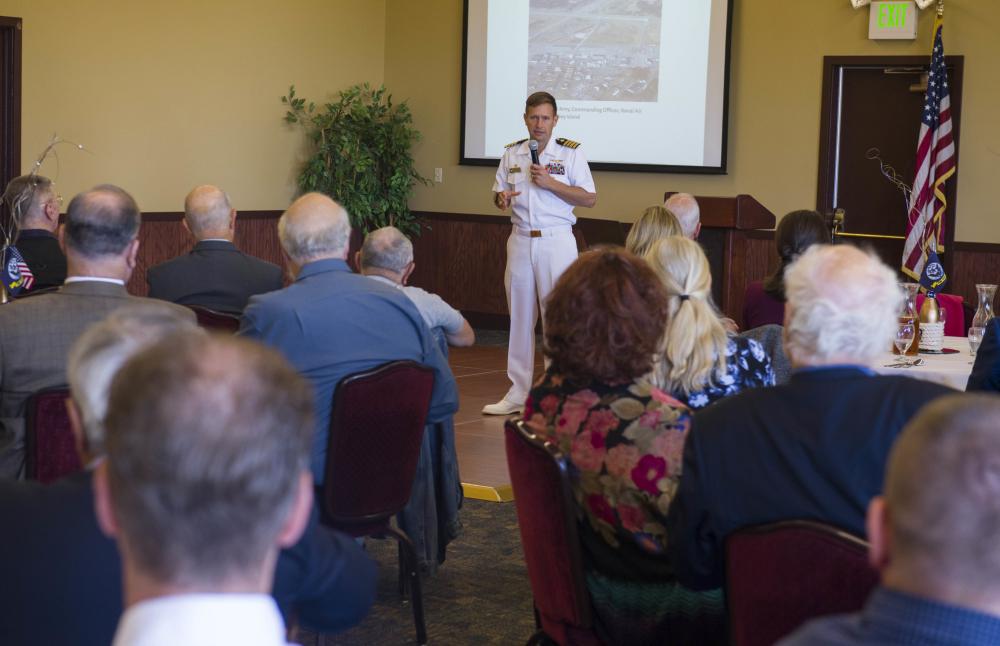 Naval History News, Resources, and Anniversaries: