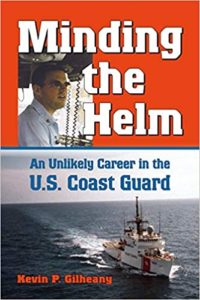 Reviewed by CDR Brian Emory, USN
Chief Warrant Officer Kevin P. Gilheany has done a wonderful job delivering a memoir of his service in the Coast Guard. His writing style is easy to read and always engaging in a book that's can be completed in one sitting or over a weekend. His story begins in his youth where he developed two key goals that would stay him throughout his life. The first happens while watching the annual St. Patrick's Day parade near Fifth Avenue in New York City. It was there that he fell in love with the sound of bag pipes and dreamed of being able to play them someday. The second event happened during the Bicentennial Celebration in 1976 when his mother took all three children to tour USCGC EAGLE at Pier 17 in the Seaport District of NYC. After waiting for hours to get onboard, it was on her decks that Kevin decided he wanted to join the Coast Guard when he grew up. It would be 7 years later that he would report to Coast Guard boot camp and begin his 20 year career.
Kevin shares honest stories about his life in the Coast Guard beginning in the 1980's when things were a lot different than today. All of these "sea stories" come across as honest and inviting as the reader has the chance to share is the many adventures experienced by a young Quartermaster growing up in the sea service. What makes this book better than just a collection of stories is how Kevin reveals his personal philosophy on determination and achieving his goals. Though a first time author, he is able to bring out principles and leadership lessons the same way an old high school friend would share how he got to be successful while at your twentieth high school reunion. There is a sense of friendship between the author and reader as Kevin imparts how he handled hardships and kept his eye on what he wanted most in life.
The events aren't sugar coated and during those times when Kevin made mistakes, he shares them as freely as the successes. The constant drive throughout the book is his desire to be the best Guardsman he can be in the Coast Guard. Instead of being upset at whatever circumstances he's given, Kevin's philosophy to do his best always comes out. And from that it becomes obvious to the reader how determination and hard work allowed him to quickly move up the enlisted ranks and retire as a Chief Warrant Officer at 20 years in 2003. But a year before that day, Kevin describes how he brought about accomplishing his second goal of learning to play bag pipes and founding the U.S. Coast Guard Pipe Band in 2002.
After reading the book it's hard to say what the author is most proud of accomplishing. The second part of the book's title is "An Unlikely Career in the U.S. Coast Guard" and harkens back to what an outsider would have said when looking at recruit Gilheany heading to boot camp, but the message of the book and internal character of Kevin reveals the dichotomy of that title. Chief Warrant Officer Gilheany knew what he wanted to accomplish in life and shares with the reader how a poor, overweight, non-swimming and alcoholic kid can make a difference for himself and those around him by becoming the best Quartermaster, Chief and Warrant Officer in the Coast Guard. In addition, he is credited with founding an enduring tradition with the establishment of the USCG Pipe Band. This book is a great read for everyone from a Coast Guard veteran to anyone interested in funny stories and life of someone that made a difference.
---
Minding the Helm:  An Unlikely Career in the U.S. Coast Guard, by Kevin P. Gilheany.  University of North Texas Press, 2019. 269 pp. 
CDR Brian L. Emory, USN (Military Faculty, Joint Forces Staff College)