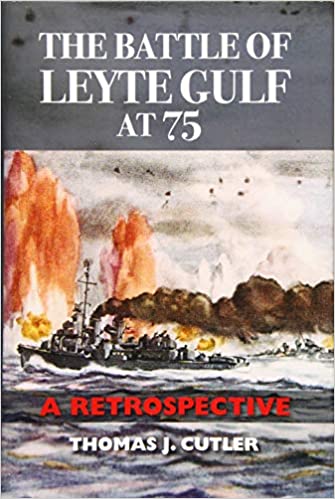 Reviewed by Ed Calouro.
LCDR Thomas J. Cutler, USN (Ret.) is perhaps the leading authority on the Battle of Leyte Gulf. He has been reading, analyzing, and writing about this epic encounter for many decades. In 1994, to commemorate the fiftieth anniversary, he authored The Battle of Leyte Gulf, 23-26 October 1944.
During his over two decades-long military career, Cutler did a tour in Vietnam, served in several types of warships, and completed nine years at the U.S. Naval Academy (as a senior lecturer and associate chairman of the history department). He is an accomplished author of numerous books and scholarly articles. In addition, he is a recipient of several awards, including the U.S. Naval Institute Press Author of the Year (2004) and the Naval War College Distinguished Fleet Professor Award (2019). He is the Gordon England Chair of Professional Naval Literature at the Naval Institute.
Readers may be pleasantly surprised to learn Cutler's most recent book, The Battle of Leyte Gulf at 75: A Retrospective, is not just an updated and polished version of his previous volume. Instead, the current edition is an anthology, compiled and edited by Cutler. He contributed a general introduction as well as prefaces to both major parts of the book. Cutler also submitted two articles and the epitaph.
 The book is divided into two main sections:  Part I.:  "Original Essays" and Part II.:  "The Archives."  In the first section, Cutler notes "eleven eminent historians have contributed original essays … each offering a unique perspective" (p. 15).    The essays comprise over half the book and present various viewpoints on specific aspects of the battle.  This sort of collection is not available in a traditional history.  Cutler concedes he gave each essayist cart blanche.  As a result, the essays can be "eclectic" and "random" (pp. 12+15).  Nevertheless, the observations are quite informative and edifying.  For example, essayist A. Denis Clift, in "Leyte Gulf Reminiscences," tapped the extensive, oral history holdings at the Naval Institute for such gems as CAPT Robert E. Dornin's "King Bawls Out Halsey." Dornin's recollection stands in contrast with Fleet Admiral William F. Halsey's account that CNO Fleet Admiral Ernest J. King told him "'You've got a green light on everything you did'" (p. 305).  Readers, hoping to learn VADM Willis A. Lee's reaction to the battleship-centered Task Four 34 not being formed earlier, can turn to Paul Stillwell's "'Where Is Task Force 34?':  The Frustration of Admiral Lee."
"The Archives" include thirteen submissions which were originally published in the U.S. Naval Institute's Proceedings or Naval History. Articles in "The Archives" present readers with viewpoints of several participants in the battle, most especially Fleet Admiral Halsey, VADM Jesse B. Oldendorf, RADM Tomiji Koyanagi, and ADM James L. Holloway III, as well as from historians and experts.
The Battle of Leyte Gulf encompassed four major engagements: the Battle of the Sibuyan Sea, the Battle of Surigao Strait, the Battle off Cape Engaño and the Battle off Samar. Cutler notes, while he generally discourages his students from using superlatives, they certainly apply to this battle. Words such as gargantuan, greatest, most multifaceted, epic, landmark, and more are appropriate. While it was a great American victory – the Imperial Japanese Navy would not be able to assemble an effective force thereafter – it was tainted with "embarrassing errors" and mired in controversy (pp. 117, 288, 337).
Cutler identifies elements of the battle which stand out: its size, the possibility it may have been the world's last great fleet engagement, the controversy about ADM Halsey's "Bull's Run," VADM Takeo Kurita's snatching defeat from the jaws of victory, and the bravery of sailors and aviators at the Battle off Samar (p. 2).
James D. Hornfischer, in his essay, wrote, Kurita's Center Force was "routed by pygmies and turn[ed] for home." "But the final legacy of the Battle off Samar should be one of appreciation and inspiration, not recrimination" (pp. 192-93). This kind of crisp and incisive writing can be found throughout the book.
Cutler notes, quite correctly, both novices and scholars have much to gain by reading this volume. However, the former may want to read Cutler's earlier book or one of the more than twenty other full-length treatments of this complicated and overlapping battle before proceeding to his 2019 publication. In addition, the composition of this volume lends itself to a fair amount of repetition, as contributors – of necessity – had to put their essays in context. A formal bibliography and index would have been helpful, though chapter endnotes provide a wealth of information, as do the maps and pictures.
In this collection, Cutler observed each new book on the epic Battle of Leyte Gulf "is only able to contribute without ever finalizing" (p. 2). If Cutler's book is not the final word, it certainly is an outstanding contribution to the historiography on this subject. This anthology has added significantly to the ongoing debate about this landmark, but controversial battle. It provides a much better understanding of not only what happened and what might have been at Leyte Gulf in October 1944, but also why. Cutler's The Battle of Leyte Gulf at 75: A Retrospective will take pride of place alongside his earlier 1994 publication on the bookshelf of any serious student or scholar of World War II in the Pacific.
[Editor's Note: In 2018, a year before LCDR Cutler's book was published, Mr. Calouro proof-read a draft of Stillwell's contribution. He was not informed where it might be published, and was not aware he would later be reviewing the final work.]
---
The Battle of Leyte Gulf at 75: A Retrospective. By Thomas J. Cutler. Annapolis, MD: Naval Institute Press, 2019.
Ed Calouro is an adjunct instructor in the History Department at Rhode Island College and a freelance writer.
Purchase your copy of Leyte Gulf at 75 today! amzn.to/39F67Dm