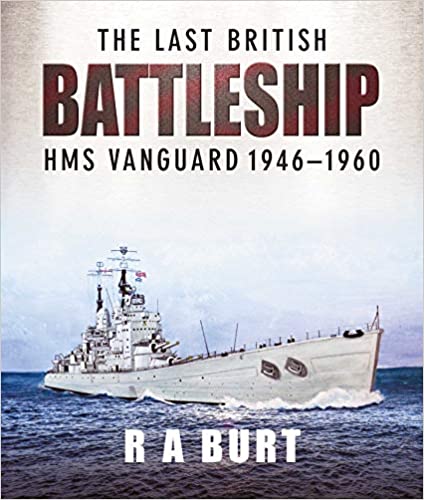 Reviewed by Ed Calouro
HMS Vanguard was the final battleship built for the Royal Navy.  She represented the last of a long line of historic ships stretching back at least a century to the ironclad HMS Warrior (1860) if not to HMS Victory (commissioned in 1778) and similar ships of the line.  It was a sad day indeed in 1960 when she was sent to the breakers. For the first time in almost one hundred years, the Royal Navy had no battleships in its fleets. 
Not only was HMS Vanguard the last British battleship, she was arguably the best.  HMS Vanguard was designed and completed largely in reaction to capital ships built by Japan and Germany in the 1940s.  In addition, Vanguard benefited from the wartime experiences of her predecessors. By 1941, the year she was laid down at the Clydebank, the Royal Navy had already lost five capital ships.  HMS Vanguard incorporated improvements to the dreadnoughts of the King George V-class and the Lion and Temeraire.  The latter two were laid-down in 1939, but never completed. Perhaps the most noteworthy example is that of the King George V-class battleship HMS Prince of Wales.  Sunk by the Japanese on 10 December 1941 along with the battlecruiser Repulse, after-action reports indicated the anti-aircraft (AA) fire from these capital ships had next to no effect on the attacking Japanese aircraft.  As a result, the 20mm mounts on the Vanguard were replaced by 40mm guns.  Eventually, Vanguard carried seventy-three 40mm barrels.  Her AA protection was "the best and most sophisticated… ever fitted on a British battleship" (pp. 15 + 52). 
The last Royal Navy super dreadnought carried an impressive array of features.  Her main armament consisted of eight 15inch 42-caliber Mark I guns.  They were controversial for at least two reasons.  First, they represented a retrograde from the 16inch guns of the HMS Nelson-class and the 16inch main armament installed on the ten US Navy modern battleships of the North Carolina, South Dakota, and Iowa classes.  Second, Vanguard's 15inch guns came from mountings removed from the battlecruisers HMS Courageous and Glorious when the latter two ships were converted to aircraft carriers (1924/30).  These guns were modernized to WW II standards (pp. 14 + 46) and carried in four twin turrets.  With an overall length of 814 feet, HMS Vanguard was more than sixty-nine feet longer than the KGV-class.  The greater size was required, in part, to accommodate a fourth turret. 
Other noteworthy features included a displacement of 45,116 tons (light load).  HMS Vanguard's machinery had a designed 130,000 ship's horsepower, which allowed her to attain a top speed of 30 knots.  Her 108-foot beam meant she could pass through the Panama Canal.  Her radius of action was a healthy 7,560 miles at 12 knots.  The secondary armament consisted of sixteen 5.25inch dual purpose guns evenly divided between port and starboard.  Combined with her array of 40mm mounts, her AA protection was formidable. 
HMS Vanguard was commissioned on 25 April 1946.  Her construction was delayed during the war because of shortages of skilled laborers and the prioritization given to anti-submarine vessels needed to counter German U-boats.  Subsequently, Vanguard underwent an extensive trial period, a luxury permitted since she was completed in peacetime.  Her cost was £11,530,503.  This did not include the price of her original 15inch guns and turrets.  Her armor was such that she "was one of the best-protected battleships ever built" (p. 53).  Vanguard was the only British capital ship to have a transom (flat) stern.  Her high flared bow and recessed hawse pipes, which allowed her anchors to be flush with her hull, resulted in "a magnificent sea boat" (p. 35).
The author, R. A. Burt, refused to be drawn into a heated argument comparing HMS Vanguard with some of her contemporaries, such as Tirpitz, Littorio, Jean Bart, Iowa, and Yamato. He concludes one cannot predict which ship would prevail in a hypothetical encounter with multiple variables. Burt simply notes Vanguard would have stood up well in a battle with any comparable battleship of her time. The author observed: "She was certainly the best battleship the Royal Navy every had." (p. 127)
 The Cold War notwithstanding, some questioned the need in the RN for this latest battleship.  Indeed, Vanguard never saw combat, and her most noteworthy accomplishment was to take the Royal family on a tour of South Africa in 1947.  HMS Vanguard had an active career until 1955 when she was marked for reserve status.  She served as a training ship and the flagship of the reserve fleet.  Though some consideration was given to converting her to a missile carrying ship, these ideas came to naught. 
R. A. Burt has written extensively about British warships, most especially the Royal Navy's capital ships.  In addition to the volume reviewed here, he has written three previous books covering British battleships from 1889-1945.  Burt has also penned books about German, Japanese, and French battlewagons.  He is not only a skilled author but is also an accomplished illustrator and draftsman.  His extensive, detailed, and precise profiles, illustrations, and photographs of HMS Vanguard grace the pages of The Last British Battleship. 
Burt is the only author this reviewer has encountered who has addressed the vexing question of why the Royal Navy never preserved any of its battleships as museum ships and memorials.  In October 1959, when word began to circulate that Vanguard was to be broken up, no less a figure than the First Sea Lord, Admiral Sir Frederick Parham, inquired of the Director of Naval Construction (DNC) if this last British battleship could not be saved.  The DNC replied the cost of preservation and Vanguard's not having been in combat argued against her retention.  If the latter rationale was an important factor, one wonders why the King George V, which participated in the sinking of the Bismarck, or the Duke of York, instrumental in the destruction of the Scharnhorst, was not set aside as a museum ship. 
Academics, draftsmen, battleship buffs, and the average layman will benefit from reading The Last Battleship.  A plethora of photographs illustrate the last British battleship.  The author is a noted expert on capital ship design, construction, and operations.  There are approximately thirty-five excellent plans, profiles, line drawings, and legends made by the author in this volume.  Burt is appropriately highly regarded for this type of work.  His writing is clear, informative, balanced, and far-reaching.  For anyone wishing to learn more about Britain's last battleship, this is the book to buy.
---
The Last British Battleship:  HMS Vanguard, 1946-1960.  By R.A. Burt Barnsley, UK:  Seaforth Publishing, 2019.
Ed Calouro is a freelance writer and adjunct instructor in the History Department at Rhode Island College.
Purchase your copy today! amzn.to/3lMN8Mr