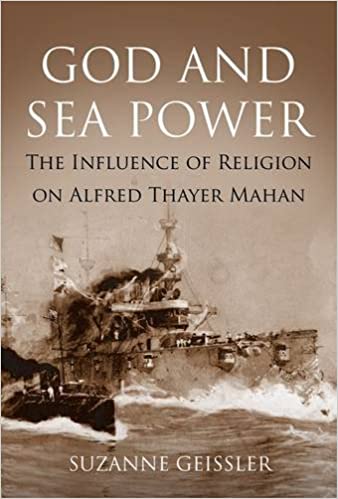 Reviewed by ENS Sean Bland, USNR (Chaplain Candidate)
I first encountered Alfred Thayer Mahan as an undergraduate student in Professor Paul Kennedy's "Military History of the West Since 1500" course at Yale. Mahan was studied in-depth and championed as the premier naval historian and strategist of the modern world. Mahan's personal, religious convictions were, unsurprisingly, not discussed in relation to his writing and influence. While one does not necessarily need to know Mahan's biography or religious life to understand his naval thought, this background does certainly flesh out his perspective and sheds light on the man behind the still-acclaimed Influence of Sea Power Upon History, published in 1890.
Suzanne Geissler has provided just such a background in her God and Sea Power, which documents Mahan's relationship to his Christian faith throughout his life. As Geissler contends in her conclusion, "[a]ny discussion of Mahan's life, career, and writings is incomplete without taking into account his deep Christian faith and how he applied it to everything he did as an officer, historian, strategist, Churchman, son, husband, and father. To fail to understand this is to fail to understand Mahan" (195).
Geissler's book traces Mahan's faith to his family, beginning with his father, Dennis, and uncle, Milo. After showing the familial roots of Mahan's faith, Geissler follows Mahan's time as a student at the Naval Academy, young officer, and ultimately writer and professor at the Naval War College and beyond. Mahan was a devout Episcopalian and active lay member of the church, writing in church publications and engaging in the many controversies of the religious community of the time. Through these interactions Geissler not only shows Mahan to be a knowledgeable and insightful interlocuter in religious debates of his era, but also serves as snapshot into the broader religious culture and climate of the time period.
Beyond his influence within the Church, Geissler documents through Mahan's journal entries and correspondence how his Christian background impacted his writings on history. Among the most important of these influences were Mahan's belief in the fallen nature of mankind and the necessity of just war, as well as his view that God providentially ordered history to his own ends. Thus Geissler argues that Mahan's insight into naval history was undergirded at each point, even if only implicitly, by matters of faith.
Geissler's work is compelling and serves as a good introductory biography of Mahan in its own right, covering his major career milestones and relationships. Geissler also defends Mahan against many contemporary criticisms, from alleged racism and prudery to incompetence. In each case, Geissler corrects overly simplistic reductions of Mahan's character and sheds light, often from his religious convictions, on Mahan's nuanced and fair beliefs.
As an aspiring Navy Chaplain, Geissler's work is a fascinating conjunction of naval history and a story of personal Christian faith. It is a helpful reminder that personal convictions, habits, choices, and religious beliefs all impact leadership, strategy, and officer-ship. Geissler may overstate her case at times, for instance arguing that that Mahan must have drawn on Augustine's Just War theory without being able to provide concrete evidence that Mahan necessarily read Augustine. Further, for over a century historians have discussed Mahan's impact and legacy without reference to his religious background – arguably these analyses have succeeded without direct reference to Mahan's specifically religious perspective.
Nonetheless, Geissler's God and Sea Power gives a fascinating perspective into the lesser-known aspects of the life of the most influential naval historian of the modern world. Geissler demonstrates the constant interplay between Alfred Thayer Mahan's religious views and professional career, and successfully adds new historical depth to his life and work. God and Sea Power is both an excellent overview of Mahan's life for novice historians as well as a helpful and insightful analysis for more experienced historians and students of Mahan.
---
Suzanne Geissler, God and Sea Power: The Influence of Religion on Alfred Thayer Mahan. USNI Press, Annapolis: 2015.
Purchase your copy today: amzn.to/3406erw
Reviewed by Sean Bland. Sean is a Navy Chaplain Candidate and seminary student.