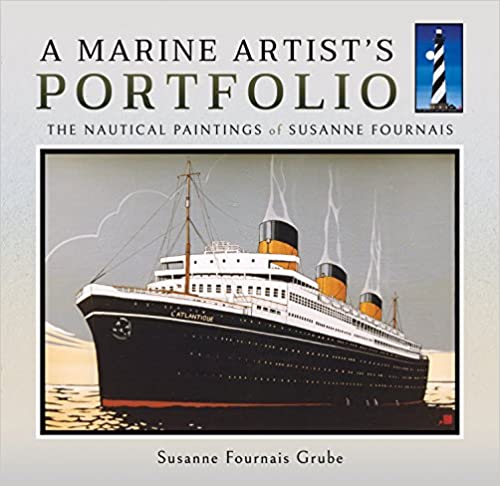 Reviewed by Ingo Heidbrink.
While marine painting was a fairly common artistic genre up to the 19th and early 20th century, ships of the second half of the 20th and the early decades of the 21st century only rarely caught the attention of professional artists, and the profession of the marine painter needs to be considered as nearly extinct. The reasons for the decline of the profession are manifold and reach from the introduction of high-quality color photography to the often-plain lines of modern ships that simply rarely catching the attention of an artist's eye.
Susanne Fournais Grube is one of the few modern painters that are not only continuing the tradition of the marine painter or artist, but who has managed to find an artistic expression that allows her to make even the portrait of a box-shaped leviathan, aka a super-tanker, into a piece of art of great artistic and esthetic quality.
With her new book A Marine Artist's Portfolio: The Nautical Paintings of Susanne Fournais, she provides not only a visually pleasing selection of her paintings, but a portfolio of her works that showcases her own development as a professional artist. More important sill is the book's display that marine painting is by no means merely a genre of the past, but is alive and well and that the marine industries of the 20th and 21st century are of equal interest for an artist to those of previous centuries.
Beginning with a brief introduction on the relation between Danes and the sea – Susanne Fournais Grube is a Dane and has recently returned to the island of Aeroe after spending many years abroad – the main part of the book is devoted to high quality reproductions of Susanne Fournais Grube's paintings. It is organized into six chapters, each beginning with a short text on the respective category of ships that are ranging from liberty ships, via ocean liners, super tankers, and tug boats, ferries & pilots, to the only non-ship chapter: lighthouses. Sometimes the attribution of a painting to one of these chapters does not really seem obvious, for example when the few paintings with naval vessels are included in the chapter on tug boats, ferries and pilots, but in the end that is not a point, as the book does not aim to provide an introduction on the various types of ships, but an artistic take on the maritime world.
For a book with a comparable low retail price the reproductions are of extreme high quality, and the publisher needs to be commended for not shying away from a printer to whom black is black and not a dark grey and to whom vivid colors are vivid colors.
As for most marine painters, past and present, Fournais Grube's body of work is divided into commissioned as well as non-commissioned works, and in this particular case it is hard to tell which one is of greater importance to the reader. While the traditional ship's portraits are well done, nuanced, and a pleasure to watch, the real artistic strength of Fournais Grube becomes visible when she is dealing with an unusual perspective or detail. As this reviewer is a maritime historian and not an art historian he takes the luxury not to comment on the full details of artistic quality of the works presented, but simply concludes that it is surprising how a portrait of a technical object like a ship can communicate so much more than just a technical object …
The book can easily be recommended to any reader with an interest in marine painting, if firstlyto have a book on the shelves that demonstrates that marine painting is still alive and that modern cargo ships are equally suitable as a subject for this genre as a windjammer. It also needs to be commended to those maritime historians to whom a ship is more than just a technical object, for the paintings by Susanne Fournais Grube bring these other qualities of a ship to a vivid liveliness. Finally, it is also simply a nice coffee table book that will draw the immediate attention of anybody who is interested in ships and the modern maritime industries.
---
Grube, Susanne Fournais. 2018. A Marine Artist's Portfolio: The Nautical Paintings of Susanne Fournais. Barnsley, South Yourkshire, United Kingdom: Pen & Sword Transport, 2018.
Reviewed by Ingo Heidbrink; Old Dominion University, Norfolk, VA
Purchase your copy today! amzn.to/3o0QSdm