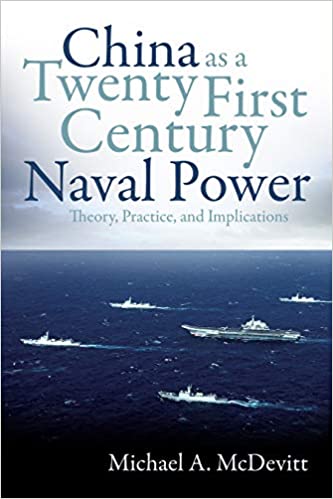 Reviewed by Admiral Walter F. Doran, USN (Ret.)
Rear Admiral Michael McDevitt draws on his thirty-four year Naval career and a decades long involvement with National Security issues within the Department of Defense and with the Center for Naval Analysis to produce a timely and well written book. He chronicles the evolution of the PLA Navy into a twenty-first century naval power. He describes his work as not a history of the PLA Navy but rather an explanation of how they arrived, where they are headed and what role they play in defending China's national interests. The book describes the progress of the PLA Navy written by a flag officer seasoned by successful commands at sea. Additionally, he has a solid reputation as a well thought out observer and analyst of the Chinese Navy and the Indo-Pacific region.
Xi Jinping, embracing his predecessor's 2012 declaration that China should become a great maritime power, has aggressively treated the protection of maritime rights and interests as a necessity. Xi has linked maritime power with his concept of the "China Dream", defined as restoring the nation to a position of global preeminence.
China's economic reliance on foreign trade combined with their fundamental security interests, highlighted by the Taiwan issue, is uniquely centered on the maritime domain. It presents a compelling argument to create a capable Navy. Admiral McDevitt details the development of the PLA Navy's ships, aircraft, and weapon systems to meet their growing requirements. These include the ongoing formation of a survivable aircraft carrier strike force and a world class submarine force. The buildup has been most impressive. In 2020 he tells us that China is the largest and second most capable Navy in the World.
McDevitt describes China's maritime sovereignty, entitlement and demarcation disputes with its maritime neighbors. The most serious of these is reasserting de facto sovereignty over Taiwan. Taiwan is also where the PLA Navy could come up against the US Navy. When China talks of fighting and winning wars, they are referring to the Taiwan scenario. Taiwan is therefore central to China's maritime strategic interest.
In developing a Navy that can defend China and their overseas interests and SLOCs (sea lanes of communication), the PLA Navy is gradually shifting from off shore waters defense (Anti-Access/Area Denial) to a combination of offshore waters defense and open seas protection. They are methodically building a combined multifunctional marine combat force structure.
In perhaps his most interesting discussion, he offers a commentary on the Chinese effort to achieve control of the South China Sea (SCS) through enforcing and expanding their claims primarily inherited from the Republic of China. By conducting a series of coercive actions, led by the Chinese Coast Guard and the Maritime Militia with the PLA Navy close at hand, China has shifted the status quo in the SCS in their favor. Quoting Admiral Philip Davidson, Commander of US Indo-Pacific Command, "China is now capable of controlling the South China Sea in all scenarios short of war with the United States."
China has also moved into the Indian Ocean. They have used the last twelve years of anti-piracy patrols in the Gulf of Aden and the Northern Arabian Sea as a blue water laboratory. This mission has transformed the PLA Navy into a global force, requiring them to wrestle with the issues of logistics, command and control, maintenance and repair. The experience gained by the deployed officers and crews has been invaluable.
The anti-piracy patrols have also heightened Beijing's "Sea Lane Anxiety" defined as an awareness that its SLOC concerns are much broader than the dilemma they face transiting the Straits of Malacca. Therefore, presence of Chinese warships in the Indian Ocean has become routine, especially in the Arabian Sea. This ties directly to President Xi Jinping's initiative of the Maritime Silk Road and protection of the SLOCs, institutions, personnel and assets abroad
Today the PLA Navy's presence in the Indian Ocean remains small and non-threatening. However, their current presence foreshadows a huge appetite for growth and influence. As China's stake in the Indian Ocean expands RADM McDevitt predicts Beijing will introduce more naval capability into the region to reduce the current imbalance in maritime power. He foresees that in addition to increased ship deployments they may develop additional bases in addition to their current presence in Djibouti and Pakistan (Gwador).
RADM McDevitt concludes that China is now a Great Maritime Power. However, we have no idea how well the officers and men, their networks, command and control systems and weapon systems will perform under the stress of combat. We also have no clear picture concerning the planned size of the PLA Navy. Only time will tell but this book provides a well written, comprehensive view of the PLA Navy and should be required reading for all those involved with Maritime matters and developments in the Indo-Pacific Region.
---
China as a Twenty First Century Naval Power; by Michael A. McDevitt; Naval Institute Press, 2020.'
About the Reviewer: Admiral Walter F Doran USN (ret) finished his 38 year Navy career as the Commander of the US Pacific Fleet. He had previously commanded USS DeWert FFG-45, USS Belknap CG-26, Amphibious Forces Western Pacific CTF-76, and the U.S. Seventh Fleet. Transitioning from the US Navy he spent six years with Raytheon Company working as the President of Raytheon Asia.
Purchase your copy today! amzn.to/3nsLf7q