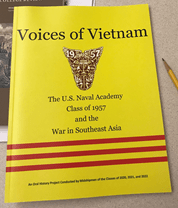 Voices of Vietnam, a publication that was the final product of an oral history class led by NHF's staff historian and 2019-2020 Class of 1957 Chair of Naval Heritage Dr. Dave Winkler, has been printed for limited distribution to the midshipmen who participated in the project, Class of 1957 participants in the project, and to several repositories such as the Nimitz Library. Winkler reflected, "Because the Class of '57 was generous enough to endow my one-year stint in Annapolis, I thought we could do payback by having the class of 15 midshipmen interview 15 members of the Class of '57 about their Vietnam experience."
What was fascinating about the Class of '57 is that a quarter of the class went into the Air Force, and some opted for the Marine Corps, so the class met with representatives from three services in the interview pool. Once the interviews were transcribed, the class was assigned 15 periodic segments, and they meshed the 15 transcriptions with other historical sources to write a narrative on "The Class of 1957."
To prepare the Midshipmen to write their chapters, Winkler hosted three groupings of roundtables. The first were the practitioners. Cdr. Paul Stillwell from USNI; Drs. Richard Hulver and Regina Akers from NHHC; Jan Herman, retired from BUMED; and Charles Melson and Dr. Fred Allison, retired from the Marine Corps History Division, discussed their collection efforts. In addition, Laura Orr from the Hampton Roads Naval Museum gave a well-crafted presentation on how she used oral history in the museum's new Vietnam exhibition. The second grouping included visiting historians who have written scholarly works on the conflict, such as riverine and coastal warfare expert Dr. John Sherwood from NHHC and Air Force historian Dr. Darrel Whitcomb. Finally, the class heard from groups of veterans such as brown water veteran Lt. Cdr. Tom Cutler and Capt. Dick Krulis, who flew with HA(L)-3—the Seawolves. Vice Adm. Robert F. Dunn and Capt. Todd Creekman—names familiar to the NHF membership—brought in colleagues who were veterans of the air campaign and naval gunfire support.
Once the class went online due to COVID the online format enabled Winkler to bring in Joe Galloway, the UPI reporter who coauthored We Were Soldiers Once . . . and Young, to talk about a new book, They Were Soldiers, that focused on oral histories completed with Vietnam veterans in various professions. Another great presentation was given by the team that produced the 2 Sides Project, a PBS documentary that united the now adult children of men who were killed on both sides in the war.
Dr. Winkler again thanks all of those named above and the support of the Naval Academy History Department to make the project a reality.