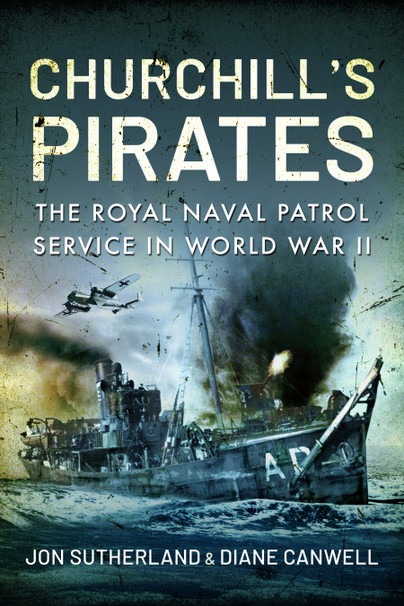 Reviewed by Ingo Heidbrink
With more than 1500 craft operating during World War II the Royal Naval Patrol Service (RNPS) was a fleet of substantial size, but as these craft were mainly converted trawlers, fuel carriers, and motor launches with some corvettes and sea plane tenders it is also a fleet often overlooked by naval historians. Churchill's Pirates, by John Sutherland and Diane Canwell, aims to bring the history and the stories of the men and ships of the RNPS to light and thus to close a desideratum observed by many naval historians in recent historiography. Nevertheless, it needs to be asked if this 2020 paperback can be credited with doing so.
For a general readership with an interest in naval affairs, and in particular World War II history, looking for an easily digestible summary of the history of the RNPS, this book will easily deliver. If a reader knows nothing about the Patrol Service and its contributions to World War II, then this book will definitely suffice as a first read on the subject. In particular, the large number of first-hand accounts provided makes everyday life within the RNPS accessible to the modern reader. These accounts also help demonstrate that naval warfare was by no means limited to the activities of the large and well-known units, as small craft played a pivotal role in achieving victory. The book's massive annexes provide detailed information on the craft of the RNPS and thus, overall, it can be recommended to a general readership with either a cursory interest in the RNPS or World War II maritime activities in general. As such this title fits well into the long list of successful books co-authored by Canwell and Sutherland, which provide basic overviews on various topics of naval and/or maritime history. If a reader has enjoyed any of the other books written by this team of authors, Churchill's Pirates will definitely not disappoint.
The situation is somewhat different for a more specialized and professional readership, in particular professional naval and/or maritime historians. First of all, it should be recognized that Churchill's Pirates is not a new book. The 2020 paperback is a new edition of a book that was first published ten years ago in 2010. Additionally, it needs to be stated that another book on this topic, Paul Lund and Harry Ludlam's 1971 Trawlers Go To War, set a high standard. Of course, Lund & Ludlam's book was published nearly 40 years prior to the first edition of Sutherland & Canwell's book, and thus there would have been good reason to revisit and revise what had been published half a century ago. Unfortunately, the book now under review falls short of doing so, at least from the perspective of a professional historian interested in an analytical approach instead of a purely descriptive treatment.
With roughly half of the book being devoted to the four annexes, the main text is not only short but largely consists of a simple narrative retelling of the RNPS's operational history during World War II, supplemented with a good number of lengthy first-hand accounts. An analytical take on this story is more or less completely missing, as are any new insights into the creation and inner workings of the RNPS or its relation to the regular navy. This casual reading may be informative and even entertaining for a reader unfamiliar with the subject, but it will leave any professional reader, and in particular any naval or maritime historian, questioning whether there was anything gained from reading it. This issue becomes even more glaring upon realizing that there are no specific references for the various eyewitness accounts.
Finally, when doing a quick internet research on the book, some of the information provided in the annexes appears to be freely and easily available on the web, accompanied by various claims that the authors of the book had not generated the materials themselves, but simply taken them from these free internet resources. It cannot be the purpose of this review to verify these claims, but a potential reader/buyer needs to know that a good portion of the material in the annexes is easily available for free on the internet.
Therefore, it needs to be asked what potential audience the publisher might have had in mind when deciding to publish this paperback version of a book originally published in 2010. Most definitely it was not the professional (naval or maritime) historian but a general readership with an interest in this particular aspect of the naval history of World War II and in particular a readership that has never heard about the RNPS before or a readership with some personal connection to former members of the RNPS that want to learn some basic information about the service without taking an interest in a more sophisticated analytical historical approach. The somewhat catchy title of the book combining the name of Winston Churchill with the term 'pirate' together with a cover design resembling a movie poster for an action movie will also help the comparably cheap paperback to find its market when placed in the displays of a bookshop between other general history books. It can be assumed that the book will find its buyers, but the question remains, to whom can this book be recommended?
Most definitely not to the professional naval or maritime historian as most of the information provided in this book can easily be found in other places and the complete lack of footnotes or specific references prevents it from being used as a gateway to additional material for future research. It also cannot really be recommended as a textbook to be used in any academic or educational setting due to these concerns. If a reader is hoping for a serious analytical take on the subject, discussing cutting edge research and providing new insights on the subject, then this book will probably disappoint, at least to a certain degree.
Consequently, the final verdict on John Sutherland and Diane Canwell's Churchill's Pirates is that it can be easily recommended to a general readership interested in a quick overview on the history of the RNPS and the operations of smaller naval craft during World War II. For the serious naval or maritime historian, Paul Lund and Harry Ludlam's 1971 book Trawlers Go To War is probably still the better choice, but Churchill's Pirates might serve as an interim solution until a copy of Trawler Go To War can be obtained, which might prove to be a challenge given that it was originally published half a century ago.
---
Ingo Heidbrink is a Professor of History at Old Dominion University in Norfolk, Virginia.
Churchill's Pirates: The Royal Naval Patrol Service in WWII (Jon Sutherland & Diane Canwell, Seaforth Publications, Barnsley, South Yorkshire, Great Britain, 2020)