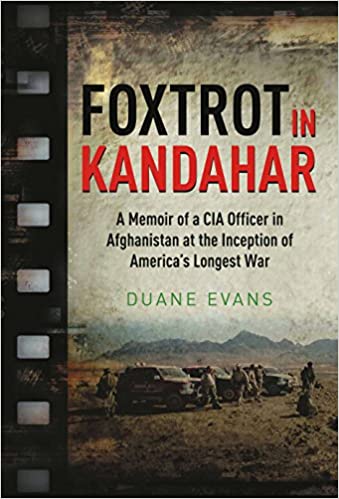 Reviewed by Lt. Col. Trey Guy, USA
Foxtrot in Kandahar: A Memoir of a CIA Officer in Afghanistan at the Inception of America's Longest War is the second book and first work of non-fiction from Duane Evans, a retired Central Intelligence Agency (CIA) Operations Officer. This riveting snapshot memoir focuses on Evans' experiences in Afghanistan from late 2001 to early 2004.
Mr. Evans begins by taking the reader back to the days and months following the 9/11 attacks against the United States. In doing so, he evoked personal memories and strong emotions in me that normally remain dormant except when thinking about the events that surround 9/11 and the months that followed. Evans' personal behind-the-scenes account as one of the first people in post-9/11 Afghanistan divulges information (as much as is allowed by classification restrictions) which most readers would not have previously had access to. His account helps to fill in gaps between what really happened and what has already been reported by the media, published in written accounts, and depicted in the movies (such as "12 Strong"). I believe that this book coupled with readings such as Fall and Rise: The Story of 9/11; The Looming Tower: Al Qaeda and the Road to 9/11; Ghost Wars: The Secret History of the CIA, Afghanistan, and Bin Laden, from the Soviet Union to September 10, 2001 and The Bear Went Over the Mountain would enhance any reader's understanding of the reaction to the events of 9/11 as well as help develop a deeper understanding of Afghanistan in general.
Mr. Evans takes a chronological approach that begins with the 9/11 attacks and goes through his time as the lead for the CIA Foxtrot team in Afghanistan. His firsthand account details the trials, pitfalls, and successes his team experienced in late 2001 and early 2002. The final chapters deal with his subsequent and yet unexpected assignment as the first Afghanistan Station Chief for the CIA. After years of running operations from Pakistan, Evans details how standing up the Afghanistan CIA station on Afghan soil and controlling operations from inside Afghan was both a chaotic and rewarding experience. He caps the memoir with a postscript from 2017, 10 years into his retirement from the CIA, to provide a retrospective assessment of successes and failures in Afghanistan. In this assessment, he does not lay blame but provides the critical analysis that someone looking back on their career can provide. He points to not only his own shortcomings while in Afghanistan but also those of the Agency, U.S. foreign policy, and others.
This is a useful book for anyone who wants to be reminded of what 9/11 meant to so many. It also highlights the dangers of mission creep and how it can cause even the most devoted patriot to become jaded. Evans shows his professional growth in the book from a "normal" case officer to an experienced Operations Officer. He describes the challenges of leading his team in the field as they practiced many forms of diplomacy, often times from the "seat of their pants," with a wide variety of groups including Afghan villagers, tribal leaders, Special Forces soldiers, as well as many others.
I highly recommend this book to anyone, military or civilian, teen or adult. It may help to explain early operations in Afghanistan for those of us that were just coming into the service while at the same time explaining how 9/11 and the events that followed were galvanizing points for our children. My eight-year-old son came across this book sitting on a table and read it as well. I first learned of him reading the book when he asked me questions about it at the dinner table. Based on the content of the book, I had no reservations with him reading any of it and I was enthused by how much his questions showed his ability to understand the contents and concepts contained within the book.
---
Lt. Col. Trey Guy, USA, is a Military Faculty member at the Joint Forces Staff College.
Foxtrot in Kandahar: A Memoir of a CIA Officer in Afghanistan at the Inception of America's Longest War (Duane Evans, Savas Beatie Publishing, Sacramento, CA, 2017)