In Memory of Jim Hornfischer
By David A. Rosenberg, NHF Board Member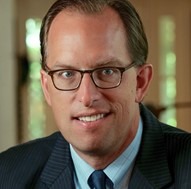 Naval history and the United States Navy lost a great friend and accomplished practitioner of the historian's craft on 1 June when James D. Hornfischer lost a hard-fought, year-long battle and succumbed to brain cancer surrounded by his family at his home in Austin, Texas. The Naval Historical Foundation also lost an active, enthusiastic and engaging member of its board of directors. I personally lost a good friend with whom I shared a lifelong love of naval history, someone I admired greatly, and appreciated working with on his book on the Cold War U.S. Navy over the last five years.
One of the most prolific and popular 21st Century historians of World War II naval history, Jim was also one of its most honored. His awards included the 2018 Samuel Eliot Morison Award, given by the Board of Trustees of the USS Constitution Museum, for work that "reflects the best of Admiral Morison: artful scholarship, patriotic pride, an eclectic interest in the sea and things maritime, and a desire to preserve the best of our past for future generations." The Fleet at Flood Tide: America at Total War in the Pacific, 1944–1945, Jim's most recent book, received the Navy League's 2017 Commodore John Barry Book Award and is a major retelling of the U.S. Navy's Central Pacific drive covering the operations that seized the Marianas Islands, as well as the strategic air operations launched from bases subsequently built on them that ended the war. His Neptune's Inferno: The U.S. Navy at Guadalcanal (2011), a New York Times bestseller, was chosen as a best book of the year by numerous book reviewers, while Ship of Ghosts (2006) told the story of the cruiser USS Houston (CA-30) and the ordeal of its crew in Japanese captivity. His first book, The Last Stand of the Tin Can Sailors (2004), that vividly chronicled the Battle off Samar, received the Samuel Eliot Morison Award from the Naval Order of the United States and was chosen by the Wall Street Journal as one of the five best books on "war as soldiers know it," and by Naval History magazine as one of "a dozen Navy classics." Hornfischer also collaborated with Marcus Luttrell, the bestselling author of Lone Survivor on Luttrell's second autobiography, Service: A Navy SEAL at War (2012). All of Hornfischer's books were selections of the Chief of Naval Operations Professional Reading Program. He was a regular contributor to the Wall Street Journal, wrote for Smithsonian, Naval History and Naval Institute Proceedings, and lectured regularly at the U.S. Naval Academy, the Marine Corps University at Quantico, the National WWII Museum, and the National Museum of the Pacific War.
Born in Massachusetts in 1965, Jim was a 1987 Phi Beta Kappa graduate of Colgate University (International Relations and German). He received a law degree from the University of Texas at Austin in 2001. A non-practicing member of the State Bar of Texas, he was president of Hornfischer Literary Management, a literary agency in Austin, Texas, that represented authors of nonfiction books in a variety of subject areas, including current affairs, history, politics, biography, business, and popular science. Clients included James Bradley, H. W. Brands, George Friedman, William H. Goetzmann, Don Graham, Annie Jacobsen, Alex Kershaw, Governor Rick Perry, Ron Powers, Roy Spence, Mark K. Updegrove, John Wukowits and others.
Jim noted that his motivation to write about the U.S. military reached back to his childhood, particularly "explorations of his elementary school library's 940.54 Dewey Decimal section, building Monogram and Revell model ships and aircraft, watching 'Baa Baa Black Sheep' on NBC (sublimely ahistorical but redeemed by Robert Conrad's winning portrayal of Major Gregory "Pappy" Boyington of VMF-214), and absorbing the epic intonations of Sir Laurence Olivier in 'The World at War' on PBS." In a 2016 interview for the Center for International Maritime Security (CIMSEC) about The Fleet at Flood Tide, Jim was asked what his favorite naval history book was. He replied that "it's a long list, probably led by Samuel Eliot Morison's volume 5, Guadalcanal, but I'm going to put three ahead of him as a personal matter: Tin Cans by Theodore Roscoe, Japanese Destroyer Captain by Tameichi Hara, and Baa Baa Black Sheep by Gregory Boyington." He commented "this selection may underwhelm your readers who are big on theory, doctrine, and analytical history, but I list them unapologetically. These were the books that set me on fire with passion for the story of the Pacific War when I was, like, twelve. If I hadn't read them at that young age, I don't think I would be writing today. It is only a bonus that all three were published by the company that's publishing me today, Bantam/Ballantine. We are upholding a tradition!"
In the same CIMSEC interview, Jim was asked what his research and writing process was like: "It's all an elaborate moonlighting gig, conducted in relation to, but apart from, my other work in book publishing. It takes me a while to get these done in my free time, which is stolen mostly from my generous and long-abiding wife, Sharon, and our family. But basically the process looks like this: I turn on my shop-strength vacuum cleaner, snap on the largest, widest attachment, and collect material for 18 to 24 months before I even think about writing. Having collated my notes and organized my data, I then dive into the fitful process of making this rough assemblage readable and smooth, envisioning multiple readers, from expert navalists to my dear mother, with every sentence I type. I stay on that task, early mornings and weekends, for maybe 18 more months. Then, in the case of The Fleet at Flood Tide, my editor and I beat the draft around through two or three revisions before it was finally given to the Random House production editor. Then we sweat over photos and maps. History to me is intensively visual, both in the writing and in the illustrating, so this is a major emphasis for me all along the way. I never offload any of this work to a research staff. In spite of all of this effort, the result is usually, maddeningly, imperfect in the end. But it is always the best I can do, using this hand-tooled approach under the time pressure that inevitably develops."
When asked what he was thinking about writing on next, he replied: "One word and one numeral: Post-1945." During Jim's valiant battle with his cancer, he never stopped working on the first volume of his history of the U.S. Navy in the Cold War through 1960. He completed a first complete draft, tentatively titled "Who Can Hold The Sea" with the notation "no question mark; title is a play on Themistocles" at the end of August 2020. We hope that we will be able to read, enjoy and learn from this final work in the future.
One week before his passing, on 24 May, Jim Hornfischer was presented with the United States Navy's Distinguished Public Service Award, the highest honor awarded to a civilian who is not a member of the naval service, by retired RADM Sam Cox, Director of the Naval History and Heritage Command. The award, in acknowledging his accomplishments as a prize-winning historian, a board member with the Naval Historical Foundation, and as a public speaker noted: "Mr. Hornfischer's ability to let individual stories shine within the vast sweep of events provides a constant reminder that the Navy is only as great as the courage, skill, and determination of its Sailors." At the same virtual ceremony, Admiral William J. Fallon, USN (Retired), Chairman of the Naval Historical Foundation presented Jim with the Foundation's Distinguished Service Award, which recognized Jim as a "Mentor to a New Generation of Aspiring Scholars Writing History about the Sea Services; as a Director who has Provided Invaluable Guidance to Support the Missions and Imperatives of the Foundation; and Most Significantly, His Outreach to Veterans Organizations and Thousands of Service Members and Their Families to Provide Vital Context and Sense of Purpose for the Service and Sacrifice They Offered." To quote from fellow naval historian John Sherwood:
"Jim Hornfischer's writings illuminated the actions of ordinary Sailors fighting in the Navy during World War II. In so doing, he revealed the humanity behind the steel gray hulls that won the war in the Pacific Theater, and helped explain the significance of sea power to a broad audience of readers. Although his histories had "popular" appeal, Jim never skimped on research. His histories rely heavily on primary sources and his scholarship meets academic standards of research. He stands out as one of the great operational historians of World War II."
We were all looking forward to more great works of naval history from Jim Hornfischer over the coming decades and deeply mourn his passing. We are also immensely grateful that Jim was part of our lives as friend, mentor and colleague. We will re-read his books with pleasure and gratitude in the years ahead.
---
Colleagues Remember Jim Hornfischer
By NHF Staff Historian David F. Winkler, Ph.D.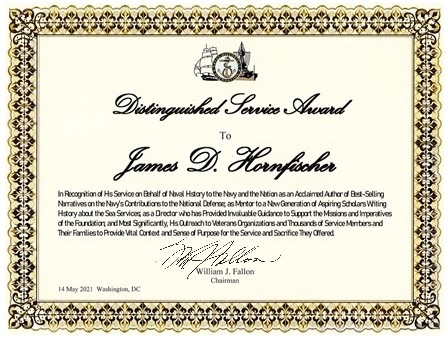 At an award ceremony hosted at the Hornfischer household in Texas on May 24th, the Director of Naval History Rear Adm. Sam Cox had the privilege of bestowing on James D. Hornfischer the Navy's Distinguished Public Service Award, while NHF chairman Admiral William J. Fallon and board member David A. Rosenberg presented Mr. Hornfischer with the NHF's own Distinguished Service Award. Many family members and friends, attending either virtually or in person, shared their appreciation for what Jim had accomplished, both professionally and personally, as a loving husband, father, and friend.
With the news of his passing, numerous practitioners in the field of naval history have responded with their own reflections on Mr. Hornfischer, the author of several eminent books documenting the valor of American Sailors during the Second World War.
Paul Stillwell, the former director of the U.S. Naval Institute's oral history program and an accomplished fellow author, captured the key points in his tribute: "He was gregarious and drew people to him because he cared so much about others. He set the standard for multi-tasking. On the one hand, he was a literary agent who guided the careers of many authors. Jim was a fine speaker who appeared frequently at programs in which he shared his vast knowledge. Finally, of course, he was a gifted author—a thorough researcher and skilled writer whose word pictures made scenes come alive in the minds of readers."
"Caring" was a common theme noted by several of the respondents.
Norman Polmar recalled: "Jim and I enjoyed several lunches and dinners together over the years…usually discussing naval history. He was a good 'sounding board' and a good friend."David Kohnen at the Naval War College noted: "Most recently, I have enjoyed trading ideas with Jim about the role of American sea power through the Second World War and beyond." Craig Symonds, long a fixture at the U.S. Naval Academy, remembered Jim as "also a generous and thoughtful friend to others." Former Senior Historian of the Navy Edward J. Marolda observed: "He was also one of the warmest people I have had the privilege to know."
As for his unheralded work as a literary agent, Jim Hornfischer used his skill sets as a polished writer to help others navigate the byzantine world of publishing.
Ann Todd, author of OSS Operation Black Mail: One Woman's Covert War Against the Imperial Japanese Army published with the Naval Institute Press extolled: "Jim was my literary agent, and spent months patiently helping me craft a book out of a dissertation. He was committed to my desire to tell the story of Elizabeth P. McIntosh, who distinguished herself in the Office of Strategic Services during World War II. Betty lived to be 100 years-old, long enough to know that revised manuscript was being considered by Naval Institute Press. Jim Hornfischer made my dream come true, and brought joy to a woman who was my personal hero."
The Tidewater duo of Laura and Timothy Orr, who collaborated with Dusty Kleiss to publish with William Morrow Never Call Me a Hero: A Legendary American Dive-Bomber Pilot Remembers the Battle of Midway echoed Stillwell's observations about Hornfischer being a "both a thoughtful, caring friend and an engaging, gifted historian" concurring with Ann Todd by stating: "He served as our literary agent, and his tireless assistance was invaluable. He believed in the worth of our project and made it a reality. He didn't just do history for himself—he helped other scholars in their quest to bring naval history to life."
The aforementioned Ed Marolda, author of the forthcoming Admirals Under Fire: The U.S. Navy and the Vietnam War with Texas Tech, echoed this sentiment: "As my literary agent, he worked tirelessly and with professional skill to connect me to a good publisher."
David Kohnen who recently completed his magisterial work on Fleet Admiral Ernest J. King added his exclamation point adding: "One of the greatest days of my life is when Jim called me up and signed me to join his uniquely remarkable stable of authors. Above all, Jim believed in me, helped to improve my work, and he was among my greatest champions. I find it impossible to describe in words how truly grateful I am that I had the opportunity to work with Jim. Through Jim's good offices, I have been able to complete my book manuscript and it is now on track for publication. This would not have happened without the direct involvement and advocacy of the true gentleman, remarkable historian, and great humanist."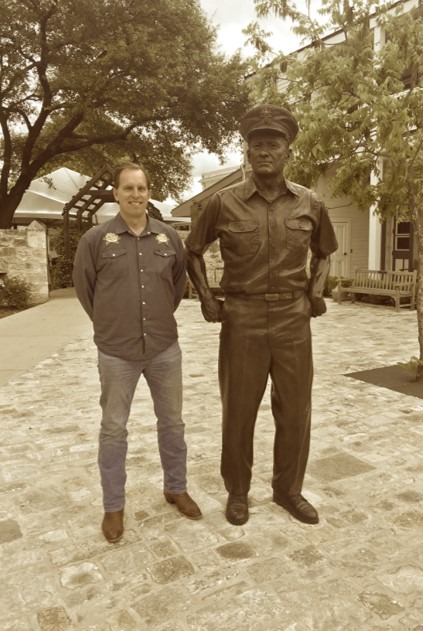 In addition to helping talented authors find their way into publishing, Stillwell rightly pointed out Hornfischer's talent as a gifted speaker. He earned more than his fair share of frequent flyer miles as he flew off to meet with reunion groups and organizations such as the Surface Navy Association to provide context for the service and sacrifices made on behalf of the nation. Of course, the reason he was in such demand was due to abilities to put word to paper.
Campbell University history professor Sal Mercogliano observed: "His work set a high bar for all naval and maritime historians to strive for in their works and career. As someone who studied the Guadalcanal campaign in detail, I was amazed by how Jim's Neptune Inferno painted something so familiar to me in a new light and clarity. This is the mark of not just a great historian, but an excellent story teller." Craig Symonds agreed noting: "Jim was a gifted historian who could bring events to life like few others." Ed Marolda, who embraced Jim Hornfischer as a truly masterful writer, accomplished naval historian, and friend further opined: "His Last Stand of Tin Can Sailors and other works stand as tributes to his literary gifts and wide appeal."
David Kohnen expressed with earnest sincerity: "Exemplifying the best of all humanity, James D. Hornfischer also stands out as being among the great scholars of history. His historical writings and books remain 'second to none.' Jim advanced our collective understanding of the past by encouraging other historians to follow in his phosphorescent wake. He was always looking outward and over the horizon to do all that he could for his fellow maritime historians, colleagues, and friends."
Summarizing the feelings of all who Hornfischer engaged with over the years, Paul Stillwell concluded: "Thanks for everything, Big Guy." And we join with Ed Marolda in saying: "Fair winds and following seas Jim," and with Laura and Timothy Orr in observing: "We will miss him dearly."