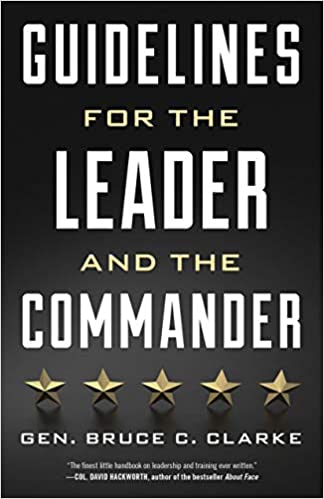 Reviewed by Major Chris Ketcherside, USMC (Ret.)
Guidelines for the Leader and the Commander is a collection of chapters, lectures, and manual excerpts General Clarke penned over the course of his career based on his hard-won experiences in positions of leadership in World War I, World War II, and the Korean War, as well as in peacetime.
Gen. Clarke's guidelines first force potential leaders to engage in self-reflection, to see if they are truly ready for leadership, and then he discusses, in broad terms. the importance of training, time management, and setting a personal example, among other subjects. This text is very Army centric, but there are numerous basic leadership principles that are applicable to any service, such as the points he makes about setting a personal example, and his comment on inspections, "An organization does well only those things the boss checks." (p. 30) Additionally, his concept of improving a unit incrementally in all things instead of improving on only one aspect of unit to perfection certainly should resonate with leaders. Through it all, Gen. Clarke wisely acknowledges that the American Soldier, as a citizen soldier, has unique traits and must be treated differently than conscript soldiers of another country or era.
Much of the book though goes beyond general advice into very explicit, detailed checklists. These serve as a good starting point, but any leader will be required to develop their own checklists specific to their needs, whereas Gen. Clarke intended these lists to be used as is. Few of these checklists have less than 40 to 50 line items written in excruciating detail. Especially problematic is that the book was written in 1963, so some of the detail is dated and no longer applies. For instance, he discusses at length how he used posters to influence morale and pass information, going so far as to provide examples. In the digital age, posters would be the slowest way to send a message. 
With the exception of chapters that are transcripts of speeches he gave, the book reads like an Army manual, which in many ways it was intended to be. This can often be challenging to read, particularly when the font changes from section to section. The aforementioned dated feel of the book detracts from it, such as his statement that the purpose of the Armed Forces of the United States is "to deter communist aggression" (Clarke, 42) and his use of charitable contributions and church attendance as a measurement of morale. Also, since it is a collection, it is often redundant and repetitive, repeating similar ideas and identical checklists.
Guidelines for the Leader and the Commander cannot provide the direct applications that Gen. Clarke intended, but at only 117 pages it is still worthwhile reading for any leader. His general ideas and concepts are broadly applicable, not just to the Army, but to other services and civilian managers as well. Additionally, his discussion of tank/infantry tactics and training still apply today. Lastly, the book itself is an interesting historical artifact that helps the historian understand the culture of the post-World War II U.S. Army. 
---
Major Chris Ketcherside, USMC (Ret.) served in Iraq in 2004. He is now an adjunct professor of history at the Missouri University of Science and Technology and a PhD student at the University of St. Louis.
Guidelines for the Leader and the Commander (Stackpole Books, Harrisburg, PA, 2021).