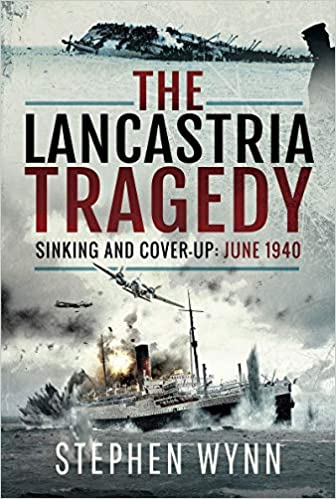 Reviewed by Charles C. Kolb, PhD
The sinking of HMT Lancastria on June 17, 1940, is an intriguing chapter of naval history in World War II primarily because of the tragic loss of life and how much information pertaining to the event was—and still is—classified. The numbers of passengers aboard, survivors, and casualties are unreported or vary wildly.
Stephen Wynn, a retired police constable with 30 years' service in Essex, began writing prior to his retirement. Wynn has previously authored and co-authored books for the "Your Towns & Cities in the Great War" series published by Pen & Sword in addition to half a dozen non-fiction books and "crime thrillers."
The Lancastria Tragedy comprises an introduction, eleven numbered chapters, and a concluding chapter titled "In Closing," as well as endmatter including an "About the Author" section, "Sources," and a three-page "Index" of proper nouns. He states that "The time taken to record everybody's name, rank, service number and regiment or corps would have been time consuming and served no purpose" (vii). However, Chapter 10, "Those Who Died", comprises nearly one-third of the book and lists the names of 1,431 individuals from 39 different military units along with, where possible, their ranks, service numbers and designations of regiments or corps.
Two chapters briefly detail the extraction of Allied forces from Europe in Operations Cycle (Le Havre, France), Operation Dynamo (Dunkirk); and Operation Aerial (St. Nazaire, Nantes, Cherbourg, and seven other French ports). Four chapters are personal accounts from survivors or their close relatives. Chapter 4 – "Secret Session Speeches by Churchill" provides extracts of five speeches made between June 20th 1941 and December 10, 1942, including one made in response to the sinking of HMT Lancastria on June 17, 1941. There are no actual transcripts of these speeches, but they have been reconstructed from Churchill's notes given to Charles Eade. Chapter 5 focuses on the actual sinking of the Lancastria while Chapter 11 focuses on its aftermath.
Wynn cites seven online "sources" (p. 181), namely the British Newspaper Archive, the Britain at War website, the British section of Ancestry.com, the Militarian Forum, the Forces War Records, the Wartime Memories Project, and the War Graves Records, which appear to have been mistakenly recorded as a ".com" website rather than ".org". Wynn does not clarify what materials he utilized from these sources and there are no footnotes, in-text citations, or endnotes.
This list of sources is concerning as there are at least a dozen sources that would have provided additional information to flesh-out his brief narrative, namely Winston Churchill's 1949 The Second World War, Vol. 2: Their Finest Hour , Geoffrey Bond's 1959 Lancastria, John West's 1988 The Loss of 'Lancastria', Brian Crabb's 2002 The Forgotten Tragedy: The Story of the Loss of HMT Lancastria, Jonathan Fenby's 2005 The Sinking of the Lancastria: Britain's Greatest Maritime Disaster and Churchill's Cover-up, Jacques Perruchon and Jacques Leroux' 2005 Juin 1940 sur les côtes charentaises: ces étrangers qui ont refusé notre défaite, Hugh Sebag-Montefiore's 2006 "The Sinking of the Lancastria" in Dunkirk: Fight to the Last Man, Jonathan Fenby and James Goode's 2008 The Sinking of the Lancastria, John Hanley's 2013 The Last Boat, Chair of the HMT Lancastria Association Raye Dancocks' 2011 The 'Lancastria' – a Secret Sacrifice in World War Two, Graham Fraser's 2015 "Lancastria: The forgotten tragedy of World War Two", and the Lancastria Archive.    
The following brief overview of the Lancastria's history is augmented with verified information from sources that Wynn might have consulted.
The ship was built by William Beardmore and Company of Dalmuir on the River Clyde and launched in 1920 as Royal Mail Steamship (RMS) Tyrrhenia for the Anchor Line, a subsidiary of the better-known Cunard Line. The term RMS dates to 1840 when only the fastest and most reliable ships were contracted by the British government to carry mail. RMS was a sign of distinction and quality. She was 578 ft. in length and 16,000 gross tons, designed to accommodate 2,200 passengers in three classes. Refitted in 1924 for two classes and renamed Lancastria, she travelled the route from Liverpool to New York and back, but in 1932 was reassigned to cruise in the Mediterranean and through northern European waters. Within four months of the outbreak of World War II, Lancastria was requisitioned by the Admiralty as His Majesty's Troopship (HMT) Lancastria under the command of Captain Rudolph Sharp. The ship was among twenty others that participated in the evacuation of 2,653 British, French, and Polish troops from Norway when Operation Alphabet began on May 24,1940. She did not return to Liverpool in time to take part in the famous Operation Dynamo at Dunkirk, which evacuated 338,226 Belgian, British, and French troops between May 26 and June 4,. Nevertheless, within hours of disembarking troops at Liverpool on June 14th, Lancastria was reassigned, along with the 20,341 gross tons liner Franconia, to Operation Aerial the evacuation of British civilians, embassy staff, and support troops from France. The evacuees were in several western French ports including Lorient and St. Nazaire on the Loire River. About 124,000 troops were assembling and the Admiralty had dispatched some 30 merchant vessels of all sizes to the rescue.
Franconia was assigned to Lorient while Lancastria continued toward St. Nazaire but because of the tidal channel on the Loire estuary Lancastria had to anchor in the Charpentier Roads about 5 nm (nautical miles) southwest of the actual port. Therefore, destroyers, fishing boats, and other small craft had to ferry the evacuees to Lancastria while being bombed and machine-gunned by the Luftwaffe's Junkers Ju 11 bombers of Kampfgeschwader 30. The ferrying trip took three to four hours. Both the 20,000 ton liner Oronsay and the Franconia were damaged by bombs and strafing, the former had her bridge devastated while the damaged Franconia was able to limp back to England for repairs. There were multiple air raids and, in addition, the British feared possible U-boat attacks, so Captain Sharp decided to wait for a Royal Navy and/or RAF escort.
Because of the losses of the other requisitioned transports, Captain Sharp postulated, based on the figure of 2,653 men he had rescued during Operation Alphabet that his ship could accommodate 3,000 persons. However, he was told to embark as many as possible. They included Pioneer and Royal Army Service Corps, Royal Army Ordnance Corps, Royal Engineers, and Royal Air Force personnel, some Polish and Czech troops, civilian refugees, embassy staff, employees of Fairey Aviation of Belgium and their families. Captain Sharp estimated 5,500, but one Royal Engineer officer was told that there were more than 7,200 persons aboard.
Lancastria was attacked, apparently by five Junkers Ju 88 dive bombers, and the ship capsized, and sank within twenty minutes mid-afternoon on June 17 off the French port of St. Nazaire. Some survivors claimed that a bomb had gone straight down a funnel, others thought bombs hit No, 4, 2,  and 3 holds. Hold No. 2 held about 800 RAF personnel. The ship was apparently equipped with sixteen lifeboats and 2,500 life jackets, but many of the boats were damaged from the air attacks while others were unusable because of the ship's starboard list and hull angle. Many survivors perished from hypothermia or suffocated on fuel oil. Captain Sharp would lose his life on September 12, 1942, when the HMT Laconia, was sunk northeast of Ascension Island off the coast of West Africa by Kriegsmarine U-156, a Type IXC boat then attached to the 4th U-boat Flotilla. British and Allied evacuation vessels took Lancastria's survivors aboard, the trawler HMT Cambridgeshire alone rescuing nearly 900 souls.
The site of the sinking is not an official War Grave safeguarded by The Protection of Military Remains Act of 1986 because the British have no jurisdiction over the French territorial waters where Lancastria's wreck lies, but the French government has provided an appropriate level of protection to the site, prohibiting diving on the wreck, for example.
Those who survived the incident were instructed not to speak about their experience. However, some information about the Lancastria's sinking was made public within a matter of days, particularly six individual death notices in local newspapers.  After receiving news of the Lancastria disaster, Churchill had placed a D-notice on the incident, forbidding any knowledge of the sinking reaching an already demoralized public. In his memoirs, British Prime Minister Winston Churchill wrote that he had intended to release the news a few days later, but that events in France "crowded upon us so black and so quickly that I forgot to lift the ban" (p.192).
The D-notice, or Defence Notice, also called DA-notice (Defence Advisory Notice), was a unique British government instruction devised in 1912. When sent to newspapers or other publications it prevented particular information from being made public for reasons of state security. It was used until 1993, when the name was changed to DSMA-Notice (Defence and Security Media Advisory Notice). The notifications are not legally enforceable; hence, news editors could choose not to abide by them but, generally, accede to these notices. Information about the Lancastria sinking might be restricted by the Official Secrets Act. Initiated in 1889—and then revised in 1911, 1920, and 1939—it sets out offences related to spying, sabotage, and related crimes.
Under the British Official Secrets Act, the report on the Lancastria cannot be published until the year 2040. Interestingly, 2040 or 2041 should also be when restricted British documents on the Pearl Harbor attack are made public. If it can be proved that Captain Sharp ignored the Ministry of Defence instructions not to exceed the maximum loading capacity of 3000 persons, grounds for compensation claims could be enormous.
Oxford University-trained historian and author of more than a dozen books Jonathan Fenby stated that 1,738 perished (Fenby 2005, p. 247), but as there are no "official figures" published, there are great discrepancies in the numbers calculated by a variety of authors, and other estimates range from 2,000 to 9,000. Wynn states that there were 2,488 survivors and a minimum of 2,385 perished. There are 1,472 names on his list of the deceased, extracted from the War Graves website, but the Commonwealth War Graves Commission records 1,816 burials with more than 400 in France (Fenby 2005, p. 234) and the Lancastria Association identifies 1,738 individuals that died aboard the ship . Whatever the case, this event likely remains the largest single-ship loss of life in British maritime history, more than the RMS Titanic, which had an estimated 2,224 passengers and crew aboard and suffered over 1,500 fatalities. Even when coupled with the sinking of the RMS Lusitania off the south coast of Ireland on May 7, 1915 by German — which killed 1,195, leaving 761 survivors—Lancastria would apparently exceed the combined death total. However, an exact number of Lancastria's casualties may never be known.  
---
Charles C. Kolb, PhD, is a USNI Golden Life Member.