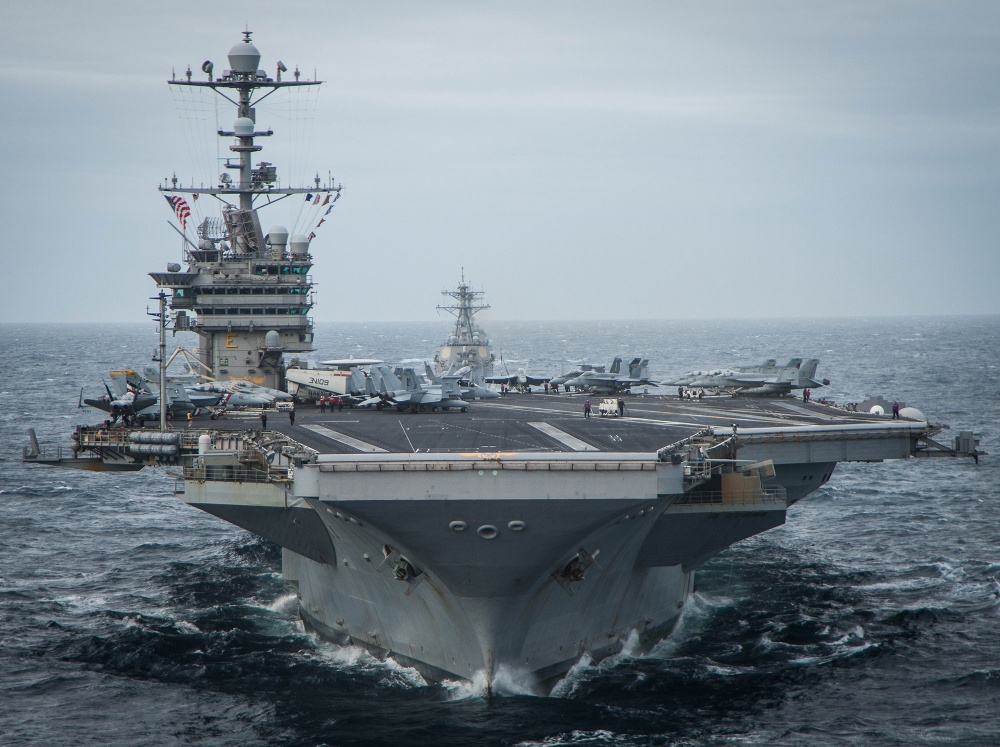 In September of 2001 Vice Admiral Dawson was serving as commander of the Second Fleet and Captain Welch was the commander of Carrier Air Wing 17, which was based off the USS George Washington when it was deployed to protect New York City after the attacks on September 11th, 2001.
20 years later, Captain Welch addresses a number of questions proposed by Vice Admiral Dawson in anticipation of the 20th anniversary of 9/11.
VADM DAWSON
How many aircraft did we have onboard USS George Washington in response to the 09/11/2001 terrorist attacks?
CAPT WELCH
USS George Washington (CVN-73) was conducting sea trials and was at-sea in the Virginia Capes (VACAPES) operating area on 09/11/2001. The 1st FA-18 trapped onboard CVN-73 within just 3 hours of the last airliner crashing. As the CVW-17 Commander, I was in that jet. By sunset on 11 September, we had approximately 16-20 fighters onboard, approximately half from CVW-17 and half from CVW-7. CVW-7 also had approximately 20 or more aircraft onboard USS John F. Kennedy by the end of the day as well I believe.
CVN-73 was directed to head north to help cover New York City. CV-66 was directed to stay local and help cover Washington DC.
We day carrier qualified (CQ'd) all pilots as they arrived so they could night CQ and join the Operation Noble Eagle (ONE) Air Defense forces and mission that night. By the end of 12 September, we had just over approximately 30 aircraft on CVN-73, fighters, E-2's and helicopters (and a couple of S-3s as tankers as well I believe). We started conducting our ONE mission with a few fighters late in the afternoon on 11 September and continued until approximately 2300 that night. During ONE, CVW-17 and CVW-7 had between approximately 25 and 40 aircraft onboard CVN-73 at any given time. We also had some E-2s providing electronic warfare (EW) and air warfare (AW) support from the beach in Norfolk.
VADM DAWSON
What was our air-to-air weapons load out?
CAPT WELCH
F-14s were armed with AIM 54 Phoenix, AIM 7M Sparrows and AIM 9M Sidewinders and over 500 rounds of 20mm ammo. FA-18's were armed with AIM 120 AMRAAM, AIM 7M Sparrows and AIM 9M Sidewinders and over 500 rounds of 20mm ammo. All fighters also had a standard load of chaff and flares per CVW Standard Operating Procedure (SOP).
VADM DAWSON
Did you have to break any Safety, SOP or NATOPS rules or cut any corners due to 'operational necessity/requirements'?
CAPT WELCH
Not really. There were 3 areas where we did 'stretch' the rules a bit.
First:
CVW-7 was well into their turnaround cycle and they were either in or near to commencing Composite Training Unit Exercises (COMPTUEX)—or maybe even Joint Task Force Exercises (JTFEX). As such, most of their pilots had conducted the recommended number of day and night Field Carrier Landing Practice (FCLP) periods to go to the ship and complete their day/night CQ.
CVW-17 had just returned from our latest extended deployment approximately 10 months ago. As such, we were in the middle of our Unit level training and had not conducted many, if any, FCLP periods. We had however, ensured all of our pilots received numerous carrier landings and landing practice periods while deployed (more than 100 traps for all the 'pointy-nosed pilots). Additionally, our Air Wing SOP included ensuring all our pilots, especially the nuggets, conducted extra touch and go landings both day and night at the completion of a ashore training sorties. Our SOP also ensured the aircrew hit a tanker every time they could (day and night) to stay current in tanking.
So I had great confidence most of our pilots did not need FCLP to safely conduct day and night CQ, especially those pilots who had made the entire deployment. As Carrier Air Group Commander (CAG), I waived our CVW-17 FCLP requirements and the majority of our pilots flew straight out to the ship, day CQ'd (2 day landings), then night CQ'd (1 night landing) without incident. Those who we thought might need FCLP (nuggets and new arrivals) conducted day and night (D/N) FCLP before joining the rest of the dual-CVW team force on the ship.
Second:
To expedite the day and night CQ requirements for both sets of Air Wing pilots, as well as concurrently man the Combat Air Patrol stations assigned to our fighters over New York City— we conducted some of our CQ with live missiles onboard the jets. Although this is not SOP for normal flight operations or CQ, Wing Commanders can waive this requirement as well — which we did.
Third:
We conducted our initial day CQ for the first set of arriving pilots without a plane guard. We did this knowing the weather was not a factor, our initial pilots CQing were experienced, and our helicopters were on the way.
VADM DAWSON
Who were the most critical players in your response to the 09/11/2001 terrorist attacks?
CAPT WELCH
VADM Cutler Dawson maintained complete faith and confidence in us throughout his time onboard. As his former Air Wing Commander, CAG Brick Nelson, would say, he "let go of our ears and let us do our jobs".
CAPT Bill McCarthy, CO of the USS George Washington, performed near miracles (and broke sea-speed records) getting George Washington up right next to Coney Island before the sun came up on 12 September. As such, we made good on VADM Dawson's promise to give the New York City residents some hope and relief in the form of a nuclear aircraft carrier manning the watch right in their own backyard the day after they were attacked.
CAPT Kevin 'Kid' Donegan, XO of the George Washington met every aircrew and sailor as they arrived onboard CVN-73 and gave them whatever they needed to fall into place and start operating onboard. Many of these sailors were taken right off the flight line or out of their shops without their wallets or even a handkerchief.
In Carrier Air Group 7, the critical individuals were CAPT George Dom, CAG, CAPT Bill Gortney, DCAG, and CDR Scott Stearney, CO Strike Fighter Squadron (VFA) 136. Skipper Scott 'Sterno' Stearney, with the assistance of CVW-17 and CVW-7 Weps Training Instructors, built the 'strike plan't for our CVN-73 based USN fighters a d E-2s integration into the rest of the US Air Defense forces over New York City and elsewhere.
CAPT Joe Kilkenny, CAG CVW-3, provided massive manpower assistance to both CVW-17 and CVW-7 ashore and afloat, while CAPT Skip Zobel, CO NAS Oceana, expeditiously got us all the A-A ordnance we needed. CAGs 3, 7, 17 and the base CO met an hour or so after the attack in the CAG HQ at Oceana and built the plan to 'share' aircraft, equipment and manpower to get 2 fully operational and armed (also combined in some cases) Air Wings onboard 2 separate aircraft carriers.
VADM DAWSON
What was your most memorable story from that period of time?
CAPT WELCH
There were numerous amazing stories from our 09/11/2001 response in CVW-17 and onboard CVN-73. The one I'll include here is one I will never forget and it sets the stage for some of the other stories. After I arrived onboard George Washington and after VADM Dawson had finished speaking with New York City's leadership at approximately 1400 local time, he asked me what things we were missing to get the ship and Air Wing team ready to head north and man our assigned Civil Air Patrols (CAPs) off of and over New York City. I told him we needed some sort of plane guard to safely conduct night CQ and night operations. We knew there were no surface ships near enough to join us and so I called my helicopter squadron (HS-15, the 'Red Lions') at NAS Mayport to see how fast they could get to the ship — which was already heading north to New York City. I asked the Squadron Duty [Warrant] Officer — who was the only officer I could reach after trying the CO, XO, OPS Officer and every other number I had on file — where everyone was. He said, and I'll never forget this, "CAG, sir, all of the pilots and aircrew manned up our helos and started flying north as soon as the twin towers were hit. They left approximately 4 hours ago and should be somewhere near Delaware by now." That Squadron CO did not wait for orders or direction from me, nor did he try to contact me to ask me what he needed to do. He knew instinctively that NAS Mayport was not where his helicopters needed to be. On his own, he made the decision to get headed north toward the ship and be prepared to join us at-sea. As a result of his on-the-spot and time critical decision, our Red Lion helos joined us onboard CVN-73 approximately 90 minutes after we started our 11 September day CQ operations and we were able to safely and smoothly transition into night operations.