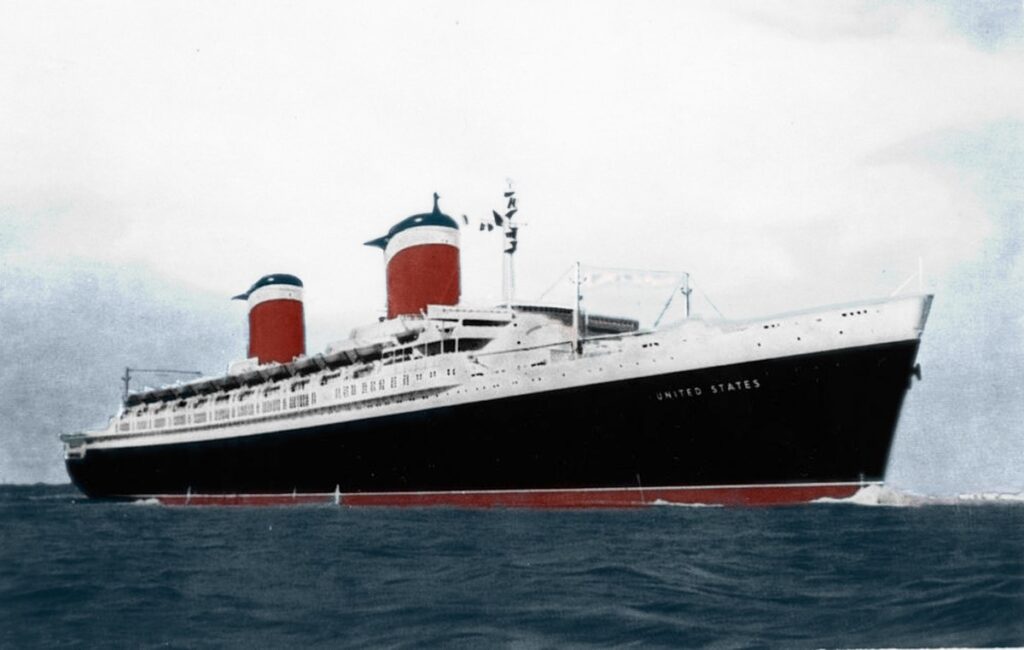 By LCDR Sean Walsh, USN (Ret.)
Although the SS United States was the culmination of William Francis Gibbs's lifelong passion to design and build the greatest passenger liner in the world, its potential use in a wartime environment as a high speed troopship was used to justify its construction in the late 1940's and the government subsidizing the cost of construction.
The Maritime Administration paid $18.6 million as a construction-differential subsidy and the Navy paid one third of the total $77.7 million building cost to cover additional national defense features. In addition to the high speed, these features included extra compartmentation, the ability to use the Panama Canal, greater unrefueled range than required for commercial service and the ability to be quickly converted to carry 13 to 14,000 troops.
As detailed by Ujifus, even after the construction contract with Newport News Shipbuilding was signed in 1949, the Navy's contribution was reviewed due to post-war reductions in the defense budget by the Truman Administration and the contract was criticized by the General Accounting Office. Also, with the outbreak of the Korean War, the government considered converting six passenger vessels under construction including the United States as troopships although in the end only three were taken over.
There were other interactions with the Navy. The building dock at Newport News used for the United States was originally slated for the USS United States (CVA-58) but the cancellation of the contract for that ship by then Secretary of Defense Johnson freed up the facility. Vice Admiral Edward Cochrane who had headed the Bureau of Ships in WWII and was an ally of Gibbs, had become head of the Maritime Administration in 1950 and was an advocate for the continued construction of the United States as a passenger liner. In addition, many details of the design were classified based on national security concerns, although ultimately declassified in the late 1960's.
The continuing development of jet transports in the late 1950's and early 1960's ultimately killed the trans-Atlantic passenger trade that the SS United States had been designed for and also the movement of troops by ship in both peace and war.