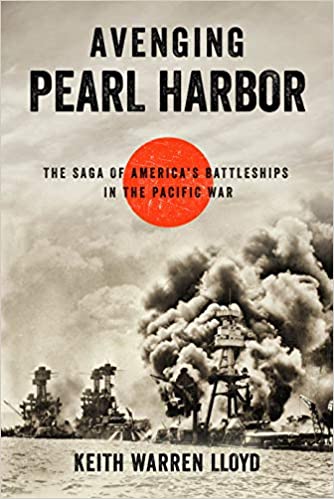 Reviewed by Charles C. Kolb, Ph.D.
80 years after the Japanese attack at Pearl Harbor, new books are being published on topics leading up to that event, the attack itself, and its aftermath. A volume titled Avenging Pearl Harbor: The Saga of America's Battleships in the Pacific War has been written by U.S. Navy veteran and professional firefighter Keith Warren Lloyd. Lloyd studied history and political science at Arizona State University and has previously authored several other books centered on World War II, among them Great Desert Escape: How the Flight of 25 German Prisoners of War Sparked One of the Largest Manhunts in American History (Lyons Press, 2019) documenting Kreigsmariners' escape by tunneling out of a POW camp in Arizona in December 1944.
The global tabulation WorldCat currently lists 12,634 entries on the Pearl Harbor attack, but Avenging Pearl Harbor adds to the literature on the strike in a unique manner by concentrating on the eight American battleships that were bombed or torpedoed on the morning of December 7, 1941, in particular the five that were salvaged. USS Maryland, Pennsylvania, West Virginia, California, and Tennessee were raised, repaired, modernized, re-manned, and returned to active service as "avengers" approximately three years later. Lloyd also provides historical context for the 1941 and subsequent confrontations and characterizes each capital ship and a few other battleships and aircraft carriers that took part in actions in the Pacific Theater of World War II.
The book is 336 pages long, comprising a "Preface," 22 chapters, four maps, 24 black-and-white images (six significant individuals, four places, and 14 ships), "Acknowledgments," a tabulation of "Sources," and a 14-page "Index." The photographs are clustered between pages 162-163, while the maps are scattered across the four chapters they pertain to. The "Sources" consist of 67 books (mostly secondary literature), 27 journal articles, 25 websites (including primary sources and U.S. government websites), five videos, and 38 additional sources (mostly U.S. federal government and Navy publications, notably from the History and Heritage Command and Defense Technical Information Center). The author has chosen not to use scholarly footnotes, endnotes, or other citation methods in his narrative. As a result, readers are unable to discern his specific sources or fact-check his narratives. The double-column 14-page "Index" includes proper noun personal and ship names, as well as major events, and is a valuable resource. The narrative mainly proceeds chronologically, so that following a particular ship is possible only with some difficulty.
The initial five chapters provide diverse information about the composition of the U.S. Pacific Fleet as of December 6, 1941, a brief biography of Alfred Thayer Mahan, author of The Influence of Sea Power upon History (1890); and a summary of the battles of the Russo-Japanese War (Port Arthur, February 8, 1904; Yellow Sea, August 10, 1904; and Tsushima Strait, May 27, 1905). A variety of naval capital ships are described, including the Royal Navy's HMS Dreadnought and German High Seas Fleet's SMS Nassau in addition to American battleships USS South Carolina, Minnesota, and Nevada. Finally, Lloyd notes the limitations imposed by the Washington Naval Treaty and includes a brief biography of Japanese Admiral Isoroku Yamamoto. Chapter 6 documents the move of the U.S. Pacific Fleet from California to Pearl Harbor and the subsequent detachment of three battleships and aircraft carrier USS Yorktown to the Atlantic Fleet. In Chapter 7, he describes the first wave of the Japanese attack and fates of the USS Arizona, West Virginia, Maryland, Oklahoma, Nevada, and Tennessee. The subsequent chapter is a review of the second wave and strikes on the USS Pennsylvania (and destroyers Cassin, Downs, and Shaw) and battleships USS Oklahoma, Maryland, and Tennessee. Chapter 9 summarizes the results of the two waves of attacks on Ford Island and other Navy facilities at Pearl Harbor, as well as the post-attack disposition of the eight battleships (USS Oklahoma, Minnesota, Maryland, Arizona, Tennessee, California, Nevada, and Maryland). Short biographies of Admiral Chester Nimitz and Captain Homer Wallen (who headed the Navy's salvage operation at Pearl Harbor) follow, and Lloyd emphasizes the importance of civilian construction crews who were essential to successes in raising the sunken battleships and other vessels. Wallen ultimately rose to the rank of Vice Admiral.
Chapter 11 beings with a series of reports on ship damage, casualties, and the temporary repairs necessary to move the ships to facilities in the continental United States for permanent repairs and modernization of the older vessels with up-to-date radar and fire control systems as well as turbo-electric propulsion. The first ship he discusses is the USS Nevada which moved out of Pearl Harbor on February 18, 1942, and transited with escorts to Puget Sound Naval Shipyard in Bremerton, Washington State. The "Prune Barge," USS California, was moved to Pearl Harbor Drydock 2 on April 9th for temporary repairs and left for Puget Sound on October 10, 1942. The USS West Virginia, after receiving an assist from the Pacific Bridge Co., was refloated and moved to Drydock 1 for temporary repairs, then to Puget Sound on April 30, 1943. By late December 1941, the USS Pennsylvania was sent to Hunter's Point, California for refitting, while Maryland and Tennessee were dispatched to Puget Sound in August 1942 for final repairs and modernization, including new antiaircraft capabilities.
A change in naval strategy is detailed in Chapter 14, with the assignment of USS Mississippi, New Jersey, and New Mexico from the Atlantic Fleet, transiting the Panama Canal, and joining the Pacific Fleet. Three carrier tasks forces composed of the USS Enterprise, Yorktown, and Lexington were created and their respective raids, including the April 14, 1943, Doolittle attack on Japan, are reviewed. Likewise, Lloyd recounts the Battle of the Coral Sea in May and the Battle of Midway in June. He comments that America was victorious at these events because of her speedy transition from peacetime to wartime production, assembly of a variety of military aircraft, rapid training of pilots and aviators, installation of better radar and fire control systems, and HYPO decrypts, though the importance of the latter is minimized in this book. Lloyd also details the actions at Wake Island, Guadalcanal, and Tulagi. Another chapter documents the reorganization of U.S. naval forces by Admiral King, MacArthur's Operation Cartwheel, and planning for amphibious operations in the Pacific. Upon their return to active service, the older battleships (Lloyd terms them "dreadnaughts" as opposed to "fast" battleships) were assigned along with more recently built battleships to support invasions of Japanese-held islands in the South Pacific. For example, the invasion of the Gilbert Islands included 140 warships, among them six fast battleships and seven older ones. The invasions of Tarawa, Betio, Kwajalein, and Truk are also mentioned.
Following the deployment of the older battleships to the Marianas, the damaged USS Maryland was dispatched home to Pearl Harbor but the dreadnaughts New Jersey, Pennsylvania, and Tennessee were assigned to invade Leyte and Luzon in the Philippines, and actions at Peleliu and Palau. The Battle of the Philippine Sea is recounted in detail and with a map; Halsey's Third Fleet included four fast Carrier Task Groups which involved six carriers as well as the USS Tennessee, California, and Pennsylvania. USS Maryland would return to support the invasion of Okinawa. The Battle of Leyte Gulf, Lloyd states, was comprised of four "minor" engagements in the face of Japanese kamikaze attacks. The dreadnaughts, supported by PT boats, had successfully "sought revenge" at the Battle of Surigao Strait. The USS California was damaged and returned to Puget Sound, and Pennsylvania would be sent for refit in January 1945.
Lloyd's "Epilogue," recounts the Japanese surrender in September 1945 in Tokyo Bay on the battleship USS Missouri in the company of 250 Allied ships. The fate of the American battleships at Pearl Harbor on December 7, 1941, is reviewed: USS Arizona was unable to be completely salvaged and became part of a war grave and monument at Pearl Harbor; Oklahoma was decommissioned in 1943 and scrapped in 1946; Pennsylvania and Tennessee were sunk as part of Operation Crossroads, an atomic bomb test at Bikini; Nevada survived the war and atomic tests to become a gunnery target.
Several ships are not fully documented: Maryland had been struck by kamikazes at the Battle of Leyte Gulf and at the Battle of Okinawa, repaired at Puget Sound, and was headed back into action when the war ended. She was included as part of Operation Magic Carpet, ultimately decommissioned in 1947, and sold for scrap in 1959. California, moderately damaged at Pearl Harbor, supported amphibious operations and was in the Battle of Okinawa. At the end of the war, she returned to the United States via the Indian and Atlantic Oceans, was laid up in Philadelphia in 1946, and broken up for scrap in 1959. The former battleship USS Utah was a target vessel at Pearly and had been attacked by the Japanese mainly because of her location on Battleship Row. Lloyd mentions her only once (p. 75).
The author has a very engaging "storytelling" style of writing. He provides an interesting and unique account of the battleships present at Pearl Harbor in December 1941, their subsequent resurrections, reassignments, and ultimate destiny. A tabulation of ship, activity, and timeframe in a chart or table might have been useful, as it is not always clear where a ship was at a particular time. The author refers to one oral history account from a sailor stationed on the USS Maryland, John Henry Ashby, age 95 (p. 307), but the latter part of his book contains numerous oral accounts with unattributed sources – I wish that he had referenced these so that the facts might be verified. For example, holdings in the U.S. Naval Institute Oral History Program are significant resources, www.usni.org/press/oral-histories/about. Oral accounts may be flawed because an interviewer did not follow up on particular statements and facts; unstructured interviews are always suspected unless there are appropriate independent substantiations or verifications.
Lastly, there appears to be some confusion regarding the drydock facilities at Pearl Harbor. The cruiser Helena was located near rather than in 1010 Drydock (p.75), as 1010 was occupied by USS Pennsylvania and destroyers Cassin and Downs. Drydock 1 accommodated West Virginia and Tennessee at different times; initially California was in Drydock 2 for repairs, with Tennessee occupying that facility later in the war.
---
Charles C. Kolb, Ph.D., is a USNI Golden Life Member.
Avenging Pearl Harbor: The Saga of America's Battleships in the Pacific War (Keith Warren Lloyd, Lyons Press, Lanham, MD, 2021).