By Leo J. Daugherty III
The late Professor Edgar F. Puryear, Jr., who until his death in 2018 was scholar-in-residence at the National Defense University and an authority on American generalship, outlined in his book Marine Corps Generalship (National Defense University, 2009) the three critical components that define Marine leadership in time of war. The first of these components is that the position of command is a lonely one. Generals as well as field grade officers are likewise subject to the same strains and stresses accompanying the execution of military operations.
Generals make mistakes. This can be seen in the case of Lieutenant General Holland M. Smith and his controversial relief of his Army counterpart – Major General Ralph Smith during the fighting on Saipan in July 1944, and Major General William H. Rupertus and his conduct of the fighting on Peleliu in September of that same year. Both Smith and Rupertus made decisions that carried on into the postwar years in terms of, in Smith's case, Marine – Army relations, and Rupertus over the question of the necessity of the Peleliu operation.
The second component Puryear noted is the fact that generals then as now are faced with innumerable difficult and grave decisions. Indeed, generals during World War II oftentimes did not have the kind of information available to their counterparts today. The critics of both Holland Smith and William Rupertus have had the luxury of a treasure-trove of information available to them that neither of these Marine leaders had during their respective campaigns. Smith and Rupertus fought their battles amidst the chaos and confusion of battle, or, as Clausewitz wrote, "the fog of war." In short, it is easy to criticize these men but it is highly doubtful that others could have done any better in similar circumstances.
The last component is the need to select competent and efficient staff members. Generals make their decisions based on the best analyses their respective staffs can offer. A wartime commander can select his key staff members, "probably the most competent, dedicated, and strong professionals he knows. These individuals are selected based on their expertise, experience, and competence. Their advice cannot, as Puryear noted, be taken lightly. In short, if the staff fails, then so too does the commanding general.
Taaffe's Commanding the Pacific, Camp's Three War Marine Hero, and Huffman's Magnificent Bastard, present an overview of Marine officers who succeeded (and failed) in time of war due in large part to their competence, dedication, and tenacity as leaders in war and peace, as well as their ability (or inability in Rupertus' case) to heed the advice of their respective staffs. The books reviewed here are about Marine leaders who, by the parameters set forth by Puryear, rose to the challenges of leadership and, in the process, put their mark on Marine Corps history in the 20th century.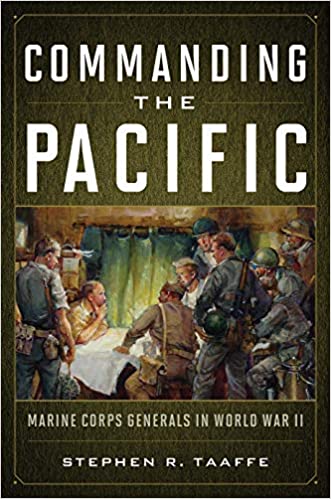 Stephen Taaffe's Commanding the Pacific: Marine Corps Generals in World War II, is an overview of the Marine generals who fought in World War II from Guadalcanal to Okinawa. Here, the author examines how the inter-war period between 1918 and 1941 shaped a generation of Marine Corps officers dedicated to the Advanced Base Force and later its successor, amphibious warfare doctrine, which came into fruition in the many landings throughout the Central and Southwest Pacific during World War II. Starting with Major General — later General — Alexander A. Vandegrift and his campaign on Guadalcanal and ending with Lieutenant General Roy Geiger during the last weeks of the Okinawa campaign, Taaffe does an excellent job in illustrating how Marine generals carried out their assignments, oftentimes with limited resources and often with limited or little higher echelon support and succeeded in the face of enemy resistance, inadequate logistical and fire support.
One of the major strengths of Taaffe's book is his criticism of how certain Marine generals carried out their assignments or refused to take advice from higher headquarters – such as Rupertus during the fighting on Peleliu or Major General Harry Schmidt during the fighting on Iwo Jima. As Taaffe wrote, both Rupertus and Schmidt's stubbornness in their operational decision-making cost the lives of many Marines, sailors, and soldiers, as well as unnecessarily prolonging the battles they fought.
Taaffe likewise does an excellent job in pointing to the emerging Marine leadership during World War II that guided the Marine Corps during the bruising Defense unification fight for institutional survival in the late 1940's as well as the Korean War. Here, Taaffe provides superb insight into Marine officers such as Major General Clifton B. Cates and Brigadier General Lemuel C. Shepherd, both veterans of World War I and tested Marine leaders during World War II.
One drawback of Taaffe's otherwise excellent book is his lack of discussion on Marine field grade officers and their contributions to the victories during the island campaigns in the Pacific during World War II. Many of these same officers would lead Marines into battle in Korea and later in Vietnam. The same qualities and principles that defined the performance of Marine generals during the war served as the foundation for their decisions during the Korean and later Vietnam wars.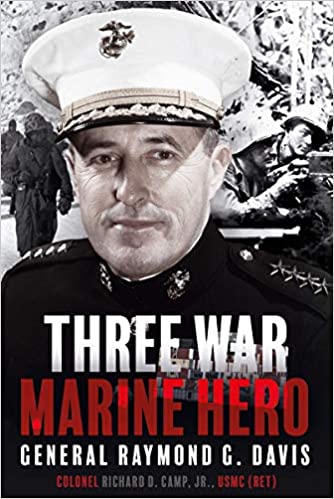 Colonel Richard Camp's Three War Marine Hero: Major General Raymond C. Davis is a first-hand look at a Marine who began his career during World War II and participated in the fighting on Guadalcanal, Cape Gloucester, Peleliu, in Korea, and Vietnam; conflicts—one might add—that shaped a whole generation of Marine battalion and regimental commanders as well as general officers. As noted above, many of these same regimental and battalion commanders – such as Davis, gained invaluable experience as staff officers and executive officers during World War II. This most definitely applied to officers such as Lou Walt and Ray Davis who learned the art of leading Marines commanding battalions and regiments during WWII. Camp provides a brief though thorough survey of Davis' philosophy of leading Marines and how service in WWII laid the foundation for his philosophy on leadership. Here, the author pays particular attention to Davis' service during the Korean War, especially during the fighting withdrawal from the Chosin Reservoir in November-December 1950. Camp, who served as an aide to General Davis during the Vietnam War, offers a first-hand look at this Marine general from the time he entered the Marine Corps by way of an Army ROTC scholarship at Georgia Tech in the late 1930s, through his service on Guadalcanal and later with the 1st Marne Division at Cape Gloucester and finally on Peleliu. Throughout each of his chapters, Camp portrays Davis as perhaps one of the finest leaders to ever wear a Marine uniform.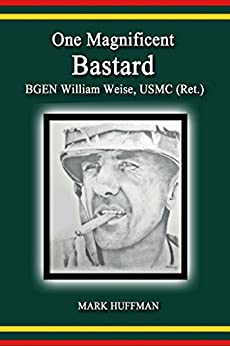 Finally, Mark Huffman's Magnificent Bastard: BGen William Weise, USMC (Ret.), is a brief, though superb, account of this legendary Marne leader who fought as commanding officer of 2nd Battalion, 4th Marines, in one of the fiercest battles of the Vietnam War at Dai Do in April-May 1968. Huffman, who served as executive officer to General Weise when the latter commanded F Company, 2nd Battalion, 1st Marine Regiment on Okinawa in 1959 wrote the book on this extra-ordinary Marine leader so that others might "know Bill Weise the way I know him" as a "task-master whose motto was `The harder we work, the luckier we become.'" As Huffman wrote, General Weise "considered it his primary duty to ensure that his Marines were prepared to face any enemy force that might show up." As Huffman recounts in his biography of BGen Weise, the latter's entire career, starting in 1951 and ending in 1982, centered itself on leading Marines and preparing them for battle.
The focus of Huffman's biography on BGen Weise centers on the battle of Dai Do and command of the 2nd Battalion, 4th Marines, known as the "Magnificent Bastards." Huffman wrote that during the fighting for a village known as Dai Do, "The Second Battalion, 4th Marines, hung on gallantly … they had stopped the enemy advance with three under-sized companies of infantry and a company borrowed from the First Battalion, Third Marines," and over the course of a six-day battle (30 April – 5 May 1968) they killed more than 600 North Vietnamese soldiers (later estimates indicate that the NVA lost over 1,500 men). During the fighting at Dai Do, two Marine company commanders, Captains Jay Vargas and James Livingston would earn the Medal of Honor for their bravery and tenacity during the fighting for this Vietnamese village. Throughout the battle of Dai Do, Weise's steady leadership and tactical expertise guided his Marines to victory. This same expertise and skill as a Marine officer likewise served Weise in his post-Vietnam assignments at the Marine Corps Schools at Quantico, Va; Headquarters Marine Corps; and Marine Corps Recruit Depot at Parris Island, South Carolina. Weise's dedication to duty and caring for Marines remained the centerpiece of this remarkable Marine leader until his retirement from the Marine Corps in 1982.
All three authors — Taaffe, Cap, and Huffman — have written superb books on leaders of Marines—both in war and peacetime—that show these leaders embracing what Puryear called "the "whole Marine Concept" of employing and orchestrating ground, aviation, and combat service support assets, as well as understanding the service infrastructure dedicated to recruiting, training, and equipping Marines. Herein lies the key to Marine leadership and the main strength of each of these books. The authors show how Marine leaders, from Vandegrift to Weise understood these precepts and successfully employed them in battle and in peacetime assignments.
Marines look to their leaders for competence and tenacity in both war and peace. As a young Marine, this reviewer had the privilege to serve under some extraordinary Marine leaders – most notably BGen James Livingston, whom I met as a corporal. All three authors, Taaffe, Camp, and Huffman have brought to the fore how Marine leaders were made and performed in combat from World War II to Vietnam. All three authors do an excellent job in illustrating the shortcomings and yes, failures of Marine leaders in both war and peace. Overall, the most important lesson from all three books is the fact that they serve as excellent guides for Marines today, from noncommissioned officers to field grade officers on those qualities necessary in leading Marines.
---
Commanding the Pacific: Marine Corps Generals in World War II (Stephen R. Taaffe, Naval Institute Press, Annapolis, MD, 2021).
Three War Marine Hero: General Raymond G. Davis (Richard D. Camp, Casemate Books, Philadelphia, PA, 2020).
One Magnificent Bastard: BGen William Weise, USMC (Ret.) (Mark Huffman, RH Rositzke & Associates, LLC., Fairfax, VA., 2013).