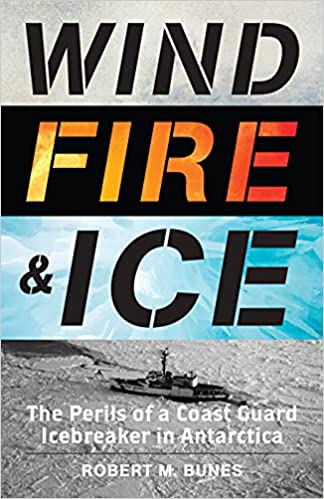 Reviewed by Ingo Heidbrink, Ph.D.
On the surface Robert M. Bunes new book Wind, Fire and Ice: The Perils of a Coast Guard Icebreaker in Antarctica is an autobiographical take on a young physician's deployment on USCGC Glacier to Antarctica in the early 1970s. As such it is a welcome addition to the body of literature on the maritime history of the Antarctic region in particular as it covers a period seldom covered by polar or maritime historians who still tend to focus mainly on the so-called heroic age of Antarctic exploration. But reading deeper into the book, it becomes obvious that there is much more to the book and that it needs to be recommended not only to the small group of maritime and polar historians interested in the history of navigating the frozen waters adjacent to the seventh continent, but also to everybody interested in maritime leadership, the debate if and why the US needs to maintain a fleet of heavy ice-breakers capable to operate in Antarctic waters, and even Antarctic expedition cruise tourism as it tells a cautious tale on how standard operations have the potential to turn into disaster and to substantially affect other Antarctic operations.
When Bunes was deployed to become the head physician on USCGC Glacier it seemed to be an easy deployment, but as the reader realizes only a few pages into the book, this was by no means the case. Instead of going to port in exotic locations, USCGC Glacier set sail towards the Weddell Sea and thus towards an area where Ernest Shackleton and his men needed to endure one of the most tragic and most lucky Antarctic journeys of all time after their ship Endurance was crushed by the ice of the Weddell-Sea, but also an area where Antarctica shows utmost beauty to everybody respectful enough to enjoy this beauty while knowing and respecting at the same time the inherent dangers and taking these dangers into account for all decisions.
As an autobiographical recollection Bunes' book mainly follows a chronology of the journey and thus he takes his reader through the events during his cruise but also to observe the issues encountered during the cruise or at least Bunes' personal perspective on these issues. Covering topics like accidents aboard and the issue of venereal diseases ashore Bunes provides a realistic inside into the responsibilities of a physician onboard a vessel during international deployment before moving forward towards Antarctica. In the chapters devoted to the Antarctic operations of the USCGC Glacier, Bunes provides an interesting insight on Antarctic operations during the heydays of the Cold War, including the direct cooperation with Soviet Antarctic scientists, which was standard practice despite the Cold War. All this would be easily enough to recommend Bunes' book, but the really interesting part of the book begins when he describes, how the Glacier became trapped in the ice of the Weddell-Sea due to a decision by her commanding officer which was by the point of view of the author somewhat questionable. While the ship was finally freed from the ice by nature itself, further decisions by the commanding officer followed that Bunes did not only consider also as questionable or wrong, but where he directly confronted his superior. If he was right or wrong with doing so cannot be the subject of this review as the book is an autobiography and thus is written exclusively from the author's perspective. Instead of simply describing these confrontations from his personal point of view, Bunes puts them in his autobiography into a comparison with Shackleton's style of leadership after the Endurance became trapped. While it is obvious for the reader that Bunes disagreed with the style of leadership of his former commanding officer, it is enlightening to read, what elements of Shackleton's style of leadership in extremely difficult situations he admired and this reviewer needs to agree with Bunes that despite of all hierarchy and military chain of command, openness and transparency with your crew is mandatory if you are in a situation where nature might endanger the survival of all men aboard the ship. Nevertheless, the reviewer does not necessarily agree with Bunes' decision to confront his superior as it also needs to be taken into account that the CO was an experienced master of an icebreaker, while Bunes was a surgeon on his first deployment and might have simply misjudged the situation. Nevertheless as this book is an autobiographical account, in the end it does not matter if Bunes was right or wrong.
This reviewer needs to admit that he normally becomes somewhat skeptical whenever an author dealing with Antarctica draws the comparison with the experiences of Ernest Shackleton as this comparison has been overstretched by some authors in the past and sometimes even feels like mainly driven by marketing purposes. Nevertheless, when Bunes uses this comparison, it is a different situation, as he thought that there was a real chance that USCGC Glacier would not only have share the same fate but this would have happened also in the Weddell-Sea and thus the same waters where Endurance was hit by disaster. Thus, using the comparison seems to be most appropriate from his point of view and will also help understanding, that the Weddell -Sea is still one of the most dangerous parts of the oceans even for modern ships.
In a short but interesting and relevant epilogue, the author relates his personal experiences onboard USCGC Glacier to the situation a Russian research vessel used as an expedition cruise ship has experienced some years ago. This ship had become trapped by the ice for a number of days at least partially due to an ill-advised decision by the respective expedition leader and numerous assets had set sail to start to help the ship before it was finally freed from the ice by a whim of nature itself. Like the situations Bunes describes from his personal perspective when being onboard USCGC Glacier it once again had become obvious that every attempt to force something against nature in Antarctica is not only bound to fail and Antarctica's nature being completely unpredictable, but that successful leadership in this region often simply means to be humble and that everything else might result in catastrophe or at least in the need for substantial efforts of external help that will be provided without question, but also might jeopardize other operations. If for example the USCGC Polar Star would have been required to complete its already begun mission to help with freeing the Russian research vessel, other critical missions like the opening of a channel to the US Antarctic research hub McMurdo might have been affected. Fortunately, nature itself solved the issue and this time the disagreement between the master of the ship and another senior member of the crew remained ultimately without major consequences.
A selection of black and white photographs and maps dispersed through the book helps the reader to get a better idea of everyday life on the ship as well as to understand the geography of a region most definitely unfamiliar to most readers. Unfortunately, the reproduction quality is by no means stellar, but often characterized by various shades of gray instead of black being real black. Of course, this minor criticism does not go to the author but to the publisher and it needs to be anticipated that this is simply a consequence of offering the book for a moderate retail price despite of being otherwise a high-quality hard cover book. The book is completed by a comprehensive and most helpful index and a short bibliography that lists the basic literature used by the author but by no means covers the literature available on the subject. To be fair, the author explains that he was not aiming to write a scholarly book, but an educational book and thus did neither provide individualized footnotes nor a bibliography according to scientific standards. While this might be disappointing for some readers, it also needs to be stated that this is an understandable position for an author of an autobiographical work that mainly provides personal recollections of past events and not a historical analytical take.
In conclusion, Bunes' autobiographical book on his time as a crewmember of the USCGC Glacier can easily be recommended to any polar historian interested in Antarctic maritime history of the Cold War period but also to any maritime or naval historian with an interest in this period. Finally, it might also be recommended to anybody who is preparing for a trip to Antarctica regardless if for professional purposes or as a passenger on an expedition cruise ship due to it being a firsthand account of what might happen when sailing to these remote parts of the globe, and last but not least, because it is a well written book that makes an interesting read also for those travelling to Antarctica only as an arm-chair traveler. For anybody who was lucky enough to have been able to travel to the Weddell Sea him- or herself, like the author of this review who has had the opportunity to work on ships sailing the Weddell-Sea nearly every season for the past decade, it will be a most exciting read helping to understand that certain situations and issues experienced are not mainly a consequence of the specific group of people involved, but of these people being exposed to live and work as a small group of human beings exposed to one of the most hostile but at the same time most wonderful environments on the globe.
Precisely the day when completing this book review, it was announced that the wreck of the Endurance has finally been located and powerful underwater footage of the well-preserved shipwreck became available. Fortunately the USCGC Glacier did not share the fate of the Endurance but Bunes' book is an important and powerful reminder, that this still can easily happen to any ship sailing the Weddell-Sea and that the risk for this happening is not only determined by nature and technology but also largely by style of leadership and experience of the commanding officers. As nature ultimately freed the USCGC Glacier itself, it will never be known if Bunes confrontation of his CO was justified or if his CO with his years of experience in icebreaker operations was right. Does it matter for the book – no, as it is not an analytical history of the Antarctic operations of USCGC Glacier, but an autobiography of his surgeon during his first deployment to Antarctica.
---
Ingo Heidbrink is a Professor of Maritime History at Old Dominion University.
Wind, Fire and Ice: The Perils of a Coast Guard Icebreaker in Antarctica. By Robert M. Bunes (Guilford, CT: Lyons Press, 2021).