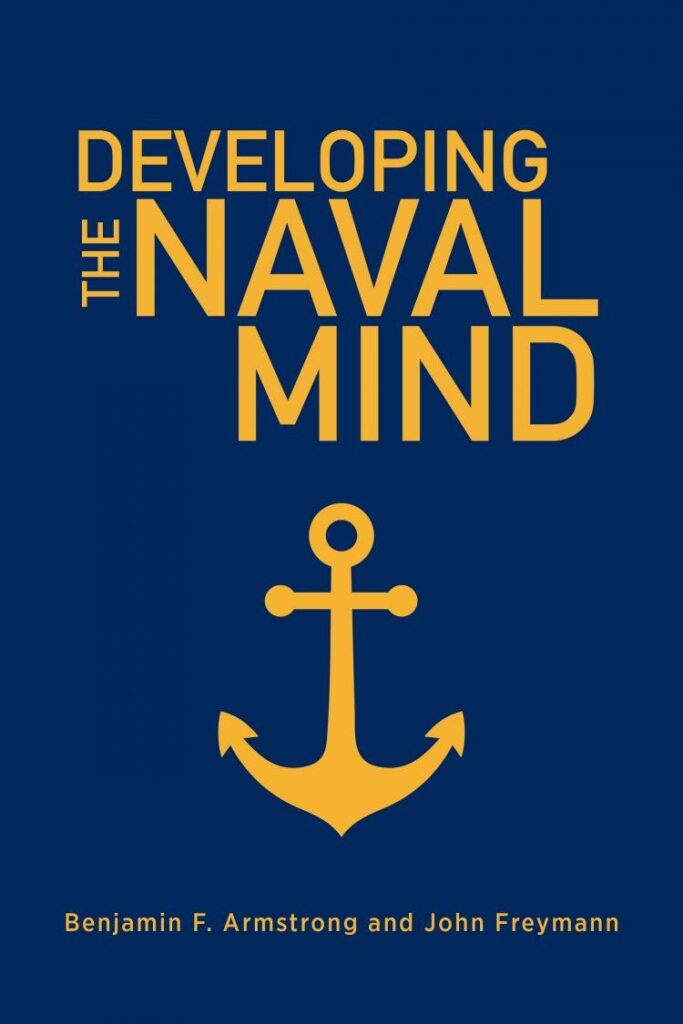 Reviewed by Charles C. Kolb, Ph.D.   
Developing the Naval Mind is an important, thoughtful volume written by two Naval Academy history professors is designed for officers of the U.S. Navy and Marine Corps but also serves Sailors and Marines of all ranks as a compendium on developing professionalism and skills needed to rise through the ranks.  Likewise, it can also serve the officers and enlisted men of our other sea services, Coast Guard and Merchant Marine, but also is valuable to officers and enlisted men of the U.S. Army and U.S. Air Force, as well as the U.S. Space Force. Moreover, it can serve as a significant source for the members of other nations' land, sea, and air services. The information and examples provided are likewise compelling resources for others, whether the readers are academics, shop foremen/women, businesspersons, salespersons, students, or anyone striving to advance his/her careers in their chosen profession and work.
The "Introduction" (pp. 1-5) to this important volume in the Naval Institute Press' Professional Reading for the Sea, provides an overview of the contents and indicates the importance of education and the naval profession, with the need to keep pace with social and technological changes. The authors state that "the nature of war is constant by the character of war is ever changing" requiring a need for strategic and ethnical reasoning. They write that "Developing the mind and creation of officers, Sailors, and Marines with wide interest and ability to do more than simply comply with established procedures and checklists," and remind the reader that naval learning is a career-long process. The process goes well beyond the classroom and practicums and belongs in wardrooms of the fleet. The authors' approach stems from the conviction that "discussion is a tremendously powerful tool for forming, developing, and clarifying one's own ideas"' Read, think, learn, and discuss is their formula and the precis of the book.
The authors are highly qualified educators and are both Permanent Military Professors at the U.S. Naval Academy. Commander Benjamin "BJ" Armstrong, USN, is a former search and rescue/special warfare helicopter pilot and is the author or editor of four books and several dozen articles on naval history and strategy, and the recipient of the Alfred Thayer Mahan Award for Literary Achievement and the Lyman Book Award from the North American Society of Oceanic History. He currently serves as an associate professor and associate chair of the History Department at the United States Naval Academy. Captain John Freymann is a permanent military professor at the U.S. Naval Academy serving as an Assistant Professor in the History Department. After spending the first half of his career as a Surface Warfare Officer, he earned his doctorate in the history of Christianity from the University of Chicago before becoming a naval educator.
Throughout the history of the U.S. Navy and Marine Corps, leading officers and strategists have advocated for formal colleges and schools for naval officers but have also made the case that true naval professionalism requires a career-long dedication to learning and to self-improvement. This was the impetus behind the very founding of the U.S. Naval Institute by officers who believed that the Navy's lack of support for their education meant they needed to create their own organization for self-study and cooperative learning. Naval luminaries including admirals William Sims, Ernest King, and James Stavridis continued to campaign for self-study and the personal pursuit of professional knowledge during the twentieth century, distributing lists of suggested books for officers to read and promoting their ideas widely through speeches and published works.
While recommending that officers read broadly in pursuit of individual knowledge is an important part of creating a truly educated and professional Fleet and Fleet Marine Force, it is also important for leaders in the sea services to offer mentorship and create opportunities for discourse that encourages group learning. Developing the Naval Mind serves as a how-to manual and syllabus for leaders to create and lead wardroom, ready room, and work center discussion groups across the fleet to create a more educated and professionally engaged Navy and Marine Corps.
This noteworthy volume is divided into two parts. Part I, The Seminar (seven chapters), is composed of brief essays that discuss skills and tools that will help leaders create their own professional seminars in their units either afloat or ashore. They focus on the wars to design one's own reading list and locate resources to encourage further individual and group learning and encourage the reader to write their own professional articles. Part II, The Readings (twelve chapters), focus on the larger goals presented in the chapters in Part I, and are insightful articles that are, in the main, essays on leadership and professionalism, and others on subjects that include naval strategies, operations, and tactics. Each also includes five discussion questions which serve as starting points and have been selected from U.S. Naval Institute Proceedings that were published over the past 150 years. These selections span the period from the Age of Sail into the nuclear era and can develop the readers' critical thinking and reading skills. The Part I chapters are summarized briefly.
1. "Relax, There is No Naval Academy" pp. 9-15. This essay focuses on the importance of libraries, archives, and other research facilities. The Nimitz Library at the Naval Academy in Annapolis, Maryland developed on the basis of Secretary of the Navy George Bancroft who created the Naval School at Annapolis in 1845 and the initial library of 200+ volumes. This essays considers its earliest collections and other contributions, the creation of The Papers and Proceedings of the United States Naval Institute (today's U.S. Naval Institute Proceedings), the founding of the U.S. Naval War College, Alfred Thayer Mahan, and the journal Naval Review. The essay points to the key concept that personal study and group learning and debate are the key elements of naval professionalism since 1845. They remind us that officers are teachers but also professors of practice.
2. "Reading a Professional Article: Joining the Conversation" pp. 16-24. This chapter provides how to advice on the reading of professional writings in three ways: 1) Prepare with a "smart skim" of the contents and main arguments. 2) Closely read the text with an open mind and actively think about the narrative (challenging texts can be rewarding, and connect the reading with other materials that you have read. 3) The debrief. After reading the entire essay, consider the topic, the writers' thesis, evidence, and logic. The authors provide tips and techniques: find space (comfortable and minimally distractive) and find time (annotate or mark-up –preferably in pencil your own books not another persons' or a library's, and look up things you may not know).
3. "Being in Dialogue: Facilitating a Seminar Discussion" pp. 25-31. For discussion, plan ahead and contemplate what is necessary (hard decisions, giving orders, and actions). Examples may have historical roots or be drawn from fiction (Capt. Jack Aubrey in HMS Surprise). Key concepts in growing a discussion: no speeches, be open to "wild" ideas, interrupt to question, embrace apparent chaos, pay attention and listen, be ready to disagree, facilitate the discussion don't lead it, become an intellectual wingman, and be ready to laugh.
4. "Guiding a Conversation: Facilitating a Seminar Discussion" pp. 32-40. Learning is not a one-way transmission, nor is it the Socratic method, and be responsible for your own continuing education. There are two Rules of Engagement (ROE): 1Preparation: do the reading, think of and write down a set of questions to discuss, ahead of time pose a question and ask for responses, refine the question and ask for discussion questions, and share a problematic or confusing question. 2) Execution: guide the conversation, remember that the discussion leader is also a careful listener, don't feel obligated to stick to a script, and politely and consistently the enforce ROE.
5. "Cheer Up! Designing Your Own Seminar" pp. 41-47. A syllabus is fundamental to the preparation for a course of study, not only for the students but also for the teachers themselves. Four topics are reviewed: 1) Designing a syllabus: formal or informal and length. 2) Resources and Readings: selecting materials, journal issues and articles, edited volumes, and films (the authors could add DVD and Online resources). 3) Preparing in Advance: plans for leading discussions (the leader spend more time in preparation). 4) A Voyage of Discovery: Teaching is often the best way to understand the material.
6. "Read, Think, Speak … and Write" pp. 48-54. Reading is the critical part of a naval mind. The authors provide relevant recent examples of articles written by CNO Richardson (2016) and Admiral Stavridis (2009). One must Read, Think, Speak, and Write to understand the state of the field, to research, to think critically, and communicate. An Appendix, "Notes on Publishing a Professional Article" pp. 225-231," provides more detailed instructions.
7. "Conclusion: Cast Off All Lines" pp. 55-57. Armstrong and Freymann conclude with a quotation borrowed from General Patton: "Don't delay!" Start small, have a suitable venue (space), and actively engage other minds in reading and dialogue.
Part II, "The Readings" (12 chapters), derived from the Proceedings are listed below. Each chapter in the book lists its author(s), publication date, and discussion questions.  
8. "The Strength of Nelson," Alfred Thayer Mahan, pp. 61-76.
9. "Military Conversation," William S. Sims, pp. 77-92.
10. "Why a Sailor Thinks as a Sailor," J. C. Wylie, pp. 93-104.
11. "National Policy and the Transoceanic Navy," Samuel Huntington, pp. 105-122. 
12. "Professionalism": A Wardroom Debate," James T. Strong, pp. 123-131'
13. "Missions of the U.S. Navy," Stansfield Turner, pp.132-144.
14. "Get Off My Back, Sir!" Robert P Mumford Jr., pp.  145-155.
15. "Moral Leadership," James Stockdale, pp. 156-163, and "The Damn Exec," Stuart D. Landersman, pp.164-169.
16. "The Business of the Marine Corps," Gary W. Anderson, pp. 170-176, and "The Strategic Corporal: Leadership in the Three Block War," Charles C. Crulak, pp. 177-186.
17. "Missile Chess: A Parable, Wayne Hughes, pp. 187-194, and "Operation Praying Mantis: The Surface View," J. B. Perkins, pp. 195-202.
18 "Navies and the New World Order," Geoffrey Till, pp. 201-210, and "Future Warfare: The Rise of Hybrid Wars," James Mattis and Frank Hoffman, pp.  211-215.
19. "How We Lost the Great Pacific War, Dale C. Riedage, pp. 216-223.
Readers of this book will also enjoy The Sailor's Book Shelf: Fifty Books to Know the Sea (Admiral James Stavridis, USN (Ret.); Annapolis: Naval Institute Press, 2021). Naval History Book Reviews, February 15, 2022. 
Your reviewer can attest to the efficacy of this book, as I have recently retired after 24 years of teaching in academe (and six in administration), 23 years in Federal government service, and 26 years as associate editor of a scientific bulletin. I have written more than two thousand reports, 140 peer-reviewed book chapters and articles, more than 850 book and film reviews, and given more than 450 oral presentations at professional meetings.
---
Dr. Kolb is a U.S. Naval Institute Golden Life Member.   
Developing the Naval Mind. By Benjamin F. Armstrong and John Freymann (Annapolis: Naval Institute Press, 2021).