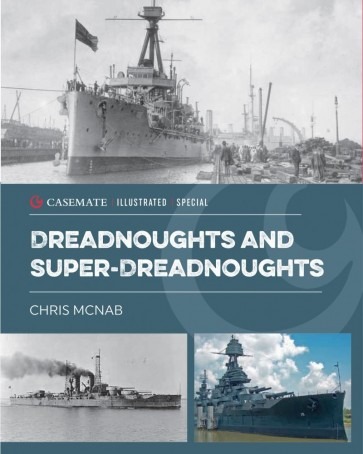 Reviewed by Ed Calouro  
Battleship buffs and authorities on capital ships are familiar with the dictum that once HMS Dreadnought was commissioned in 1906, all existing battleships thereby became obsolete. Indeed, all-big-gun battleships from 1906 forward were considered dreadnoughts or, subsequently, super-dreadnoughts. Capital ships built before 1906 with a mixed or intermediate main armament, were thereafter termed pre-dreadnoughts. Chris McNab, author of Dreadnoughts and Super-Dreadnoughts, takes a more nuanced approach in his book about these epoch-setting ships. A July 18, 1910 article in The Times concluded the construction of HMS Dreadnought resulted in more of an evolution, not a revolution in capital ship development. Just the same, McNab observed HMS Dreadnought set off an international naval race in capital ships, transformed naval tactics, and had an outsized impact on international relations.
Dreadnoughts and Super-Dreadnoughts is part of the Casemate Illustrated Special Series. There are hundreds of pictures, illustrations, diagrams, tables, etc. which provide a good deal of visual information that historians, modelers, and others can utilize. This 223-page book is divided into an interestingly selected timeline of events, an introduction, six chapters, a conclusion, further reading section, and an index.
A fair amount of space is devoted to the genesis, conception, and rationale for building all-big-gun battleships and battle cruisers. McNab noted that whereas typical naval battles had commenced at around 2,000 yards in the 1890s, by the opening years of the 20th century, the range was increasing and there was less need for a mixed or intermediate armament. Indeed, McNab seems to question whether HMS Dreadnought's 12-pounders (which fired three-inch shells) were even truly a secondary armament. The threat posed by torpedoes, improvements in gunnery, fire control, and the 1905 Battle of Tsushima, where firing commenced at 7,000 yards, all contributed to the concept of an all-big-gun ship. McNab credits the First Sea Lord, Admiral John A. "Jackie" Fisher, Sir Philip Watts, the Director of Naval Construction, future Fleet Admiral John Jellicoe, the Director of Naval Ordnance, and Italian naval engineer Vittorio Emilio Cuniberti with helping to push the design concept forward.
Dreadnoughts and Super-Dreadnoughts deals with the design, development, operation, and combat history of these capital ships. McNab underscores how controversial the decision was to switch from the forty-five pre-dreadnoughts the Royal Navy had from 1901 to 1904 which had a massive superiority over any foreign fleet. In 1906, the British had a lead of a single dreadnought. Given that in 1895, both Germany and the United States exceeded Great Britain in total steel production, this was a risky gamble. However, Britain was unsurpassed in both the number of dreadnoughts it completed, and in the time it took to complete them. HMS Dreadnought went from keel laying to commissioning (2 October 1905 to 11 December 1906) in just over one year. By 1910, on average, the British could build a battleship in twenty-four months, whereas the Germans took thirty-six months (p.26). The British ship-building advantage was even greater compared to the Americans. Although some naval authorities credit the Americans with designing the first dreadnought battleship, the USS South Carolina (BB-26) was not laid down until 18 December 1906. She was completed on 1 March 1910; her construction took over three years. USS South Carolina did have one innovation the Royal Navy had not yet incorporated: super-firing main battery turrets.
The author does a very nice job incorporating primary source documents into his narrative, and he quotes from them fairly liberally. There are frequent references to Captain R.C. Bacon's Report on the Experimental Cruise (1907), The Naval Annual 1913, The Stoker's Manual, and individual accounts of life at sea by a Battle of Jutland survivor of HMS Queen Mary, as well as references to the journals midshipmen were required to keep. McNab utilizes occasional in-text citations rather than more formal footnotes.
The focus is on HMS Dreadnought and her Royal Navy successors. The author generally only deals with all-big-gun capital ships completed up to the post-World War I naval arms race. He briefly describes some of their operations in World War II. The Washington Naval Conference, its subsequent treaties, and the modern fast battleships of the 1920s through the 1940s, with rare exceptions, are not included in the author's analysis. McNab makes the controversial claim that battleships were basically obsolete by the mid-1920s.
The longest chapter (forty-one pages) is devoted to foreign dreadnoughts and super-dreadnoughts. The German, French, Italian, Austrian-Hungarian, Russian, Japanese, American, South American, Greek, and Turkish capital ships for the period in question are examined. McNab conceded this is a "fast tour" through the international arms race (p.172). This chapter provides an interesting, if somewhat superficial evaluation of the Royal Navy's potential competitors. One will find an explanation of the British wire-wound gun manufacturing process compared to the American built-up method.
Was the massive investment in the dreadnought-type battleships worth it? McNab makes the case that the ever-increasing ranges at which naval battles were opened in World War I justified the cost of the all-big-gun capital ships. However, he noted, big guns are only as good as the fire-control systems that direct them. During the Great War, McNab pointed out, it took dozens, if not hundreds of shells fired to obtain a single hit. At the Battle of the Falkland Islands (8 December 1914), the battle cruisers HMS Inflexible and Invincible had to fire 1,174 shells in order to sink the German armored cruisers SMS Scharnhorst and Gneisenau. There were, it must be conceded, mitigating circumstances during this action.
McNab concludes that despite the dreadnoughts' and super-dreadnoughts' prohibitive cost, they seldom saw action in World War I. He writes: "Yet Jutland is salient because of its singular rarity." (p.206) After pouring so much of a nation's wealth into these warships, admiralties throughout the world were reluctant to risk these sacred vessels.
Dr. Chris McNab is a prolific author, having penned over 100 volumes. His specialty is military history and its related technology, as well as network security. His expertise is evident throughout Dreadnoughts and Super-Dreadnoughts.
There are more errors, typos, missing words, etc. here than one would expect to see from such an accomplished author. One wishes that McNab, and the proofreaders and editors at Casemate had been more particular. Just a few examples suffice. The noted naval theorist Alfred Thayer Mahan is referred to as "Thayer" (p.22).  In reference to the sinking of HMS Prince of Wales and Repulse on 10 December 1941, McNab writes: "This was the first time in history that capital warships had been sunk by airpower." (p.214) That assertion overlooks the British victory at Taranto on 11-12 November 1940 and the Japanese sinking of American battleships at Pearl Harbor. Interestingly, Pearl Harbor is a topic of McNab's very next paragraph, and three pages later, he wrote of USS Arizona's destruction by Japanese air attack. In four pages (165-168), there are three errors about USS Texas, the only remaining dreadnought. This book notes the USS New York class (New York and Texas) carried ten 14-inch guns "arranged in five triple turrets," they were in five twin turrets.  On p.166, it indicates USS Texas was launched on May 18, 1812, whereas the following page correctly indicates she was launched in 1912. On p.168, McNab wrote USS Texas took part in Operation Torch in October 1942 but the invasion actually commenced in November 1942. These are not major mistakes, and they do not materially affect this otherwise fine and informative book. Nevertheless, they are unnecessary, distractive, and could and should have been detected and corrected prior to publication. One also wishes there was a detailed table listing the characteristics of at least the Royal Navy's dreadnoughts and super-dreadnoughts. This would make comparing and contrasting these warships easier.  Despite these minor limitations, even experienced readers of books about battleships will learn a good deal from examining this volume.  
---
Ed Calouro is a freelance writer and adjunct instructor in the History Department at Rhode Island College.  
Dreadnoughts and Super-Dreadnoughts. By Chris McNab (Haverton, PA: Casemate Publishers, 2021).